National Peace Council (NPC) held its second meeting on June 7, 2009 at the central secretariat of Minhaj-ul-Quran International Lahore under the chairpersonship of Ms Mehnaz Rafi, former MNA and central leader of Pakistan Muslim League (Q). The participants of the meeting included Ijaz Chaudhry, central leader of Pakistan Tehreek-i-Insaf, acting Nazim-e-Ala of MQI Sheikh Zahid Fayyaz, Secretary General PAT Anwar Akhtar Advocate, Sohail Akhtar of International Commission for Human Rights, Coordinator of National Peace Council Jawad Hamid, Jamat-i-Islami leader Farid Ahmad Piracha, Syed Noubahar Shah, head of the Shia Political Party, Muhammad Youqub of Tehreek-e-Khaksar, Sohail Mahmud Butt, actor Ferdous Jamal, Col. (r) L.K. Tresslor of Muslim-Christian Alliance, Aslam Mohsin of Awami Qiyadat Party, Sardar Ranjeet Singh, Qasim Afzal and other central leaders of different parties.

Performance report of last meeting was put forward and discussed in detail. The participants discussed the deteriorating law and order situation in the country. The central leaders of different political parties demanded of the government to establish peace in the country. They said that immediate steps needed to be taken in order to ensure the rehabilitation of Swat and Malakand affectees. The participants appreciated Minhaj-ul-Quran International for its initiative to bring different elements of national opinion under one platform.

Addressing the meeting, Sheikh Zahid Fayyaz said that religious and political parties would have to join their forces for the sake of peace and harmony in the county. He said that MQI had established National Peace Council under the instructions of Shaykh-ul-Islam Dr Muhammad Tahir-ul-Qadri. The establishment of peace is now uppermost on the agenda of MQI with the cooperation of all political parties. He said that those using terror and suicide bombing for their ulterior motives had nothing to do with Islam and the Muslims. The following decisions were taken in the meeting after mutual consultation:
The government should establish 'rehabilitation fund' on the pattern of relief fund for the affectees of Malakand, Swat and Buner.
Well coordinated and effective policy should be formulated for national unity and integration. Failure in responding to the rehabilitation challenge would produce disastrous consequences.
Military operation should be concluded as early as possible and be accompanied by effective political strategy.
The government should provide all possible resources for safe and secure return of refugees and their return and rehabilitation should immediately be made possible.
Terrorists could use the disaffection and disappointment among the affectees and use it as a weapon against the government.
Aid should be made available to the affectees at their tents respectably and those living out of camps and in homes should also be taken care of.
Full attention should be paid to the aid and support of over five hundred minority families located around Hasanabdal Temple.
Steps should be made for establishment of peace in the tribal region so that the affectees should go back home.
The affectees should be settled in cool areas instead of hot ones and steps should immediately be taken for ensuring maximum protection against scorching heat.
Transfer of power to the provinces as promised in Constitution 1973 could go a long way in eradicating the feelings of deprivation among the provinces. This would be helpful in the establishment of peace and elimination of separatist tendencies.
The power to legislate on concurrent list should preferably be invested in the provinces and the articles contained in this list regarding provincial rights should be implemented forthwith.
New Finance Commission should be announced as demanded by the Constitution and maximum grants-in-aid should be given to provinces.
Rights of the tribal region as mentioned by the Constitution should be given immediately and problems of these areas should be resolved through constitutional reforms and transfer of power.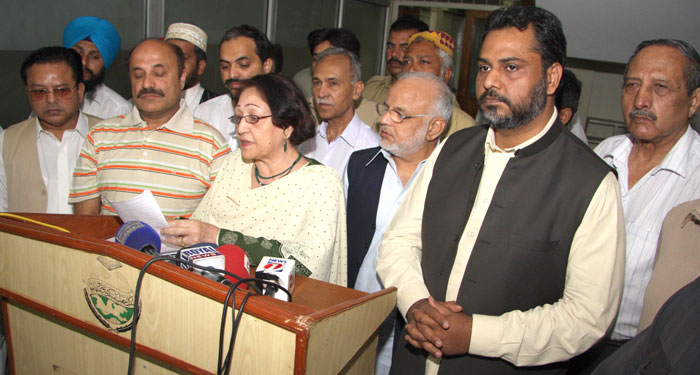 The next meeting of National Peace Council would be held on June 25, 2009 in the central secretariat of Minhaj-ul-Quran International in which leaders of different political parties would participate. The meeting would discuss and identify the major causes of terrorism and work out contours of national strategy against terrorism based on consensus and in accordance with our national aspirations. The meeting concluded on Dua.