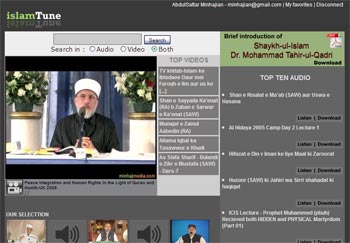 The official opening of the Multimedia website www.islamTune.com was done on the auspicious occasion of Ashura. The programme was held personally by Qibla Huzoor. The programme started with the recitation of holy Qur'an by renowned Qari Ahmed Awan and Qari Shafiq, after the iftar and Maghreb prayer. Kashif javed from MQI Vancouver Canada teamed up with Hashim Ali Qadri from MQI Toronto Canada to carry on with the presentation of newly created web-site.
The basic idea of this website is to catch up with the ever changing Technology and to provide easy access to maximum people worldwide to the beauty of Islam. The basic heart of this project is that more than 80% of youth all over the world especially western countries carry pocket mp3 players; as it is their best time-pass device while traveling in trains or in school or in free-time. A huge percentage is also playing mp3 file while working on the job. Most of the electronic gadgets in the modern world are taking good care of entertainment, like cell phones equipped with radios and mp3 players, iPods and even modern cars have mp3 interface audio players in them. The idea behind this website is to provide "ready-made" material to every class of people worldwide.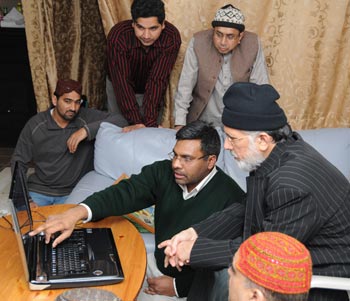 This website opened a door for Minhaj ul Qur'an international to work on the lines of popular websites like youtube.com and google.com. We used the concept of both these sites integrated into one website catering over the promotion of Islam. The project also provides a gateway for "Live web Channel" where we can imagine 24 hours broadcast with Minhaj News, Activities in Pakistan and abroad, Speeches, interviews, documentaries, Naats, children programs, quizzes, and many other activities in the near future.
The presentation lasted for over 40 minutes which includes the demonstration and description of each zone on the main page. It followed the demonstration of quality of speeches in video and audio format both. Brother Kashif then explained about a very powerful tool of tagging which is programmed in this website like YouTube. Search feature is then introduced and demonstrated with different search options. The concept of categorization of different themes is another highlight liked by audiences present on the occasion. Then the security features of website have been introduced and people were amazed to know that the website has the mechanism to differentiate between genuine user and a spam who just waste the bandwidth.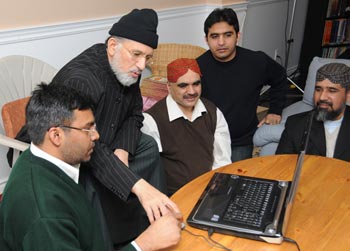 Along with Qibla Huzoor, brother kashif Javed and hashim Ali and different members of MQI were present on the occasion which includes Brother Faheem Randhawa Member Supreme council MQI, Brother Zafar Arshad Patron MQI Toronto Canada, Qari Ahmed Awan Chishti Director MQI Toronto Canada and other dignitaries. In his words of appreciation Qibla Huzoor announced that on this auspicious occasion of Ashura and Ghyranwi Shareef, I announce this website to be opened for public use.
Qibla Huzur then asked about whoever is involved behind the success and completion of this project and brother kashif mentioned the name of Brother Sajid Fayyaz from France, Brother Shabbir Patel from MQI Vancouver Canada are the developers of this website, along with Co-ordination of brother Azhar Siqqique from France and brother Hashim Ali from Toronto, brother Tariq Raza from Vancouver and myself (Kashif). Qibla huzoor made dua for each and every one present there and prayed for the success of this website and upcoming projects.
The program ended with sweet distributions to everyone.
by
Brother Kashif Javed
MQI Vancouver Canada