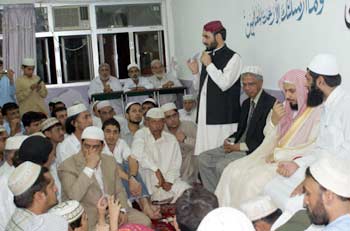 Imam-ul-Harem, Shaikh Salih Bin Muhammad Bin Ibrahim Talib visited Idara Minhaj-ul-Quran Kwai Chung on Thursday, 23 October, 2008. Hundreds of people gathered at the Islamic center to welcome him. On the arrival of the Imam, some local children presented him with the bouquets of flowers. On this special occasion, representatives of Saudi Consulate in Hong Kong, imam of Kowloon Mosque and Islamic Center, Mufti Muhammad Arshad, members of Board of Trustees and a significant number of other Muslims attended the program.
Hafiz Muhammad Naseem welcomed the honored guest in Arabic and deeply appreciated and expressed his gratitude for his visit. He then introduced the work and services of Shaikh-ul-Islam and Minhaj-ul-Quran International in spreading and revitalizing Islam and promoting unity among Muslim Ummah.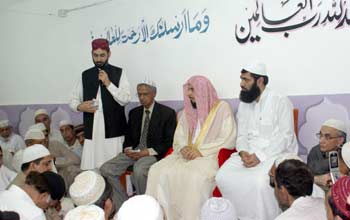 Next, the distinguished guest addressed the gathering. He emphasized the unity among Muslim brethren and said the main purpose of his visit was to go to people from different schools of thought and try his best to unite them under the banner of Islam. He stressed that the Muslim unity is only achievable if we follow Quran and Sunnah in its truest spirit. He conveyed the message that Quran and Sunnah are the only two sources of guidance and if we steadfastly hold on to them, we can come together and become united. The people's passion and feelings who attended this gathering especially to meet Imam-e-Kaba were worth seeing.
At the end of the program, the president of Idara Minhaj-ul-Quran Hong Kong, Mr I.S Batcha thanked the distinguished guest and also the representatives of the Saudi Consulate General of Hong Kong as well as the members of the Board of Trustees for attending the program. Then, Mr Batcha presented Alminhaj Sawi as a gift to the honored guest. Imam-e-Kaba's visit was surely a blessing for the Muslims of Hong Kong.
Hafiz Muhammad
Sec.Gen.
MQI Hong Kong