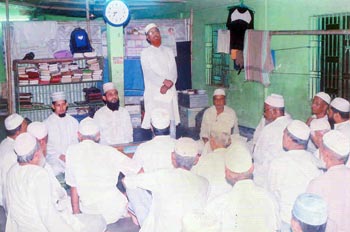 A special memorial meeting was held on October 16, 2008, under the banner of Minhaj-ul-Quran International Bangladesh to observe the death anniversary of Dr Farid-ud-Din Qadri, the father of Shaykh-ul-Islam Dr Muhammad Tahir-ul-Qadri. The meeting was arranged in the Minhaj-ul-Quran Academy. Allama Muhammad Abdul Kalam, Maulana Muhammad Yaseen, Faiz Ahmad, Abul Qasim, Abdul Wahid, Muhammad Anwar, Noor-ul-Islam, Shah Alam, Muhammad Shakir, Abdur Rasheed and other people participated in the programme.
The formal start of the first part of the programme happened with the Holy Quran Khawani at 9 am. Afterwards, all participants took part in Durood session both individually and collectively. The first part of programme concluded with Dua. Allama Abdul Qalam led the collective Dua for the departed soul of Farid-e-Millat Dr Farid-ud-Din Qadri.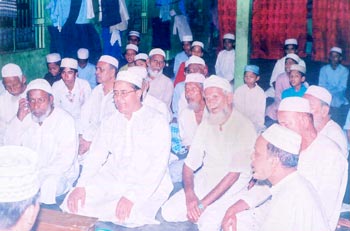 After the Isha prayers, the second part of the programme got underway with the recitation from the Holy Quran with Maulana Abdul Kalam in the chair followed by Naat Khawani. Expressing his views on the life of Farid-e-Millat, Maulana Abdul Kalam said that former was a pious man and friend of Allah. He spent his entire life with piety fearing his Lord. Shaykh-ul-Islam is the result of his prayers he made at the House of Kaba. The sampling of MQI planted by Shaykh-ul-Islam Dr Muhammad Tahir-ul-Qadri has grown into a full tree bearing fruits. He said we needed to support MQI for the spread of real teachings of Islam. The personality of Shaykh-ul-Islam is an asset for people of Bangladesh and the Muslim world.
Maulana Muhammad Yaseen, Superintendent of Minhaj-ul-Quran Academy, and others also spoke at the occasion. All speakers paid rich tributes to the personalities of Farid-e-Millat and Shaykh-ul-Islam for their multi-faceted services for cause of Islam and Umma. Collective Durood-o-Salam was offered at the end. Prayer led by Allama Muhammad Yaseen for Farid-e-Millat marked the conclusion of the programme. Dinner arrangements were made for the participants after the end of the programme.