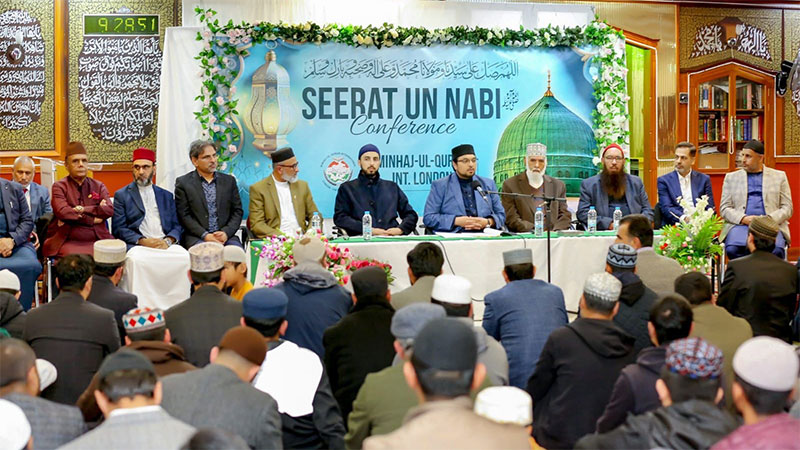 President Minhaj-ul-Quran International, Prof. Dr. Hussain Mohi-ud-Din Qadri, delivered a keynote address at the Seerat-un-Nabi (PBUH) Conference, accompanying him at the conference was Shaykh Hammad Mustafa al-Madani al-Qadri.
The event was organized by Minhaj-ul-Quran International London South Zone, UK, focusing on the profound Seerat-ul-Nabi (peace be upon him). In his keynote speech, Dr. Hussain Mohiuddin Qadri emphasized that you cannot become right obedient person of Sayyidina Rasol Allah(PBUH) without fairing Allah Almighty and loving and respecting Sayyidina Rasool'ullah(PBUH).
He stressed that Allah's fear and Love of Rasool Allah (PBUH) these two elements are missing from our lives and we are not working on these two elements without next generation and children specially. Teach the love of your Prophet(PBUH) to your children, that is the key, if we are able and if we are successful in teaching the love of Rasool'Ullah(PBUH) to our children, that love will ensure that in their younger days, later in the life they will be obedient Muslims in their lives.
Dr. Hussain Mohiuddin Qadri further emphasized that Love is the key to solutions, it has a capacity and potential to bring someone on the right path and keep them steadfast on it, nothing else has that kind of capacity to keep some one the right path. Seek the Sohba (companionship) of the pious and those close to Allah. Because the teaching in that sohba is love and respect of Allah and Rasool Allah (PBUH), so whosoever spend the time in the companionship of Ahlullah, that's what they learn from them, the love of Sayyiduna Rasool Allah (PBUH) which has a bonding and capacity to bring someone on the right path.
He said that in Akhriah(Day of Judgment) only the coin of Love of Sayyidina Rasool Allah(PBUH) will work no other currency will work, and we should be proud and confident while teaching the love of Sayyidina Rasool Allah(PBUH), and love of Ahal-ul-Bait (the house hold of prophet PBUH), love of Ashab (companions of Prophet PBUH) and love of Ahal Ullah (Saints Close to Allah) to our children, never ever consider something it is out dated, it is out of fashion, no (!), this is the need and necessity for us all which we all need to transfer to our children. because it has a capacity and potential to provide you with protection of Eman and strength to your Eman and make you obedient.
His Eminence Shaykh-ul-Islam Prof. Dr. Muhammad Tahir-ul-Qadri has delivered ten thousand lectures and every single lecture starts and finishes with discussing the love of Rasool Ullah(PBUH) because he knew there is nothing more important than the love and Respect of Rasool Ullah(PBUH). that what is he propagated throughout of his life, he has written more than one thousand books, 650 are being published, and out of those over 350 books are only in hadith introducing Rasoold Ullah(PBUH) Love and character to people.
The event was graced by the presence of distinguished representatives and dignitaries from Minhaj-ul-Quran International UK, including figures such as Haji Abdul Ghafoor, Syed Ali Abbas Bukhari, Allama Sadiq Qureshi, President of Jamat Ahle Sunnah London - Allama Ejaz Neirvi, Allama Sher Barakati, Allama Hafiz Zeeshan, Moazzam Raza, Shahid Iqbal, Khurram Shahzad, Umar Naveed, as well as members of the Pakistani, Bangladeshi and Somali community from various backgrounds and professions.