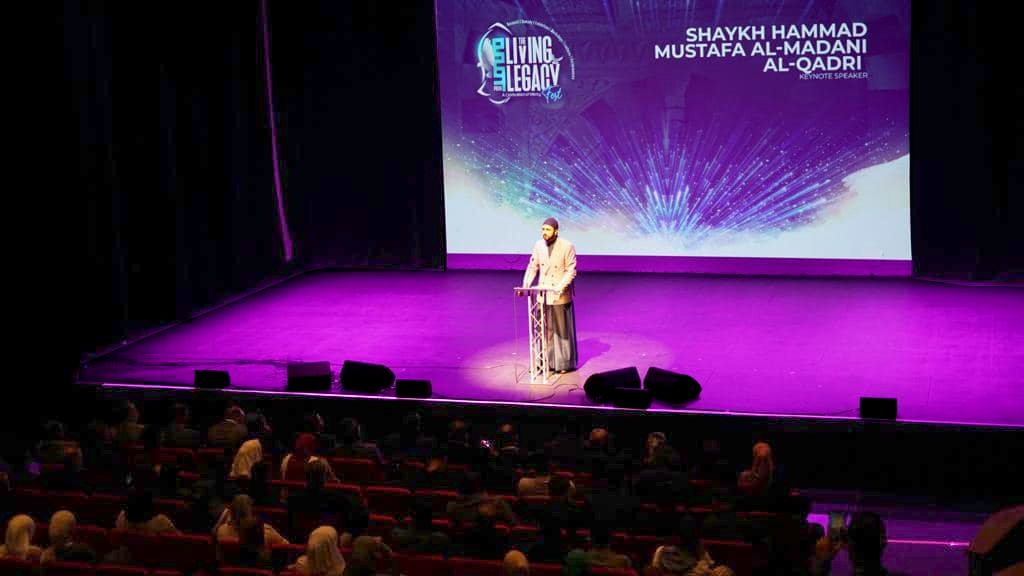 On the10th of September, Minhaj College Manchester (MCM) hosted the annual "Living Legacy Fes" at Contact Theatre in Manchester (UK). The "Living Legacy Fest" is an opportunity where we celebrate the living legacy of the Holy Prophet ﷺ. We rejoice over his mercy, his Dīn (way of life) and religion; a religion which is merciful, compassionate, humanitarian, and inclusive.
The outstanding event included a wide range of activities including nāshīd-recitations, comedy, exhibitions, discussions, and numerous performances by world-renowned figures by artists such as 786AM (British-Islamic Folk Singer), Munira Pilgrim (spoken word), Mecca2Medina (Islamic Hip Hop), Qari Hassen Rasool, al-Musāfirūn (Syrian-Moroccan nashīd group) amongst others.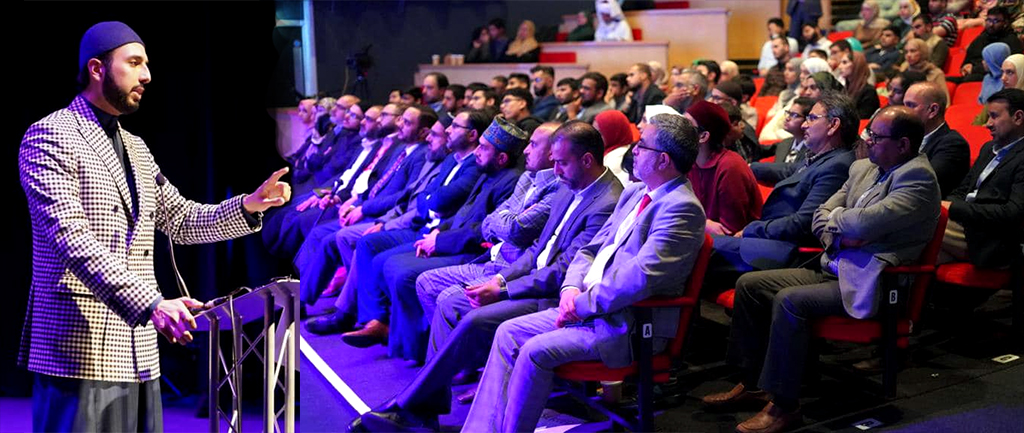 Shaykh Hammad Mustafa al-Madani al-Qadri attended the event as chief guest and keynote speaker. The nucleus of his discourse was how human beings can attain perfection by following the way, excellent moral conduct, and esteemed characteristics of the Holy Prophet ﷺ.
Shaykh Hammad started his discussion by elaborating and explaining how Islam became to be an inclusive, humanitarian, and merciful religion. The religion has been fashioned this way because the Leader of this Nation and the Head of its Community ﷺ was the embodiment of perfection. His ﷺ legacy is the legacy of a perfect life – a model of perfection, excellence, benevolence. It is our responsibility to try to grasp a few particles from the life of the beloved Prophet ﷺ, he said.
Allāh the Almighty says in the Holy Qur'ān that He has completed His blessings upon His Beloved ﷺ outwardly as well as inwardly [Q., 31:20]. By bestowing His special blessings on his ﷺ outer in the form of his noble conduct, excellence and beauty and his ﷺ inner by means of his enlightened, illuminating soul and spiritual kingdom. Unless Muslims do not fulfil these two important aspects – by following the path and way of the Holy Prophet ﷺ – we will never be able to achieve perfection.
The first steppingstone on the path towards perfection and moral excellence is 'al-taʾdīb'. It comes from the word 'adab' – great noble conduct. Al-taʾdīb' means to fashion something in a way it is meant to be.
In this regard Imām ibn al-Qayyim mentions that 'adab' consists of three stages. The first is the adab towards Allāh, secondly the adab towards the Holy Prophet ﷺ, and lastly the adab towards Allāh's Creation.
Adab for Allāh the Almighty is a form of worship. Not in quantity and perseverance, but in a manner which has quality, attention, and deep reverence of Allāh's Divine Presence. ʿUqba b. ʿĀmir (may Allāh be pleased with him) was asked about the exegesis of the Qur'ānic verse [70:23] – "and they are constant in their prayer".
Shaykh Hammad said that the 'adab' of worshipping Allāh the Almighty is not in a continuous and a constant state physically speaking, but rather a prayer so sublime that one's attention is solely focused on Him. By entering the prayer, one sincerely believes that he or she is conversing with Allāh and that one stands in His Presence.
When it comes to the adab of the Holy Prophet ﷺ, Allāh the Almighty, Himself, teaches the believers how to act in a proper manner in the presence of the Holy Prophet ﷺ. Allāh is so Generous that he will accept our worship even if we do not perform it morally excellent, but He will not tolerate that Muslims violate the adab, reverence, respect of the Beloved Prophet ﷺ. That is why he said not to raise our voices in his ﷺ presence, don't address him like you address to one another. If you do not follow this, you may do whatever of worship, but you will lose your righteous deeds and you won't even know.
Approaching the conclusion and crux of the Shaykh's discourse was our interpersonal relations with each other. Our adab, personality, character, and attitude towards each other is what distinguishes us from those who achieve perfection and who do not. The two forms of adab are easier than the last. Those who perfect their conduct and manners towards Allāh's creation only are given the opportunity to perfect their lives. In this regard, Shaykh Hammad offered practical and much needed counsel on how to improve these matters.
For instance, if someone greets you, then offer your counterreaction in a more positive and improved manner. Whenever the Holy Prophet ﷺ would converse with someone, he would turn his entire person to the one he addressed. This is a lesson for us from the one Allāh has blessed with the highest form of excellence.
In other day-to-day scenarios, we bear enmity and become frustrated with people. The source of all conflict, dispute, misunderstanding, and miscommunication is mistrust and suspicion. Allāh says that the adab of dealing with such matters is to squash quarrels and put an end to disputes. The perfect example, which demonstrates the Holy Prophet's ﷺ exemplary conflict resolution and peacebuilding skills, was at the reconstruction of the foundation of the Holy Kaʿba prior to announcing his ﷺ prophethood.
On the path towards perfection, beautifying and enriching our moral conduct is not sufficient. The other part of this equation is spiritual purification of our inner selves.
Since Allāh blew His Own Spirit into our forefather, Sayyidunā Ādam (may grant him eternal peace), our souls, spirits and spiritual hearts are essentially designed to receive and be cloaked by divine attributes. We were however cut from this connection when we came to this Earth. By the means of purification of hearts and souls from spiritual diseases, Allāh wants us to reclaim those attributes; the legacy of the first human being. We must therefore spend from our material wealth and what is given to us in our personality.
One way to make up for such deficiencies is to serve humanity; one's community. According to the tradition related by Abū Mūsā al-Ashʿarī, the Holy Prophet ﷺ said: "'Charity is incumbent on every Muslim.' They (the Companions) submitted, 'What if one has nothing (to spend in the way of God)?' He said, 'He should work with his hands (spend his physical and mental energy) so that he may benefit himself and donate to charity.' They submitted, 'What if one does not have (bodily) strength or he cannot do it?' He said, 'Then he should help the helpless and needy (by word or action or both).' They submitted, 'If he is unable to do even that?' He said, 'Then he should enjoin good,' or said, 'he should ordain pious practice.' They said, 'If he could not do that?' He said, 'Then he should refrain from doing anything wrong; that will be considered charity donated by him.'" [al-Bukhārī]
If we take a closer look at our times, we find inspiration in the practices of our pious predecessors. They used to practice the act of giving and generosity behind closed doors; in secret and privacy; in such a manner that the left hand didn't know what the right hand gave.
In his final message, Shaykh Hammad Mustafa al-Madani al-Qadri said that it is our responsibility to foster a community which is cohesive. By taking care of each other, we help form a society which is based on the principles of mercy, mutual love, generosity, and compassion. Only when we are able to do so, then can we encompass the beautiful legacy of the Holy Prophet ﷺ from this generation to the next.