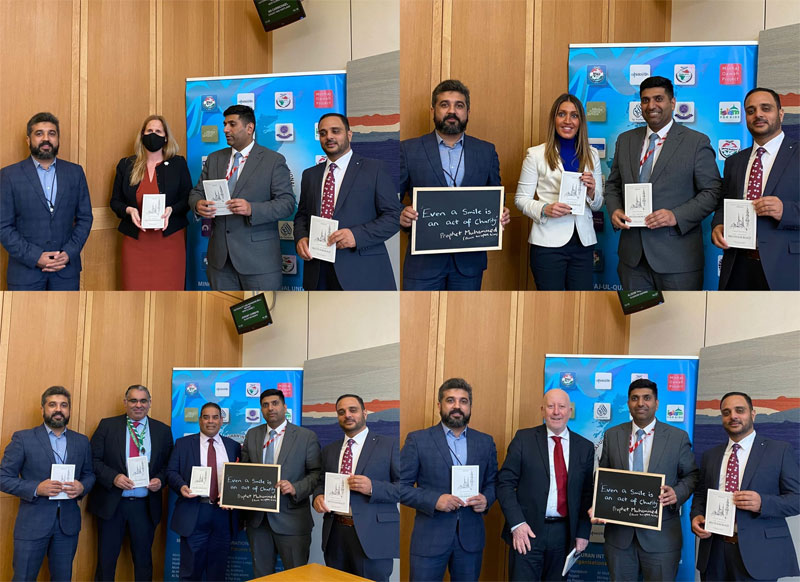 As part of efforts to negate the propaganda in the West against Islam, Minhaj-ul-Quran International, UK chapter, showcased the book 'A Real Sketch of the Prophet Muhammad (PBUH)' in the UK Parliament.
Lord Wajid Khan along with MP Naz Shah showcased the book authored by Shaykh-ul-Islam Dr Muhammad Tahir-ul-Qadri highlighting various aspects of the life of the Prophet of Islam (PBUH) in a drop-in session of the Parliament. More than 30 parliamentarians joined the session and some of them took to Twitter to share the activity with their followers.
"Even a smile is an act of charity," MP Andy McDonald shared, in his tweet, a quote of the Holy Prophet (PBUH) from the book and thanked the MQI for providing him a copy of the wonderful book.
"Hate & extremism have no faith. Those that pursue extremism & push hatred are often ignorant of faith altogether," Labour MP Steve McCabe said in his tweet after receiving a copy of the book.
Kate Green, another Labour MP, said in her tweet that Prophet Muhammad (PBUH)'s teachings mean so much to Muslims in her constituency, and that she's always glad to learn more on her visits to Minhaj College.
Showcasing the book, MP Naz Shah said the best way to defeat extremist ideologies, Islamophobia and ignorance is through education and the spread of the true teachings of Prophet Muhammad (PBUH).
Lord Wajid said in his tweet that he was absolutely honoured to showcase the amazing book alongside MP Naz Shah and distribute it among the MPs and Lords.
The book underlines the balance and moderation, emphasizing compassion and reconciliation in the teachings of the Holy Prophet (PBUH), who exhibited immense patience, compassion and gentleness while dealing with others.
It reveals that unlike the picture presented by some elements in the West, the Prophet of Islam (PBUH) would tolerate and overlook the flaws of others, show kindness especially to the weak, women and children, persuade his followers to be benevolent towards women, orphans, children, elderly and prisoners.