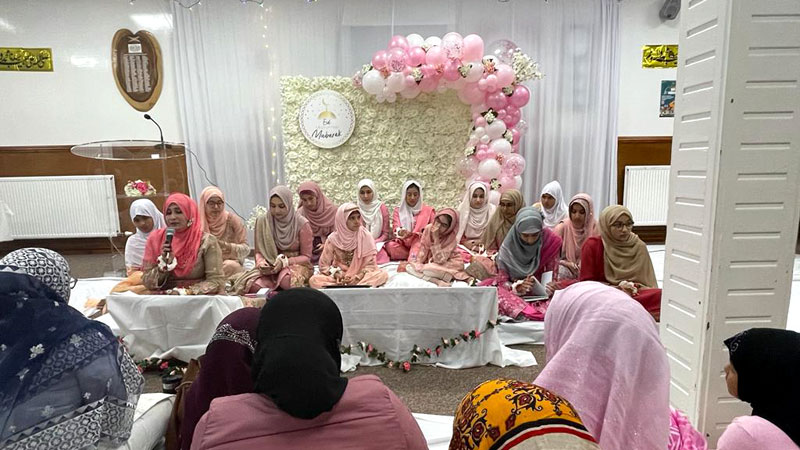 Minhaj Women League Dundee organised an annual Mawlid gathering at Jami' Masjid Bilal Dundee. The program was hosted by Ustaza Faiza Adeel Qasmi (General Secretary MWL Dundee) Beautiful recitation of Holy Quran, Naats and Nasheeds were recited by Minhaj girls naat Council Dundee.
Yasmeen Ahmed (MWL President Scotland ), Sajda Hussain (General Secretary MWL Scotland ), Mumtaz Jawed (MWL President Glasgow), Ustaza Tasneem Babar (Dawah secretary UK), were all present at this beautiful event.
Firstly, Sister Haneen Fatima (Glasgow) delivered an English talk about the high esteem and beautiful characteristics of the beloved Prophet (peace be upon him).
Ustaza Tasneem Babar (MWL UK Dawah Secretary) gave a wonderful speech regarding various aspects of the life of the Holy Prophet (pbuh). She gave the message of Minhaj-ul-Quran and urged the sisters to join Minhaj-ul-Quran International, to attend Halaqat and to spread the love of our Prophet (pbuh) everywhere, in homes and in mosques.
This was followed by Salaam and the program finished with a very heart touching Dua by Sister Yasmeen Ahmed. Tabarruk was served and the outcome and feedback was excellent by attendees.