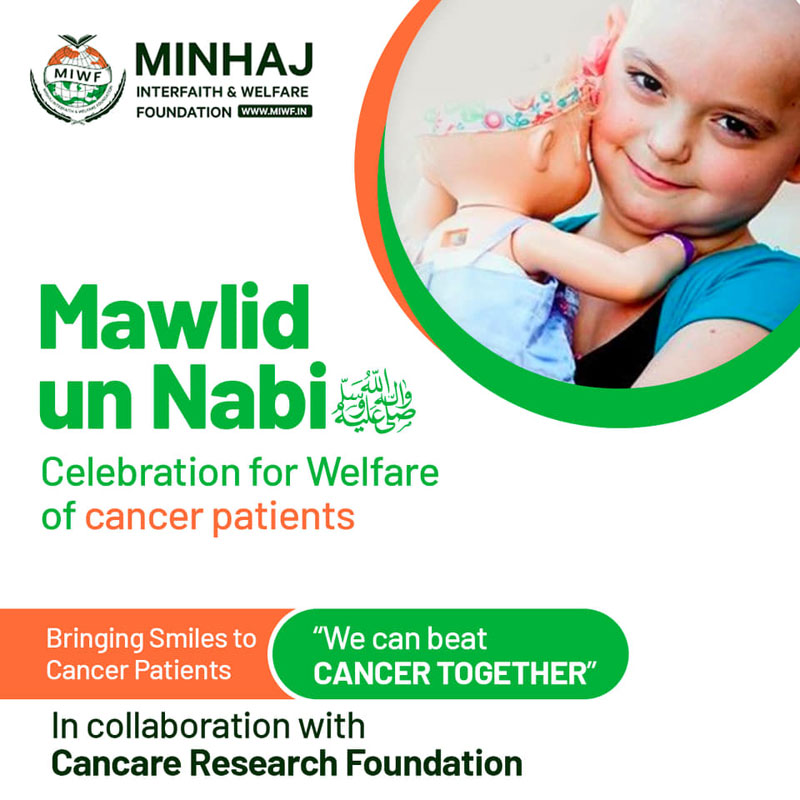 Minhaj Interfaith and Welfare Department hosted a welfare event for the cancer patients at Noori Hall, Lower Parel , Mumbai on the 24th of October. The event which was held in collaboration with Cancer Research Foundation was titled "We can beat cancer together" and was attended by more than 150 patients and their families.
Zubair Ahmed (President MQII Maharashtra), Sajid Khan (Gen. Secretary MQII Maharashtra), Yusuf Shaikh (Sahyog Foundation), Siddiq (Haji Peer Hajj Tours), Sagir Deshmukh (Cancare Research Foundation) were guests of honour for the event.
The event started with the recitation of the Holy Quran. Delivering a keynote speech at the event, Maulana Ali Muhammad stated that all religious scriptures mention that God created human beings so that they have a feeling of empathy towards fellow human beings and that they should serve each other in order to please their Creator. He mentioned that service towards humanity is an important aspect of Islamic teachings and in our age Minhaj-ul-Quran International founded by Shaykh-ul-Islam Dr. Tahir-ul-Qadri is performing this duty by spreading the light of knowledge and serving the needy people across 90 countries through various projects.
Quoting hadith scriptures, Maulana Ali Muhammad said that cancer is a completely curable disease and stated that it's important for patients to maintain their faith in Allah and His Prophet (peace be upon him) and that they should keep performing pious acts along with taking regular medical treatment in order to get cured. He commended the efforts of the Minhaj Interfaith and Welfare Foundation and Cancer Research Foundation in fighting cancer and stated that it is important that more young members of the community come forward to tackle the challenges being faced by the society at large.
Mrs. Abrish Khan addressed the gathering and mentioned that the Prophet (peace be upon him) has been sent as a mercy to the world and his teachings are a source of comfort for the people who are undergoing suffering of disease. She said that there are great rewards in the world and in the hereafter for people who suffer even the slightest form of pain in the world and are patient with the will of their Lord.
Sagir Deshmukh (Cancare Foundation) gave a presentation about the causes of cancer, its symptoms, preventive measures, and cures. He mentioned that there is a need to stay away from smoking, alcohol, tobacco, junk food, etc. to prevent cancer. He stated that the major types of cancer are not fatal and early detection can help to have timely treatment with less suffering to the patients and highlighted the role of the Cancer Research Foundation in creating awareness about the disease through seminars, rallies, and public events. He expressed happiness on MIWF joining the fight against cancer.
At the end, Zubair Ahmed (President MQII-Maharashtra) introduced the recently published books written by Shaykh ul Islam Dr. Muhammad Tahir-ul-Qadri to the audience and gave the vote of thanks.
Food items, health drinks, clothes and literature on the life of Prophet Muhammad (peace be upon him) was distributed among the patients.
Volunteers who helped in the arrangements included Saif Khan, Haider, Faiyaz Shaikh, Irshad Ali Hussain, Mohsin, Vikas, Arshad, Sister Amna, Sister Mantasha, and Sister Abrish.