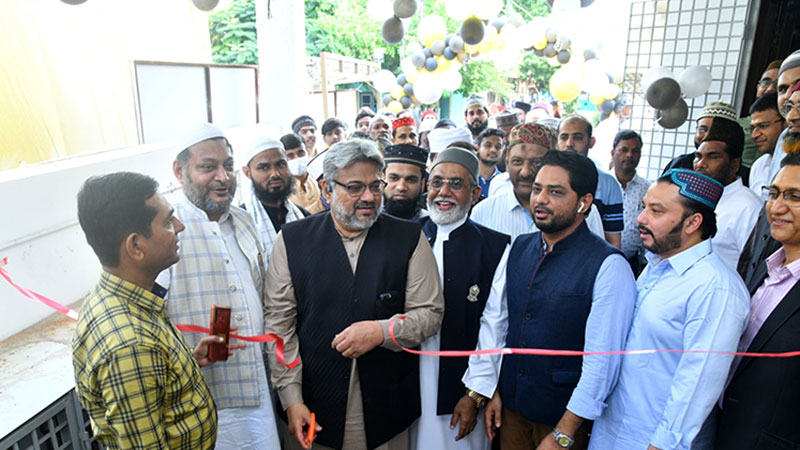 The inauguration of the new MQII Publications building was held on 10th October in Baroda, Gujarat under the supervision of Minhaj Publications Director Saiyed Nad e Ali and Minhaj Publications team. The new MQII Publications building has 2 floors with an area of around 2000 sq. ft and consists of a digital library, sales department, research department, translation and transliteration department, rooms for office staff, collection of 'tabarrukat and Langarkhana' for serving the poor. There are 20 full time staff members working in this center.
MQII Chief Co-ordinator Asad Naeem, MQII Publications Director Saiyed Nad e Ali, and MIWF President Rafeeq Ahmed inaugurated the center in the presence of MQII representatives from New Delhi, Punjab, Uttar Pradesh, Madhya Pradesh, Uttarakhand, West Bengal, Gujarat, Kutch, Maharashtra, Karnataka, Telangana, Qatar, Kuwait, etc. and local media channels.
Maulana Ahmed Raza from MQI Baroda was the master of the inaugural ceremony, which was held in Hotel Suba.Qari Samiullah from MQII Karnataka started the event with the recitation of the Holy Quran in his unique style. Mr. Sohail from MQII Ahmedabad recited a beautiful Naat and Manqabat.
Tousif Muhammad from the MQII Publications department informed the audience about the achievements of MQII Publications which includes:
- Printing of the thousands of copies of 200 Urdu books, 63 Hindi books, and 42 English books.
- Printing of pamphlets on different topics from time to time.
- Printing of more than 16, 000 copies of Irfan ul Quran so far in 3 languages.
- Translation of different books in progress in Hindi, English, Gujarati, Kashmiri and Bengali languages.
- More than 1, 50, 000 food parcels were distributed through Langarkhana service of providing food to the poor.
On this occasion, Saiyad Nad e Ali informed the audience about the journey of MQII Publications since its inception and how it grew over the past 12 years. He said that it is important to have sincerity of purpose to be accepted. He asked everyone to spread the word about the speeches and books of Shaykh-ul-Islam. He emphasized on promoting the Islamic message of peace, love and interfaith harmony directly from his videos rather than the interpretation by other speakers.
Speaking on the occasion, Maulana Habib Ahmed Al-Hussaini stated that we should continue the constructive work and not pay attention to people who criticize the mission of MQII and quoted a verse that Allah defends those who defend Allah and His Prophet (peace be upon him). He stated that Saiyed Nad e Ali and MQII Publications are playing a very important role in the MQII mission through printing and translation of the Minhaj ul Quran books in India.
Mufti Athar, in his views on the occasion, stated that study and analysis of history is important to take lessons for our present situation from the past. He stated that Shaykh ul Islam Dr. Muhammad Tahir ul Qadri's books on the role of Ummah in the revival of Islam when there is the overall state of decline are worth studying and said that scholars and intellectuals should benefit from this treasure of knowledge.
Maulana Anis Ashrafi from MQI Mumbai stated that it's important to preserve the knowledge that is being produced by Shaykh-ul-Islam Dr. Muhammad Tahir-ul-Qadri who is the leading authority of Islamic knowledge in our time and we are fortunate to have a dedicated team to perform this important task.
Chairman MQI Supreme Council Dr. Hasan Mohi-ud-Din Qadri sent a special video message for the occasion and called the opening of the new center a major milestone for the MQI India chapter. He congratulated Saiyed Nad e Ali, chief co-ordinator Asad Naeem, MQII CEC and the entire MQII Publications team for carrying out consistent efforts in the propagation of the Islamic message of peace, tolerance and interfaith harmony.
Urdu book - Minhaj e Ishq and four new English books - namely Mawlid un Nabi (SAW), Divine Oneness (Vol.2), Kitab al-Biddah, and O Brother! were also launched on the occasion.
Zubair Ahmed and Ayyub Ansari from MQII CEC congratulated Saiyed Nad e Ali and the MQII Publications team for the inauguration of the new premises. Zubair Ahmed also expressed his satisfaction on behalf of the CEC, stating that now MQI India is following constitution and policies and all departments are working as a cohesive team under the directions of the CEC.
Ayyub Ansari announced that the CEC has decided to make Maulana Anis Ashrafi as the head of MQI Dawah/Propagation. At the end of the ceremony, Arif Saiyed gave a vote of thanks and expressed gratitude to all the guests and audience for attending the conference.
The event concluded with the recitation of Salat-o-Salam by Shafat Hussain.