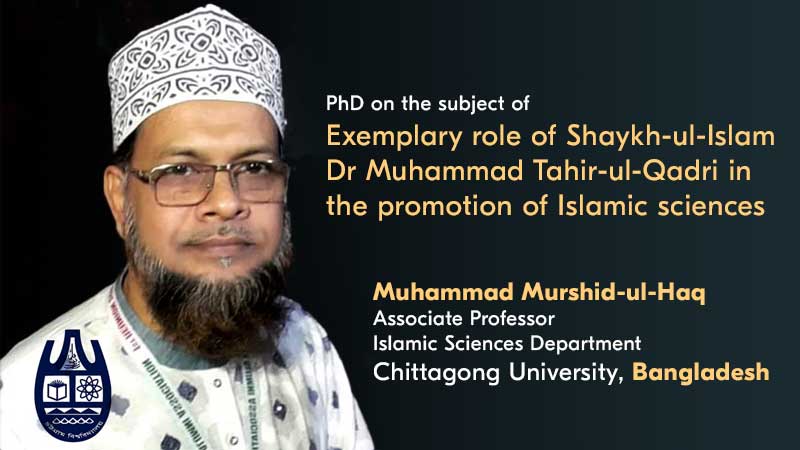 Muhammad Murshid-ul-Haq, who is working as associate professor in the Islamic sciences department of Chittagong University in Bangladesh, has earned his PhD on the subject of "Exemplary role of Shaykh-ul-Islam Dr Muhammad Tahir-ul-Qadri in the promotion of Islamic sciences".
Muhammad Murshid-ul-Haq has made a commendable scholarly effort to cover the personality and work of Shaykh-ul-Islam from various angles in the nine chapters of his thesis. This thesis also reveals how Dr Tahir-ul-Qadri is revered and the extent of knowledge found about his services in the scholarly circles of Bangladesh.
The thesis discusses the moderate thinking of Dr Muhammad Tahir-ul-Qadri, throwing light on how there is no way for the world to get out the deepening intellectual, political and economic problems without coming to the peaceful fold of Islam. A combination of terrorism, vested interests, atheisms and global interest-based system have paralysed peace, democratic politics, mental peace and economy respectively. This research work invites the scholars and intellectuals from around the world to think of the ways to bring order to a disorderly world.
The author has proven in the thesis how Dr Tahir-ul-Qadri is playing his role in awakening the modern generation through his scholarly pursuits, books and lectures. He is spreading his thought around the world in an institutional manner from the platform of MQI Centres that are present in every corner of the world. He is a strong voice and a proponent of peace and human values in the world and his whole struggle is premised on the idea of making humanity aware of the benefits of peace and shared future.
The fact is that this research thesis is an authentic document on the scholarly services, revivalist efforts and intellectual insights of Shaykh-ul-Islam. Written in Bengali language, this research work introduces a world to the secrets of knowledge and disseminates the educational services of Shaykh-ul-Islam. It is an open invitation to the seekers of knowledge to quench their thirst of knowledge.