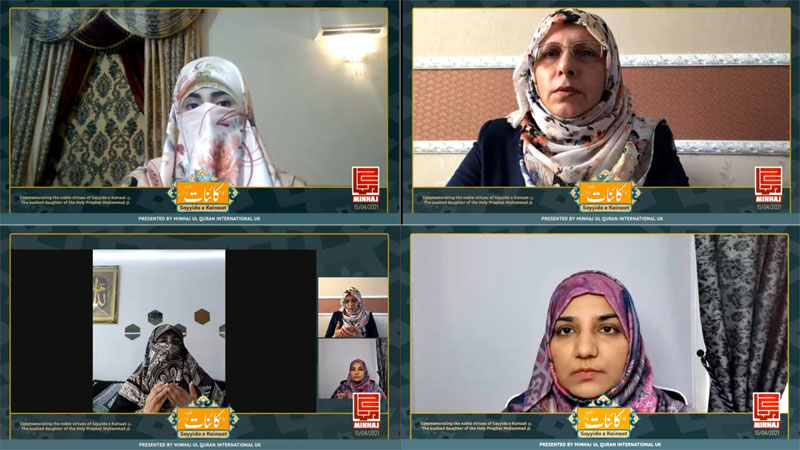 Minhaj Women Women League UK organised a Sayyida e Kainat (SA) conference with special guest speaker, respected Mrs Fizzah Hussain Qadri.
The program, hosted by Tasnim Babar (Dawah Secretary MWL UK) started with a beautiful Quranic recitation by Hafidha Mariam Noor. Muneeba Faisal read a beautiful naat in honour of the Holy Prophet (pbuh) followed by Darood e Pak recitations by Shazia Parvez and Faiza Adeel.
Nasreen Akhtar, President of Minhaj Women League UK, discussed the importance of holding this conference. She talked about the status of Sayyida Fatima al-Zahra (SA), the leader of all the believing women in Jannah, and how we should all make her (SA) our role model in this world.
Tasnim Babar then introduced the guest speaker Mrs Fizzah Hussain Qadri, who beautifully explained how Sayyida Fatima al-Zahra (SA) was the reflection of the Holy Prophet (pbuh).
She explained how a believing woman's jewellery is Taqwa (piety) which prevents one from performing sinful activities due to the fear of displeasing Allah and how it should be instilled from a young age in our children so they can strengthen this concept as they grow.
Mrs. Fizzah Hussain Qadri said that when Sayyida Fatima al-Zahra (SA) was 7/8 years of age she faced 3 years of great difficulty with her father, the Holy Prophet (pbuh) but she dealt with them with great patience and helped her father through these difficult years.
Mrs Fizzah Qadri gave beautiful examples from Sayyida Fatima al-Zahra's (SA) life before concluding the talk by saying that we should make her our role model to achieve success not only in this world but also in the hereafter. She is a powerful symbol of love, dedication and commitment and her life is a source of motivation for the women.
The programme ended with Salaam recited by Asma Habib and Duaa by respected Mrs Aisha Qadri (mother of Mrs Fizzah Hussain Qadri).