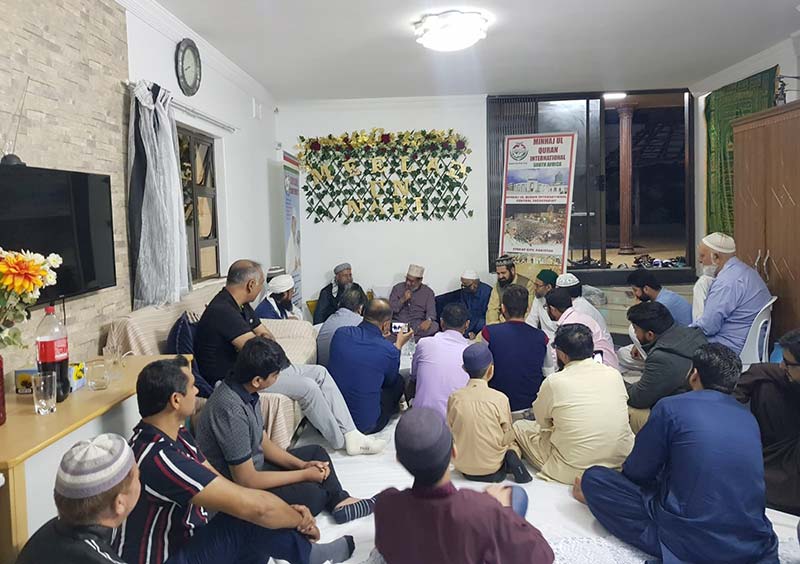 A beautiful Mawlid-un-Nabi (pbuh) ceremony was arranged at the residence of Allam Tahir Rafique Naqshbandi Minhajian under the banner of MQI South Africa. A large number of families, religious scholars, Mashaykh, doctors, and Muslim trading community members, and men and women attended the ceremony. A candle-lit procession was also taken out in which the participants offered greetings and salutations on the Holy Prophet (pbuh).
The program was also attended by Dr Akhtar Hussain, Chairman of Pakistan Association South Africa, Zafar Chaudhry, Muhammad Ijaz, Muhammad Junaid, Umair Sabir Qadri, Fayyaz Ahmad, Abdullah Jan, Muhammad Mohsin, Muhammad Usman, etc.
The proceedings of the ceremony got underway with the recitation of the Holy Quran by Allama Qari Muhammad Raiz Naqshbandi, followed by the recitation of Naat by Allama Ayub Tufail Qadri and Muhammad Saeed Qadri. Allama Muhammad Rafique Ali Shah (Amir, MQI South Africa) and former Minister (parliamentarian of South Africa) delivered speeches on the occasion.
A special Dua was made on the occasion for the health and long life of Shaykh-ul-Islam Dr Muhammad Tahir-ul-Qadri. The members and associates of MQI joined Allama Muhammad Rafique Badar, Hafiz Ismail Khateeb, Allama Muhammad Rafique Azam Minhajian to make Dua.
Allama Tahir Rafique conducted the proceedings and thanked the guests for their time. He also thanked all forums of MQI including the women league members for their support in holding the Mawlid-un-Nabi ceremony.
A cake was cut to mark the birthday of the Holy Prophet (pbuh) followed by Milad feast.