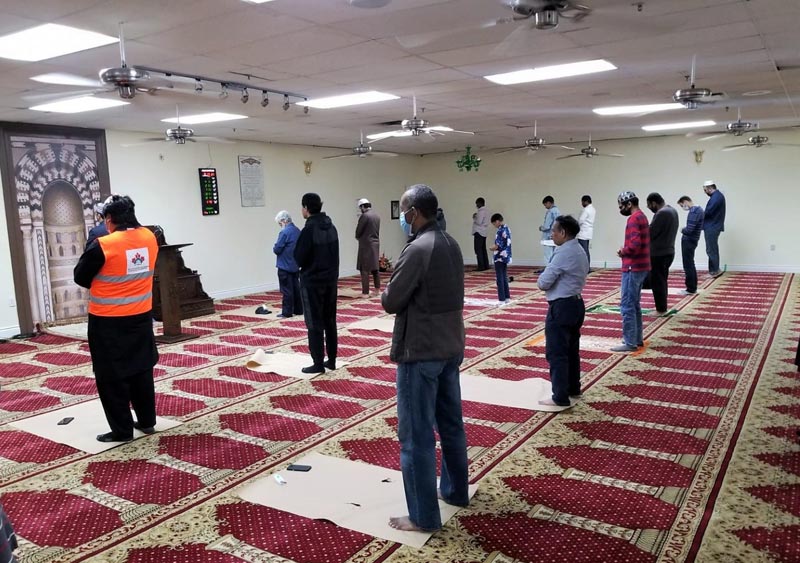 MMCC/Jame al Mustafa, and MQI Canada reopened the Jummah prayer service last Friday, on June 12th, 2020. After many days of lockdown and restrictions from the government, the Masjid was finally opened for its worshippers. Many people were excited to return and pray in the House of Allah once again.
The government had placed strict Standard Operational Procedures that were to be followed by the people. That included only 30% of the total Masjid capacity was allowed to pray at one time while observing 6-feet physical distancing from each other.
Volunteers under the supervision of Shaikh Tayyab put in efforts to make sure that everyone had prayed Jummah safely while following all the guidelines and precuations. Everyone was required to wear a mask and gloves and also bring their own prayer mat.
The people sanitized their hands before coming into the prayer hall. Management had marked off the Musalla sport where people were allowed to stand and pray. There were 4 Jummah Prayers. 1st led by Hafiz Abdullah Raja, 2nd led by Brother Hasnain Hameed, 3rd led by Allama Muhammad Ahmad Awan, and 4th led by Qari Shafiq Ahmad Naeemi.
President MQI Canada Kamran Rashid also spoke after each Namaz and thanked everyone for coming. He also requested people to follow the guidelines and instructions that were given by our volunteers. He reminded the faithful of the requirement to register themselves for the next weeks of Jummah Prayer.
MPP Mississauga East-Cooksville Kaleed Rahseed also visited. He congratulated and applauded the work of the volunteers. He motivated them to continue to work for the safety of people like this. He thanked president MQI Canada Kamran Rashid and Senior Vice President MQI Canada Shaikh Tayyab for organizing Friday prayer in an organized manner as per the SOPs.