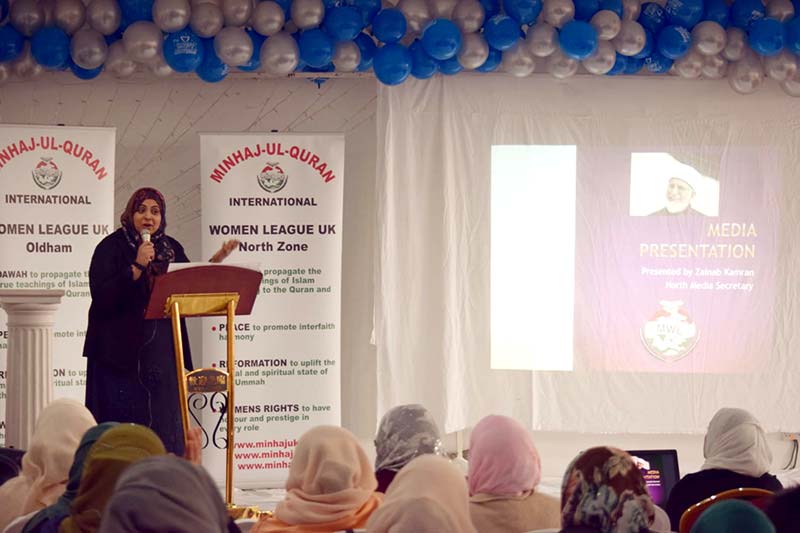 MWL North Zone team organised a motivating and constructive Workshop hosted by MWL Oldham at Madinah Hall in Oldham aimed to encourage and provide training through a series of workshops and presentations to ensure each member of Minhaj womens league is working to thier utmost potential. The workshop was divided into two sessions. In the first session MWL North Zone Media Secretary (Zainab Kamran) gave a detailed presentation on the Importance of Media Presence, with Bajee Eram Fatimah (Vice President North Zone) giving a presentation on Dawah and highlighting the various tools we have to attract people inc Minhaj Books and speeches etc.
MWL Bajee Maqsood (Accrington Membership secretary) and Bajee Nasreen (General Secretary Tinsley) inspired the audience with top tips to invite people to the message of Peace and Harmony and Minhaj Womens league. Bajee Farzana (MWL Oldham President) highlighted the importance of commitment by holding regular gatherings and mehfils demonstrating an organised approach to understanding our beautiful religion. Group sessions were delivered providing 1 to 1 training and encouragement to members representing each tanzeem. President Bajee Nasreen gave an inspiring speech glorifying the honour of our Quaid as a 'Mujajdid' of Islam an author of 1000 books in many languages and having given over 7000 speeches. This is the attraction of Minhaj ul Quraan. Our blessed Quaid and the Mission we represent is an inclusive organisation providing a complete package for the lovers of Allah and his Blessed Prophet (s.a.w.) especially for Modern Muslims of the 21st century.
Minhaj ul Quraan provides a one stop platform providing complete Islamic Guidance covering all aspects of life. The second session commenced with Bajee Saiqa Shaheen (General Secretary Blackburn) explaining the importance of teamwork and where each member is interdependent on each other to forward the message of our Beloved Quaid. Bajee Nasreen congratulated all Tanzeems for thier work in 2019 and discussed SMART targets for an even more productive 2020. The workshop ended with a spiritual dua with a celebration cake for MWL foundation day which was celebrated on the 5th of January.