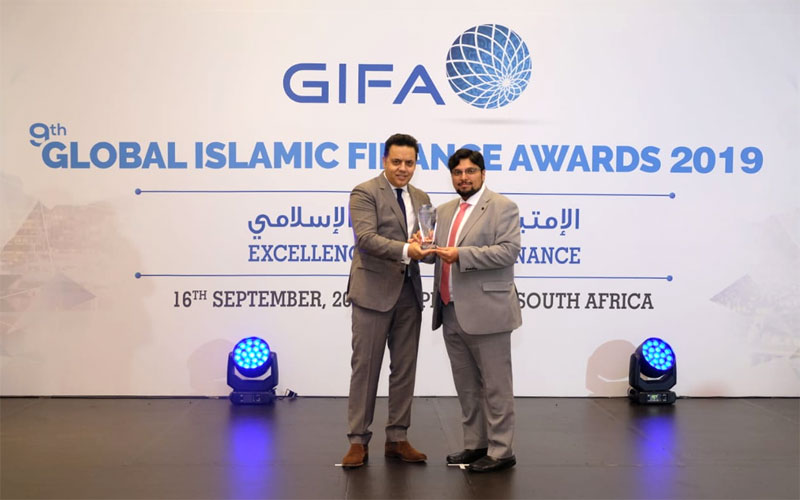 Dr. Hussain Mohi-ud Din Qadri (Deputy Chairman, Minhaj University Lahore) got Award for his contribution in promotion of Islamic Economics & Finance in Academia, 2019 in prestigious GIFA ceremony held in Cape Town, South Africa.@OfficialMUL pic.twitter.com/NmCtxSbsVV

— Dr Hussain Qadri (@DrHussainQadri) September 17, 2019
Dr Hussain Mohi-ud-Din Qadri, President MQI and Deputy Chairman of Board of Governors of Minhaj University Lahore, has been awarded Global Islamic Finance Award in recognition of his meritorious research work in the field of Islamic Economics and Finance. GIFA gave him this award in the South African city of Cape Town. The award ceremony was attended by distinguished political personalities of South Africa, members of Parliament, ministers, intellectuals, bankers and the chief executives of international organizations and companies.
Dr Hussain Mohi-ud-Din Qadri recently wrote a 500-page book titled 'Business Ethics in Islam' which got huge applause from the Islamic banking sector and economic experts. In this book, he threw light on the economic morality of Islam and the basic principles of Islamic economics in the light of the Holy Quran and Sunna. This research work of Dr Hussain won a lot of appreciation.
Expressing his views after receiving the award, Dr Hussain Mohi-ud-Din Qadri thanked Allah Almighty on this singular honour. He said that Islam furnishes guidance to humanity in every field of life, be it politics or economics, etc. He dedicated the award he got in recognition of his research work to Pakistan. He said that the economic system of Islam emphasizes business ethics by following which businessmen can progress leaps and bounds and earn a good name for themselves in the market.