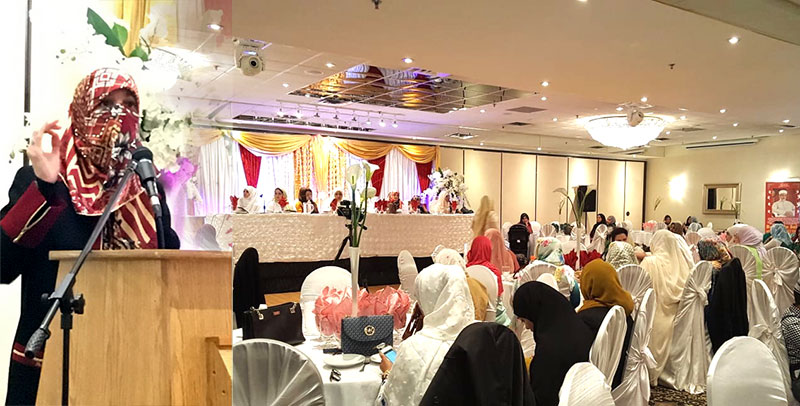 On Saturday 19th May 2018, a beautiful Iftar celebration was organized in the name of Sayyida Kainat Conference in Mississauga, Canada. The keynote speech was delivered by Dr Ghazala Hassan Qadri and the evening featured many prominent Naat reciters from all over the Greater Toronto Area.
Starting with tilawat of the Holy Quran, those in attendance enjoyed heart touching Naat recitations, remembering our Beloved Prophet Muhammad SAW and his great daughter Sayyida Kainat Hazrat Fatima tuz Zahrah RA.
Before breaking the fast, the attendees greatly benefited from a deeply informative, inspiring and emotional talk by Dr Ghazala Hassan Qadri. Dr Ghazala commemorated Hazrat Fatima tuz Zahra RA by informing the audience of her beautiful characteristics, her daily life struggles and the pains that she endured throughout her life, despite being the daughter of our Beloved Prophet Muhammad SAW.
Dr Ghazala explained that throughout all the trials and struggles, Hazrat Fatimah Tuz Zahrah RA remained steadfast on the path of Allah, she never gave up or lost hope. Dr Ghazala went on further to state that even though the Beloved daughter of our Prophet SAW worked hard all day, until her hands hardened, she still stayed awake at night to worship her Lord. Through these sacrifices she attained the status of the leader of all the women in Paradise.
Dr Ghazala informed the audience that Shaykh ul Islam Dr Tahir ul Qadri has written many informative books on the life of Hazrat Fatimah Tuz Zahrah RA in both English and Urdu, and urged everyone to learn about the life of the daughter of our Prophet SAW and to take her as our role model. Dr Ghazala also mentioned that all royalties and profits from the books are put back into Minhaj ul Quran International and not a single penny or cent will come to Shaykh ul Islam or his family, as he had made this haram upon himself.
The event concluded with all the participants offering Durood and Salaam upon our Beloved Prophet Muhammad SAW, an emotional dua and Iftar was served at the end.