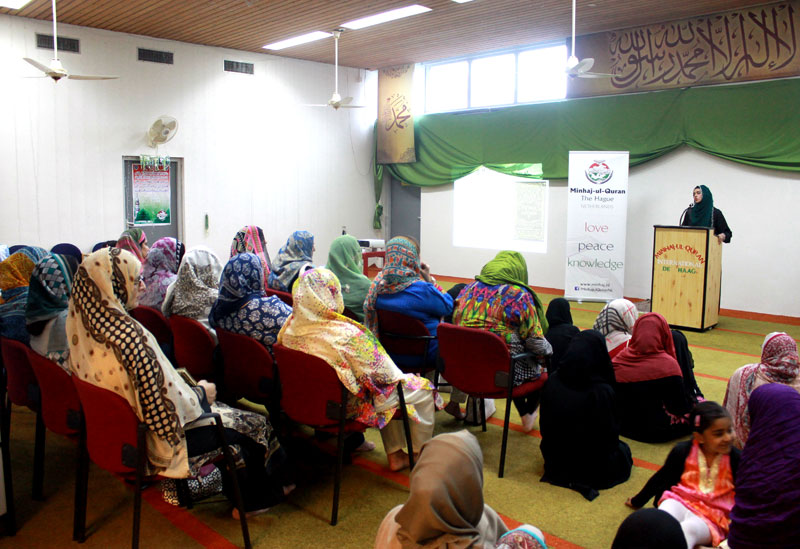 By the Grace of Almighty Allah (SWT) and his Beloved Prophet (peace and blessings be upon him), Minhaj Sisters and Women League (The Hague, Netherlands) organized its annual Fatima al-Zahra (R.A) conference, which was especially arranged for the youth sisters and mothers.
The session took place on the 11th of June 2016 in the blessed month of Ramadan. Approximately 100 sisters and mothers attended this conference and benefited from the informative and spiritually uplifting speech of our honorable speaker, Mrs. Sumaira Faisal (President Minhaj Women and Sisters League Europe).
Sister Adeela Nazir welcomed everyone and thanked the audience for participating in this program. The program started with recitation of Surah Rehman. After the Quran Recitation the beautiful Manqabat 'Izzat khuda ki' was recited by sisters Anny Malik and Mahnoor Shah. After that there was a beautiful Manqabat ' Lajpaal Nabi' by Tuba Ali.
Then sister Anny Malik and Mahnoor Shah gave a presentation about the activities of Minhaj Sisters League The Hague during the holy month of Ramadan.
After that Mrs. Sumaira Faisal delivered an inspirational lecture on the life of Sayyida Fatima (RA) and her bonding with the Prophet Muhammad saw. Sayyida Fatima (RA) taught us how to live our life by loving the Prophet Muhammad (peace and blessings be upon him).
The session was concluded with Salaam and Dua. At the end of the program everyone had iftari andwe read together the prayer of Traveeh.