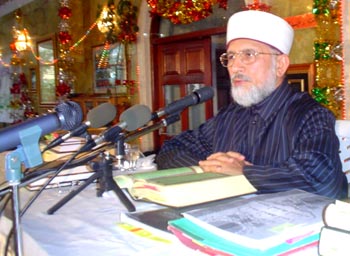 It does not come as a surprise to those who attend events where Shaykh-ul-Islam Dr Muhammad Tahir-ul-Qadri is the special guest, the attendance is always mind blowing. As those present would have seen, the Ghamkol Shareef Jami Mosque in Birmingham was full to the brim for the main event of the Urs which was the lecture of Shaykh-ul-Islam Dr Muhammad Tahir-ul-Qadri, a world renowned figure, a scholar of the highest calibre and someone who the public flock to see at every opportunity.

The ever increasing popularity of Shaykh-ul-Islam Dr Muhammad Tahir-ul-Qadri is all the more apparent considering that Europe's largest mosque, the Ghamkol Shareef Jami Mosque, was full to capacity with thousands squeezing into the main hall in order to be present in yet again another historic, ground breaking and mesmerising lecture.

This was the first time Shaykh-ul-Islam Dr Muhammad Tahir-ul-Qadri, founding leader Minhaj-ul-Quran International (MQI) attended the Urs at Ghamkol Shareef. Many renowned Scholars and dignitaries were also present such as Mufti Gul Rahman Qadri, Mufti Abdul Rasool Mansoor Al azhari, Allama Hafiz Nazir Ahmad Qadri, Maulana Bustan Qadri, Allama Niyaz Ahmad Siddiqi, Allama Muhammad Ramzan Qadri, Allama Muhammad Afzal Saeedi among many others.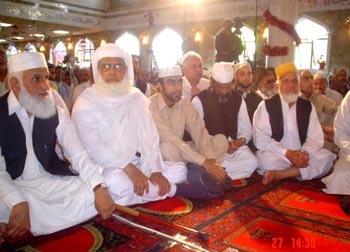 The duration of the lecture was a mere three hours, which as far as the lectures of Shaykh-ul-Islam are concerned, was well below the average of four to five hours. Due to the unprecedented hot weather the heat in the mosque hall was unbearable, but testament to the commitment which the audience showed to Shaykh-ul-Islam, the hall remained full throughout the lecture.

The lecture topic that Shaykh-ul-Islam had selected was Tasawwuf and Awliya. Shaykh-ul-Islam said that he wanted to shed light on both of these and at the same time address objections and misconceptions that may exist on each issue. Some of the points from his lecture are given below:

The true concept of Tasawwuf suffers from two kinds of attacks. One is internal and the other external. The internal one is the more detrimental of the two. It entails the so called followers of Tasawwuf, the so called sufis who have washed their hands of the true concept that has been laid down by the Quran and Hadith and the teachings of the great Imams. They only practice a few rituals which in their essence have nothing to do with Tasawwuf. The fact that very few people truly follow Tasawwuf and the majority of its so called followers do not adhere to its teachings, the door is open for those who reject tasawwuf to capitalise on the behaviour of the so called sufis to prove their apprehensions that Tasawwuf is an innovation that has nothing to do with Islam.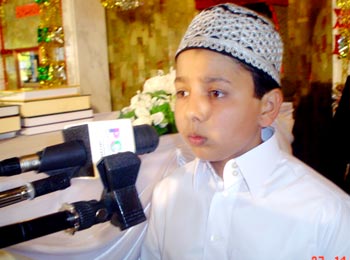 The external threat to Tasawwuf is that posed by those who reject Tasawwuf out right. They do not have the correct understanding of Tasawwuf and they have not studied or tried to study what Tasawwuf really is. They have only studied it with a view to oppose it. It is our duty to get the true message of Tasawwuf to such people. This is not done by criticising them or insulting them. The irony is that those who believe in Tasawwuf and claim to practice it do not equip themselves with the knowledge required to successfully propagate the true message of Tasawwuf and have the ability to counter any objections and misconceptions that have been made prevalent either by the conduct of so called sufis or by the propaganda of those who reject it.

In Islamic history there has never been a sect that rejected Tasawwuf out right. This phenomenon has only appeared in the last two centuries.

Awliya are both fully competent in knowledge and also in spirituality. Their dhikr is prevalent over their knowledge.

The three stages of Iman, Islam and Ihsan are also illustrated in a Quranic verse. This verse also mentions the different categories of pious people.

Due to the shortage of time Shaykh-ul-Islam said that he was only able to present a brief introductory lecture on the subject. He said this is a vast subject which he would like to fully cover in future lectures.

Report by Jawed Iqbal Tahiri.
Urdu Report and pictures by Aftab Baig