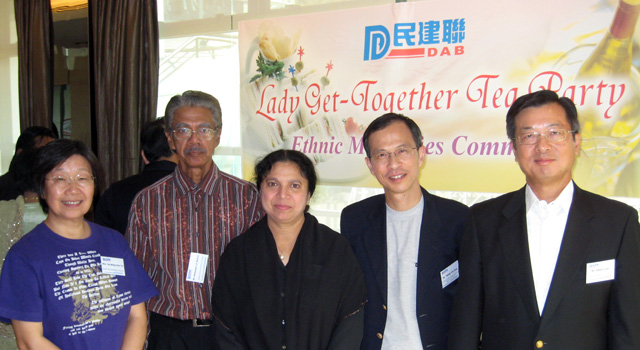 Mr Batcha (2nd from left) helped to organise a gathering for female community members to promote social harmony
Mohamed Ibramsa Sikkander Batcha came to Hong Kong from Sri Lanka almost thirty years ago. He is one of approximately 3,000 Sri Lankans who have settled here in Hong Kong, including many respected professionals and government officials.
During his time in Hong Kong, Mr Batcha has worked tirelessly to uphold the rights of ethnic minority citizens. For the last ten years, Mr Batcha has been the President of the Hong Kong branch of the Minhaj-ul-Quran, which has two centres, one in Kwai Hing (overseen by Mr Batcha) and the other in Sampokong. The centres welcome 215 children aged between three and ten years. They are taught Quran reading, basic religious observation as well as traditional values by a dedicated staff.
The centre, which is supported by donations from the families who attend, also runs women's programmes and hosts various community events and religious celebrations. It is an important gathering place for Pakistani, Indian, Sri Lankan and Bangladeshi families and contributes to social harmony among these groups of people.
Mr Batcha is also a member of the DAB Ethnic Minorities Committee and has been for the last four years. Mr Batcha feels that the DAB is the only political party in Hong Kong that is actively fighting for equal opportunities for ethnic minorities. He has worked closely with DAB Party Affairs Advisor and Legislative Councillor Tsang Yok-sing and committee chairman Albert Lam on a number of issues and is very appreciative of the support he receives. Mr Lam has even visited the centre in Kwai Hing to better understand the work that is being done there.
Mr Batcha is an eloquent speaker when it comes to race issues and the DAB has given him the opportunity to address the Legislative Council on Hong Kong's educational policy, racial discrimination and shortcomings in dealings with ethnic minorities. DAB district councillors also recommended Mr Batcha for a position on the Working Group on Ethnic Affairs of Yau Tsim Mong District Council. Mr Batcha is a Co-opted Member of the District Council. In this role, Mr Batcha has the opportunity to provide valuable insights and advice to the Government. 
According to Mr Batcha, racial discrimination is in fact a minor and much-exaggerated issue here. He feels that in general Hong Kong people are practical, respectful and keep themselves to themselves. "Not once have I been harassed in the street because of my race," declares Mr Batcha. He feels that the real problem lies in the realm of language.
Despite almost 30 years in the territory, Mr Batcha still struggles to speak the local language, and this is a common problem. "Cantonese is a very difficult language to master unless you speak it from the cradle", he reports. This is a sentiment echoed by the children in the Kwai Hing centre. Husnain, a charming and impeccably polite boy of 14 attends an English medium school and says he struggles with Cantonese. While Aneeta, a beautiful, shy little girl of eight attends a Chinese medium school and says that while she speaks well, she finds reading and writing difficult.
Lack of language can make school life very difficult for young members of ethnic minorities. As they get older and competition for school places gets tougher, these children can struggle to get into schools. After they graduate, they are at a disadvantage in the job market because they have not mastered Cantonese. Clearly, this is a very serious problem.
This is an issue that the DAB is well aware of and as Mr Batcha points out, they have helped to organise many classes for ethnic minorities. Mr Batcha also tells the story of going to hospital seeking medication for a serious condition and being unable to communicate with staff. Now, he says, thanks to the DAB, many hospitals have signs in ethnic minority languages. "For example, in areas with a large Pakistani or Nepali population, you will find signs on the wall in Urdu and Nepali," he explains. "This is a great help."
Mr Batcha is proud of his heritage and his traditions. He is also proud of the city he has made his home. He talks of the good friends he has made and the opportunities he has had. Mr Batcha hopes that with assistance such as that received from the DAB, the lives of ethnic minorities in Hong Kong will continue to improve.
Mr Batcha (back row, 2nd from right) is an active member of the DAB Ethnic Minorities Committee

Some younger students from the centre in Kwai Hing gather round their teacher

 
Link:
http://mail.dab.org.hk/eletter4/content/thecorner/1.html