Report by Assad Siddique
As He was there!
When entering in the main hall, Sisters and brothers were shocked by the transformation brought in few days by the decoration team to the sober Idara they use to spend time in: First, all the ground surface was covered by white cloth sheets, bringing an exceptional light to the place. Then, along the walls, plants, flowers were placed and panel on which photos of all Huzoor Shaykh-ul-Islam's Awards were displayed. Huzoor Shaykh-ul-Islam's books were also magnificently set on decorated tables outside the library.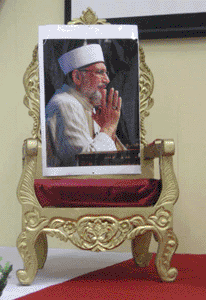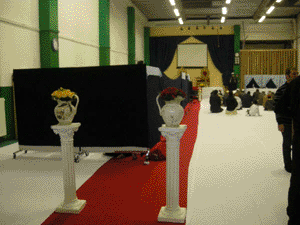 But the biggest surprise came from the stage side. Nobody was sitting on it for a reason that was obvious: 2 golden chairs had indeed pride of place on the middle of a flower bed. On the first chair a portrait of Huzoor Shaykh-ul-Islam was set, and on the second chair, a portrait of His Shaykh Qudwat ul Awliyah, Huzoor Peer Tahir Alauddin al Jilani (RA) was placed. A shiver ran through the attendees when, during the program, they came to know that this set up was directly inspired by a dream that Brother Salman (the chief decorator of this event) made and in which Huzoor Shaykh-ul-Islam came and requested for this specific stage setup. At the background, and between the majestic stage curtains made for this occasion, a white video screen was set up. Different portraits of Huzoor Shaykh-ul-Islam were projected and next to each of them love messages that were written by members for their beloved Quaid were also displayed. It was pleasantly surprising to see that the most touching words came from the youngest brothers and sisters.
Nazr-e-Saqi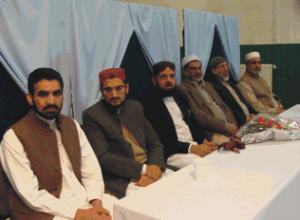 Sarprast European Council Haji Gulzar Sahab, was presiding the gathering, while Allama Syed Farhat Hussain Shah Sahab, Nazim Ulama Council, was the guest of honour on this occasion. Also, Allama Hafiz Iqbal Azam (Director MQI France) Rana M. Ashraf, (President MQI France), Shabeer Awan (General Secretary MQI France), Chaudry M. Saeed (President Shura) and Chaudry Zafar (President PAT) were present on the stage.
The proceedings of this day started with the recitation from the Holy Quran by Qari Tahir Abbas. Then, the Dufs of the Minhaj Naat Council came into action and started to vibrate the walls of the centre and of course, the heart of each person in the audience! First, Brother Amer Naeem, led the Nasheed in Hindi that Huzoor Shaykh-ul-Islam wrote himself: Manmohan ne roop Nikala Us pe Fidaa Ghar Baar Laag Lagee hai , Aas lagee hai, Jinaan hai Dushwaar Video :
Then, the first Kalam on Huzoor Shaykh-ul-Islam was lead by Brother Yaseen Kaudeer, with a passionate Qawwali beat that brought the audience to a "nice" temperature:
Mera Tahir Salamat rahai Hai meri Zindagi Tahir-ul-Qadri
Youhni Qa'im ye sangat Rahai
Video :
Temperature rose even a bit more when, charismatic Brother Nauman Aslam read the next kalam dedicated to Huzoor Shaykh-ul-Islam:
Mere Samne tu betha Kya Piyoon Sharaab Saqi
Mujhe hosh na nashe ki jo uthaa niqaab saqi
Video :
Then, it was the ideal moment for famous munshid of Paris (Shaykh-ul-Islam loves his voice!), Qari Muhammad Tariq to present few of the 10 kalams from his latest opus, Nazr-e-Saqi. Nazr-e-Saqi is not an ordinary album; it is a proper declaration of love to Huzoor Shaykh-ul-Islam. The reason is that the lyrics are extracted from the two books written by Europe's famous poet (HSI told that!) and lover of Quaid, Sheikh Sajid Fayyaz: "Tou mere lafzoon mein chuppa" and "tujhe apne husn ka wastaa". On this album the music was especially composed according to Huzoor Shaykh-ul-Islam musical preferences (Turkish and Arabic). And all of this matches with perfection with the melodious voice of Qari Muhammad Tariq. But above all, Album "Nazr-e-Saqi" was specifically imagined to be presented on Quaid Day. It was thus an adequate gift for all Quaid lovers! Accompanied by a Duf and a Chorus, Qari Muhammad Tariq started the first of his 4 kalams with:
Mere Tahir Pya Mujh ko de Aasra
Ik Taraf tu sakhee Ik Taraf mein Gadaa
Video :
Then, the emotions reached its peak when Qari M. Tariq, supported vocally by an enchanting Brother Amar Naeem, interpreted the Punjabi mahyah:
Junglaan noon Rah Koyi Naan
Mahi Sathoon Door Gayaa
Sade Sah vich Sah koyi naan
Video :
Hearing the lyrics of this mahyah, Brother Faisal Ali Qadri stood up and started doing Raqs. Some other People's tears also witnessed how much time has passed since Huzoor Shaykh-ul-Islam last visit to Paris. Then Qari M.Tariq carried on with the next following kalam which was read last year in London, in front of Huzoor Shaykh-ul-Islam:
Dosto Na karo koyi meri Dawa
Dard mere pe kuch bas tumhara naheen
Video :
The last Kalam, more rhythmic, brought progressively the program back to a festive ambiance and became a good transition to present the chief guest of this programme. Hai Tahir Aisa Pya Hai Tahir Aisa Pya Noor hee Noor Kya Hai Tahir Aisa Pya Video :
Guest of Honour
The chief guest for this program, Allama Syed Farhat Hussain Shah Sahb was then invited on the microphone to deliver his speech. The topic chosen was Huzoor Shaykh-ul-Islam and the importance of his being in this crucial era for Muslims. Allama Farhat Hussain Sahab started his speech by quoting a verse from Surah Anbiya, in which Allah (SWT) states that Imams (meaning Prophets) are sent on people to convey Allah's guidance upon them. He then start by explaining that through ages, whenever a prophet finished his mission, the message of guidance conveyed upon the Ummah lasted few times and then started to be distorted again. Then to take back people on the right track, a new prophet was sent again. This method of conveying guidance was used by Allah (swt) up to Syedna Issa (AS). When the time of the Last and the Beloved Messenger of Allah (SWT) came, Allah (SWT) himself took the responsibility of preserving Holy Prophet (SAW)'s message and this, up to the end of the times. Indeed, even though people will be mislead and misguided, there will be no more need to send prophets and new Shariah. Allah (SWT) will indeed give the extraordinary ability to the Ummah of Holy Prophet (SAW) to recover itself. How? By raising among this Ummah blessed people that are divided into 3 categories: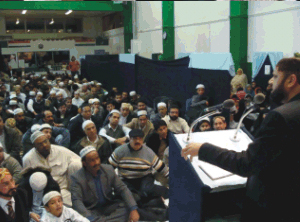 First category of people is the Musliheen, those who heal (Islah) on the Deen. The Musliheen enter into action when the basic Aqaid (Beliefs) of our Deen are under threat. Several Musliheen can work at a same time period, at different places in the world. Second category of people is the Mujtahideen, those who perform Ijtihad. These highly qualified specialists in Quran, Fiqh and Hadith sciences com into action when solutions to those new matters (Masails) that naturally comes along with times are needed. By their work, these Mujtahideen enable the deen to be in adequacy with its era. Several Mujtahideen can work at a same time period, on different places in the world.
But a time comes on the Ummah, when the work of thousand Musliheen and Mujtahideen at a time is not sufficient to save people from misguidance, corruption, and sins. When there is no more hope for the Ummah to flourish again, Allah (SWT) fulfil His promise by sending the third category of his blessed people: the Mujaddadeen, those reformists. Indeed, in a tradition, Holy Prophet (SAW) had declared that Allah (SWT) sends every century a person who revives the faith among the Muslims who might forget or ignore the basic tenets over passage of time. Such persons don't change the Faith but revive its practice among the people. Such a person is thus remembered as Mujaddad (or Revivalist). Allama Farhat Hussain Sahab affirmed that there was no doubt that the Mujaddad of our era is indeed Huzoor Shaykh-ul-Islam Dr Muhammad Tahir-ul-Qadri. We then demonstrated his statement by comparing some of the characteristics of a Mujaddad with glimpses from Huzoor Shaykh ukl Islam's life.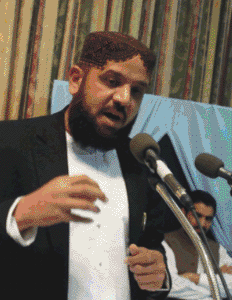 1. A Mujaddad is not discovered by all or he is not necessarily followed by all. Only few highly spiritual ranked people can measure and appreciate a Mujdaddad. Allama Farhat Hussain Sahab told us this amazing anecdote: Before leaving Lahore after attending Mawlid 2007, Shaykh Abul Hashim of the holy city of Madina, pronounced 3 times "Wallah!", and then had these words: "If Allah (SWt) didn't appointed me as the guardian of Holy prophet (SAW) shrine, I would have left Arabia and would be always with Shaykh-ul-Islam during the rest of my life!"
2. A Mujaddad is outstanding from his childhood. When asking Huzoor Shaykh-ul-Islam the first time he has read prayer, He answered that he didn't remember a time when he has even missed the tahajjud prayer.
3. Huzoor Shaykh-ul-Islam way of teaching is unique. During his student life, Allama Farhat Hussain Sahab remembered that some students used to avoid praying Tahajud (which is an obligation imposed by Huzoor Shaykh-ul-Islam during Shariah studies at Minhaj University). One day, this behaviour came into the knowledge of Huzoor Shaykh ul Islam who was convened all students in a room. All students were expecting angriness and sanctions. But Huzoor Shaykh ul Islam was just sad and said that was not the fault of his students but his own, because he is a bad teacher. He then explained that He could never claim to be a great scholar if his students are not bound to read Tahajud. These few words were enough to bring shame among students. After this event, none of these students missed Tahajud. And some of them didn't even sleep the whole night, fearing to miss it.
4. He is pure from any worldly desires. During all his Life, Huzoor Shaykh-ul-Islam struggled for the only purpose of uplifting the Deen of His Lord and His Prophet (SAW). He thus never had any expectation from anyone, except from Allah (SWT) and Holy Prophet (SAW). Mujiburahman Shami once stated about Huzoor Shaykh-ul-Islam that common people think about means before launching any big project. But Dr Tahir-ul-Qadri is the only person he has met who has launched several successful huge projects without thinking of any means before.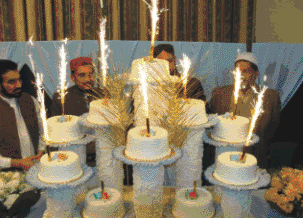 5. When a Mujaddad fights against a Fitna, he does it once and for all. Allama Farhat Hussain Sahab mentioned few fitna based claims raised in Pakistan these past few years, such as "Interest in Banking can't be avoided now" or "Imam Mehdi is already born". Using irrefutable arguments, Huzoor Shaykh-ul-Islam has provided to the Ummah permanent and definitive answers against these statements which were causing misguidance among Muslims. Ending his speech, Allama Farhat Hussain Sahab invited people to join Minhaj-ul-Quran, so as to get benefit from the proximity of Huzoor Shaykh-ul-Islam as He is without any doubt the Mujaddad of our era. Final Before the Dua which announced the end of the program, Allama Hafiz Iqbal Azam thanked the Chief guest for his presence and his wonderful speech, and congratulated the youth of MQI France for organising such a memorable programme. He then invited representative of all Tanzeemat to cut, by turn, the big colourful and delicious cake made up of 19 pieces and ordered specifically for this event.
Final Dua' was performed by Allama Syed Farhat Hussain Shah Sahab The night ended with a lavish dinner.