Course:Sewing course for girls.
Vanue:Idara Minhaj- ul - Quran Oslo.
Teacher:Respected Mrs Shehnaz Butt.
Other Teacher:Respected Shehnaz Noor.
Duration:1st July 2007 - 11th August 2007
Organized by:Minhaj - ul -Quran International Women League Oslo.
Allhamdulillah by the Grace of Almighty Allah and The blessings of His Beloved Prophet Muhammad (saww) Minhaj - ul - Quran Women League Oslo has organized a sewing course for the girls and also for women, so that they can get benefit from their free time in learning some skills which can be useful in their future life.
A highly skilled teacher Respected Mrs Shehnaz butt sahiba sewing diploma holder from Fauji Foundation Gujarat Pakistan is leading the course very successfully. The Girls has demanded to exceed the time period of the course.
In these classes where we are giving them sewing skills, at the same time we are also having a chance to have a contact with new families for giving them the introduction of Minhaj - ul - Quran International.
During the class time President Women League Respected Baji Salma Zaffar Sahiba together with one another member of our women league (which changes their duty every week) stays with them and takes care that every thing is going smoothly. And also gave her valuable suggestions & advises to girls about clothes, that what kind of clothes they should wear and what kind of clothes or styles are forbidden in Islam and are not good to wear being a Muslim and why?? because that's not the right way to stop some one in the name of Islam without telling them the reasons or its harms in the practical life and further in the whole society.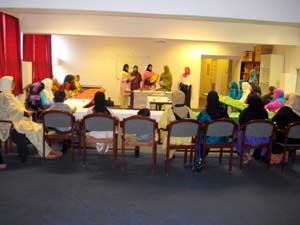 The course ended with a parents day program in which diplomas were handed over to all successful girls who participated in the course.
The program commenced with a recitation of The Holy Quran along with Qasida Burda Sharif presented by MWLÂ together with Minhaj Sisters.
Stage secretary Respected Shafqat Parveen welcomed the audience then the special guests were introduced and asked to take their seats which included, Respected Razia Meer, Respected Afshan Arshad, Respected Shehnaz Noor and Respected Shehnaza Butt.
After that Minhaj Sisters recited beautiful Nasheeds in the prais of Rasool ul Allah (saww).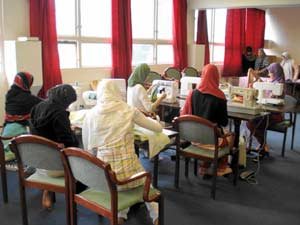 Then Respected Rafia Rauf Finance Secretary Minhaj Women League Oslo briefly told about the running and forth coming programs and stressed the audience that living in such countries where we have very less opportunities to teach our children about Islam, is very important for parents to bring their children in such places and in such courses and programs like weekly Mahfil-e-Zikkr gatherings, monthly Gayarwian program, weekly Quran, Hadith and fiqah classes and so on. Minhaj ul Quran International is providing a lot of opportunities to us. only in Oslo at the moment dozen of programs and courses are running for everyone young, old, children, men and women, and on every aspect of the life just for the betterment and awareness of the Muslim Ummah. But that's our duty to take benefit from this golden opportunity.
Afterwards Respected Razia Meer and Respected Afshan Arshad handed over diplomas to the lucky girls which participated in the course.
The program came to an end with Duaa and Salaam to Rasool ul Allah (saw).
Food was distributed at the end.
May Allah (swt) strengthen our link with our Respected Hazoor Shaikh ul Islam Dr. Â Muhammad Tahir ul Qadri,.. and give us knowledge of Islam in the right way and make us able to present His (Allah's Deen in the right way before the whole world. Amin. Wa Salaam un Ala Rahmatul lil Alamin (saww).
Reported By: N H Qadri (Oslo), Norway