Date: Sunday 30th May 2004
Venue: Eton Road Community Centre, Ilford, Greater London
Talawah: Sister Farah (Moroccan sister)
On-stage: Alima Faiza Qadri
Urdu speech: Sister Asma (Manchester)
English Speech: Sister Khadijah Atkinson
Organisers: Respected Sisters: Farzana, Tasneem, Tasawer, Jubeen, Najma, Rahima, Khadijah, Mahfooz, Rabia and Alveena.
Alhamdulillah by the blessings of Almighty Allah and His beloved Prophet (saw) approximately 350 women, young and old, gathered to participate in this blessed programme.
The programme commenced with a beautiful recitation of the Holy Quran - Surah ad-Duhā - by sister Farah whose mother tongue is Arabic, followed by a melodious recital of the Qasida Burda Sharif (Poem of the Scarf) recited by a group of younger sisters.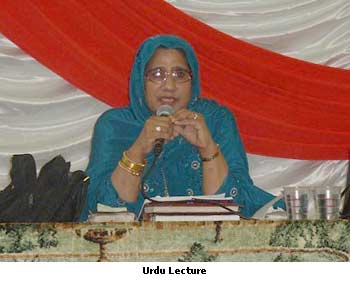 Sister Khadijah gave a dynamic speech in English addressing some of the controversy surrounding the celebration of the Mawlid. She highlighted the importance of relating the struggles undertaken by our Beloved Prophet (saw) to the current situation of the Muslim Ummah. She emphasised the importance of brotherhood/sisterhood and working collectively in order to make a difference. The lecture also stressed the importance of working for our Akhira (hereafter) and educating ourselves in Islamic knowledge.
Sister Asma's speech was spiritually enlightening; she beautifully explained the true status of our Holy Prophet (saw). She emphasised we are incapable of praising the Prophet (saw) as he deserves, as we cannot do justice to the personality and being of he who is praised by Allah (swt) Himself.
The programme rightfully ended with Salaam on the Holy Prophet (saw) and Du'a.
Alhamdulillah, books and videos by Shaykh-ul-Islam, Dr. Muhammad Tahir-ul-Qadri were sold.
Free Minhaj-ul-Quran introductory packs, free Islamic literature and food was also distributed.
We would like to thank all those who went to great efforts in preparing and organising this special programme especially to those who worked hard in preparing the food. We pray that Allah (swt) gives you thetowfeeq (ability) to organise more blessed Mawlid programmes in the future Insha`Allah. Ameen.
Reported By: Alveena Salim