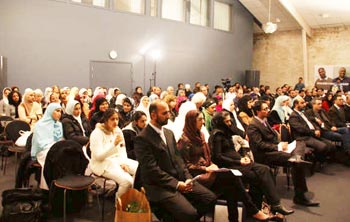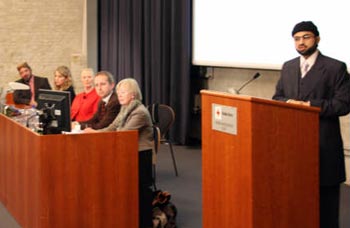 The important and central program of Sahibzada Hussan Mohi-ud-Din Qadri's visit to Norway took place in Red Cross Hall on December 2, 2008. Since the topic was of immense interest to people and it was the first ever program of its kind in Norway, the zeal and zest of audience was quite noticeable. The team of the Minhaj Reconciliation Council, which had been busy for the successful conduct of the programme, was rolling out red carpet welcome for the incoming guests. The majority of audience composed of young men and women for the topic was such as concerned the youth. The chief guests of the programme included Sahibzada Hassan Mohi-ud-Din Qadri, Norwegian Education Minister Bard Vegard Solhjell, Fabian Stang, the Mayor of Oslo, Monica Berge of Red Cross, and Gerd Fleischer, president of Organization for Help of the Expat Community in addition to a large number of representatives of various local organizations.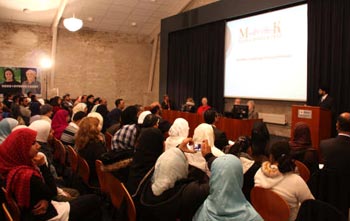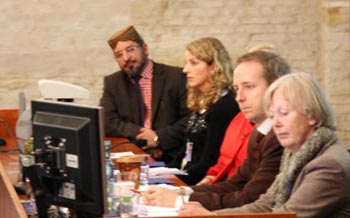 The proceedings of the program got under way with the recitation of the Holy Quran by Hafiz Imran Ali followed by Naat which was recited by a team of Minhaj Sisters that included Iqra Mushtaq, Amina Zafar, Zunaira Mushtaq, Fatima Zafar, and Ayesha Noor. Mr. Atif Rauf read out the translation of recitation. Mayor of Oslo, Fabian Stang, felicitated the Minhaj Reconciliation Council on the successful arrangement of the program and appreciated its overall efforts. He said Minhaj Reconciliation Council has won Oslo Award due to its efforts and hoped that the organization would continue working much more vigorously and will be recipients of all awards.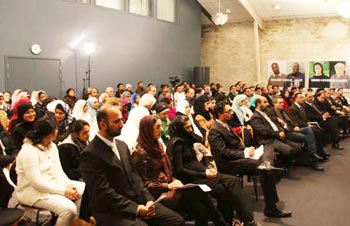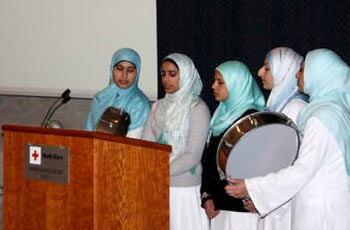 Representative of Oslo Red Cross, Monica Berge, presented facts and figures of forced marriages and mentioned the services the Red Cross was making in the field. She appreciated the efforts of Minhaj Reconciliation Council. Gerd Fleischer made a detailed speech on the topic of forced marriages. He said no religion recommended forced marriage. It is a social issue, which is present everywhere in the world. He expressed the need for making joint efforts in this regard.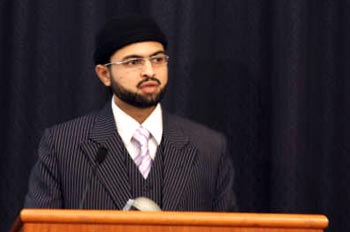 Sahibzada Hassan Mohi-ud-Din Qadri, who is has completed his education at Minhaj University, the University of Punjab, London University and Arab University in addition to benefiting from great scholars of the Arab world, has become a man of scholarly stature in his own right. He started off his speech with verses from the Sura Bakara of the Holy Quran. Quoting the Quranic verses and Hadiths, he said no religion of the world, leave alone Islam, approved of the idea of forced marriages. The presence of this phenomenon in the society today was because of ignorance of Islamic teachings. He said Islam gave right to adult man and woman to enter into marital relationship out of their free will. He said it was also rationally justifiable to allow people to choose with whom they would like to spend their life.
Citing a Hadith from Sahih Bukhari, Nisai, Ibne Majja, whereby a woman came to the Holy Prophet (saw) with a request for him that her parents had married her off with a person with whom she was not agreed. He (saw) asked her to marry out of her own volition where she was happy. Sahibzada Hassan Mohi-ud-Din Qadri established by quoting various Books on Hadith that even a divorced woman should also be consulted before being married off by the parents and her opinion should also be sought if she was a virgin.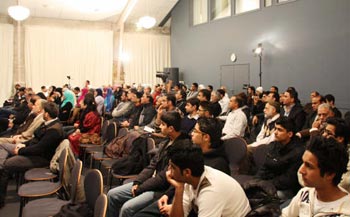 He asked how our religion, which does not recommend any forced conversion, could permit forced marriage. People gave a standing ovation to Sahibzada Hassan Mohi-ud-Din for clarity of content, lucidity of style and vigour of presentation. Norwegian participants compromising professors and doctors expressed their extreme happiness over the speech of Sahibzada sahib. They said they were amazed to see this face of Islam, which is very rare to find in today's world.
In the end, Education Minister, Bard Vegard Solhjell, was invited to speak. Appreciating the speech of Sahibzada Hassan Mohi-ud-Din Qadri and the work of Minhaj Reconciliation Council, he said there was need of working on similar pattern as MRC was doing. He said we had appointed our representatives in the colleges for help of the people. He said we would have to fight jointly against this evil custom. "We would continue to extend our cooperation with organizations like Minhaj Reconciliation Council to get rid of these problems," he concluded.
President Minhaj Reconciliation Council, Ijaz Ahmad Warriach, thanked the guests and participants for their support and keen interest. The guests were entertained with food. This was, no doubt, the successful program which would be remembered for times to come.