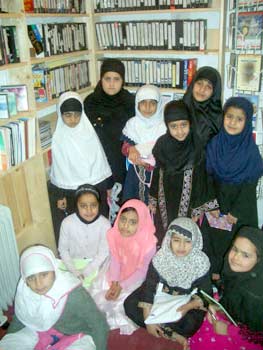 The 'Minhaj Kidz Club' was formed by the sisters of the Halifax Muslim Youth League UK on Sunday 26th October 2008.
There is a large number of 5 and 6 year olds attending the Minhaj-ul-Quran Classes and 'The Minhaj Kidz Club' was created to give these youngsters the opportunity to learn in a fun and creative environment.
It was through the blessings of our great teacher Shaykh-ul-Islam Dr Muhammad Tahir-ul-Qadri that the first competition took place for the young girls who are part of 'The Minhaj Kidz Club' which was very successful.
The competition was to make robes and scarf's for their dolls. The main objective of this competition was to show the girls the importance of a modest dress code. Prizes were presented for the two best dressed dolls and the other girls were also rewarded for their participation in the competition, through smaller treats.
Many of the girls were motivated through this competition to wear the scarf more regularly themselves.