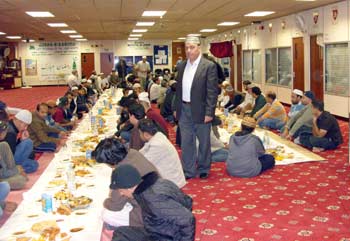 As in previous years, Minhaj-ul-Qur'an International London became the location of a community iftar dinner with over 300 participants attending the feast to end their fasts daily throughout the spiritual month of Ramadan. The centre is frequented by a multitude of other faith leaders who through the month share the experience of Ramadan by joining fellow Muslims during the iftar meal. Caretaker Daar (below) helped prepare a wonderful meal for the gathered with Haji Muzaffar.
The 23rd of September so participation by Father Patrick Barnabus of the local Emmanuel church in Forest Gate who brought with him some worshippers from his congregation. He spoke to share a few words highlighting the reasons for him attending the iftar gathering pointing out that it gives the individual a chance to ponder over the blessings conferred upon them by God.
| | |
| --- | --- |
| | |
| Father Patrick speaking with Shaykh Sadiq Qureshi. | From left to right: Arshad Muneer, Father Patrick and Andrew, a regular attendee at Father Patricks church. |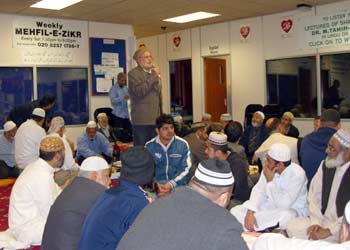 Allama Sadiq Qureshi also spoke to inform the gathering of the virtues of distributing food to help people break their fasts. The costs of the iftar meal were generously taken by one person per day. May Allah reward them for this noble act of charity, Amin!
Sufi Aslam, the founder of the centre spoke of his joy at seeing such community events being held regularly at Minhaj-ul-Qur'an. He said it was important to promote the community message offered by Islam and specifically in the form of iftar dinners during Ramadan which are often family events.
The iftar gathering was also attended by Rev Darren McIndoe (Stratford Church) and Abdul Malik of the FairTrade organisation who contributed to the iftar dinner with samples of FairTrade products. We see Rev Darren explaining how the products are produced to the gathered on the right.
A young attendee samples some Fair Trade sweets above with Abdul Malik behind the stall.
Imam Sadiq Qureshi browsing Fair Trade literature with Rev Darren's mother behind the stall (bottom right photo).