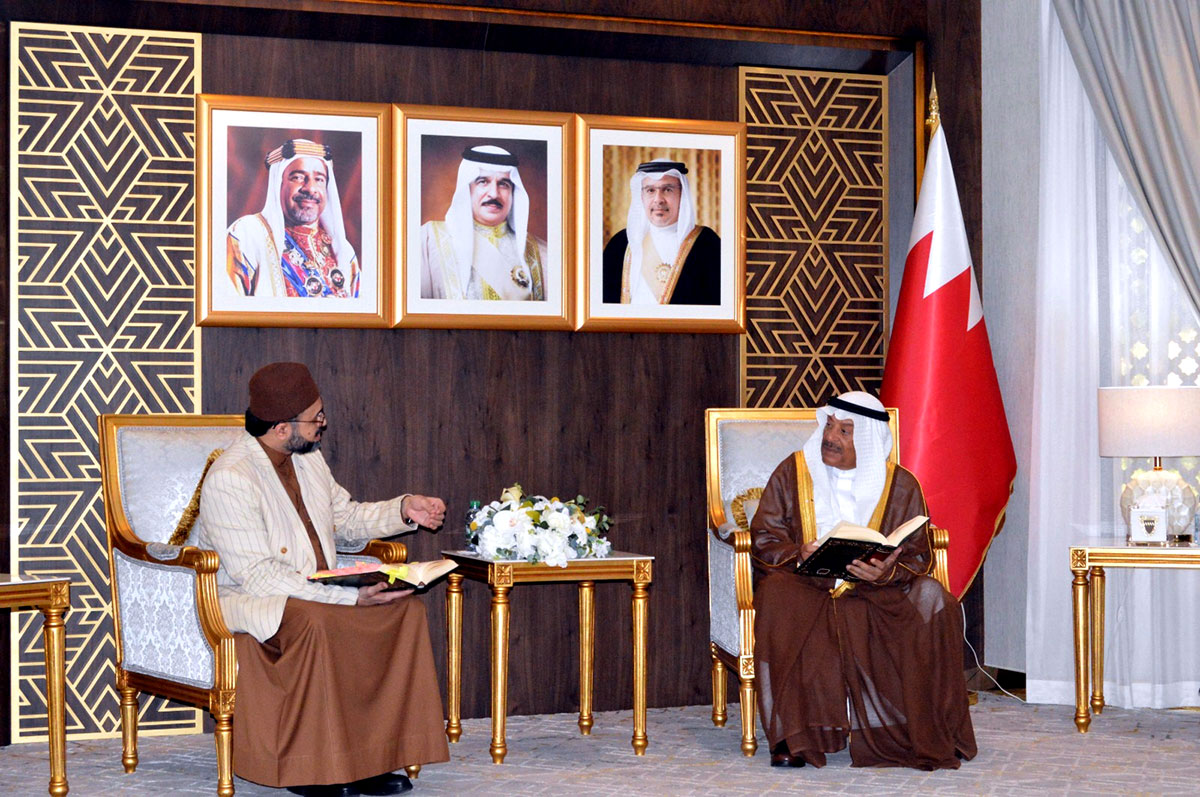 Bahrain: Dr. Hassan Mohiuddin Qadri, Chairman Supreme Council Minhaj-ul-Quran International, had a meeting with His Excellency Ali bin Saleh, Chairman of the Shura Council (Senate) at the Senate office.
Dr. Hassan Qadri briefed H.E. Ali Bin Saleh on the various achievements of Minhaj-ul-Quran in different aspects of life. Dr. Hassan Qadri also provided a detailed overview of his best-selling book in the Arab world. H.E. Ali Bin Saleh acknowledged and commended the positive and remarkable work done by Dr. Hassan Qadri in his book, " Dustur Al-Madina Al-Munawwara Wa Al-Dustur Al-Amreeki Wa Al-Bareetani Wa Al-Uorubi." Dr. Hassan Qadri presented a copy of the book to His Excellency, H.E. Ali bin Saleh. In response to his curiosity, H.E. Ali bin Saleh was also presented with a sample of the masterpiece "Al Musawat Al-Qadriya fi Uloom al Hadithiya" and other books compiled by Shaykh-ul-Islam Dr. Muhammad Tahir-ul-Qadri.
The meeting took place in the presence of His Excellency Mr. Gamal Mohammed Fakhru, First Deputy Chairman of the Shura Council, and Her Excellency Dr. Jehad Abdullah Mohammed Al-Fadhel, Second Deputy Chairman of the Council. Also attending this gathering were Mohammad Sajid Khan, Ashraf Bhinder Saab, Kashif Saab, Dr. Adeel Sajid Khan, and Eng. Mohammad Shazaib Khan.
Bahrain: Dr. Hassan Mohiuddin Qadri, Chairman Supreme Council Minhaj-ul-Quran International, had a meeting with His Excellency Ali bin Saleh, Chairman of the Shura Council (Senate) at the Senate office.
Dr. Hassan Qadri briefed H.E. Ali Bin Saleh on the various achievements of… pic.twitter.com/1bUe8q6PAA

— Dr. Hassan Qadri (@DrHassanQadri) October 18, 2023