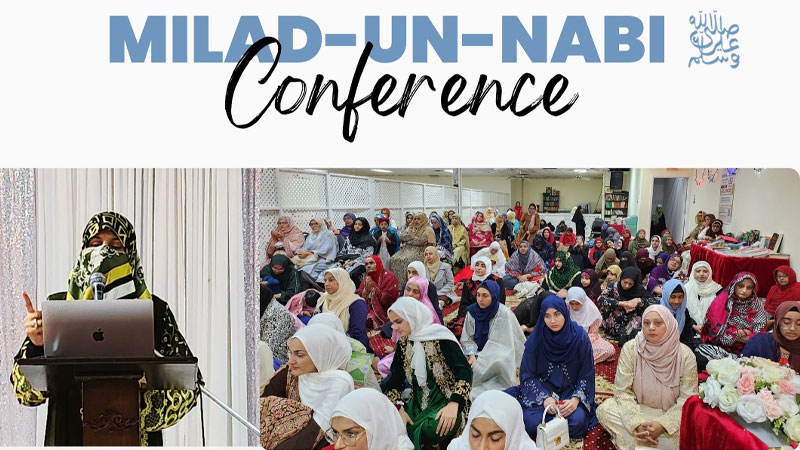 Dr. Ghazala Qadri delivered a keynote talk at the Annual Milad un Nabi (PBUH) event organized by Minhaj Women League Canada at MMCC on 8th October. Her talk focused on the central themes of love and obedience to Prophet Muhammad (peace be upon him) in Islam. She emphasized that love and obedience to the Prophet (PBUH) are not merely desirable aspects of faith but rather essential and obligatory elements for every Muslim. The event aimed to elucidate the profound significance of these aspects and their implications for the spiritual and practical lives of Muslims.
Dr. Ghazala Qadri began her speech by underscoring the importance of love for Prophet Muhammad (peace be upon him). She conveyed that this love is a fundamental tenet deeply ingrained in the hearts of believers. It is not a superficial emotion but a profound connection and reverence for the Prophet, who was chosen by Allah to deliver His final message to humanity. The love for the Prophet (PBUH) is a driving force that influences various dimensions of a Muslim's life, motivating them to emulate his teachings and embody his exemplary character.
Moving forward, Dr. Ghazala Qadri emphasized that obeying Prophet Muhammad (peace be upon him) is the epitome of love and devotion for a Muslim. She elucidated that obeying the Prophet is an act of love in action, signifying a profound understanding of his wisdom and guidance, and it ultimately leads to spiritual growth and a closer connection with Allah.
Dr Ghazala Qadri stressed that the best way to celebrate Milad un Nabi is by following the Sunnah of Prophet Muhammad. She emphasized the importance of integrating the Sunnah into daily practices, emphasizing kindness, compassion, honesty, and love in our interactions with others. Her keynote speech served as a valuable guide on the appropriate way to celebrate Milad un Nabi by adhering to the Sunnah of Prophet Muhammad. The event successfully imparted the message that true celebration lies in emulating the Prophet's teachings, fostering a deeper understanding of Islam, and promoting a way of life that aligns with the principles of love, compassion, and kindness that the Prophet exemplified The speech also served as an insightful reminder of the importance of love and obedience in Islam, providing attendees with a deeper understanding of the profound impact these elements have on the spiritual and practical lives of Muslims. The event successfully achieved its objective.
The Muslim Youth League Sisters also recited nasheed and the President of Muslim Youth League Sisters Canada also presented a talk on Prophet Muhammad SAW, a Mercy to Mankind. Among the esteemed guests was Professor Dr. Farrukh Tahira Naqvi, a distinguished PhD scholar from Minhaj University, Lahore, known for her significant contributions to research and academia. Dr. Farrukh Tahira Naqvi, serving as the Research Incharge of MPhil and PhD programs at Minhaj University, is also a member of the Advisory Board of Dukhtaran-e-Islam monthly magazine. Naheed Akhtar (Head Ummati Sister Canada), who runs platforms for Muslim Women's events, also graced the occasion. Sister Qaisra Hashim Ali Qadri, a senior member of MWL Canada also graced the event.