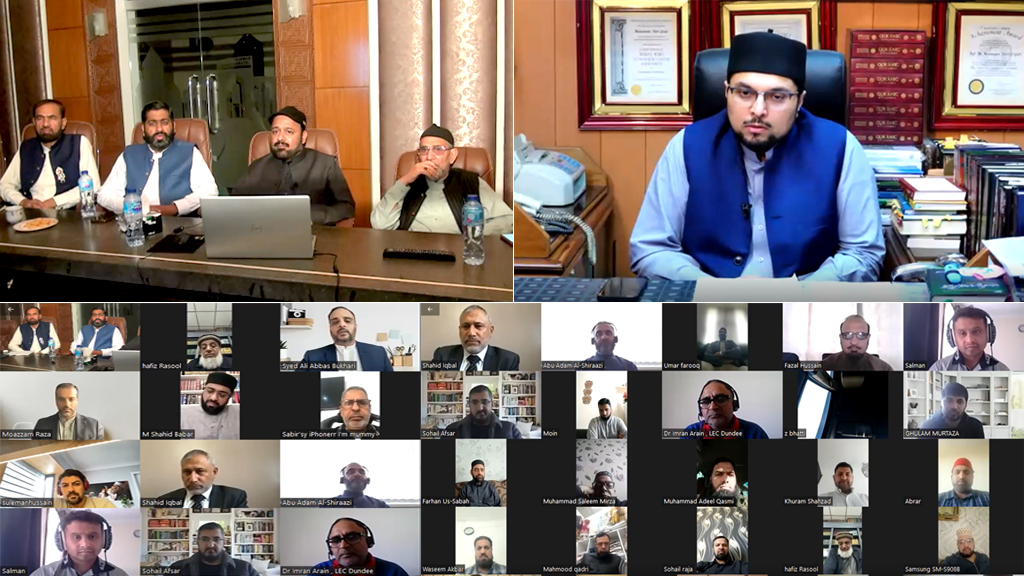 The Directorate of Foreign Affairs of MQI conducted a successful "One Day Virtual Training Camp for MQI UK'' on 16th Oct 2022. About 300 plus participants of UK executives, scholars, and office bearers of all forums attended the camp and greatly benefitted. The camp was organized in collaboration with the training department of MQI and Minhaj ul Quran International UK, under the supervision of Nazim e Aala MQI, On the special instructions of the Chairman Supreme Council MQI and the President of Minhaj ul Quran International.
The camp started with the recitation of the Holy Quran by Qari Mubashir Hussain followed by Holy Naat by the brother Kabeer Hussain. Ten speakers, included MQI Secretary General Khurram Nawaz Ghandapur, Syed Ali Abbas Bukhari, President MQI UK, GM Malik Director DFA, Engineer Rafiq Najam, Dr. Chan Naseeb, Allama Sadiq Qureshi Al Azhari, Allama Dr. Ali Akbar Qadri, Allama Muhammad Shahid Babar, and Allama Ghulam Murtaza Alvi. Briefed on their given topics.
The keynote speech was delivered by President MQI, Professor Dr. Hussain Mohiud-Din Qadri. Shakeel Ahmad Tahir, Deputy Director of Foreign Affairs, conducted the proceedings.
President MQI, Dr. Hussain Mohi-ud-Din Qadri discussed the Modern Aspects of Organizational Management. He opened the discussion with the concept of utilizing one's granted abilities for the betterment of the organization. He said that Allah (SWT) has created everyone with distinctive expertise along with the components of ambition, internal motivation, and dignity which enlightens the wish to learn inside one's heart.
Dr Hussain Mohi-ud-Din Qadri said that this learning in collaboration with expertise opens the door to creativity but added in the same breath that unfortunately, the involvement of competition restricts our creativity to a classroom and its recommencing nature becomes part of one's personality until he steps into his professional life where again he strives to impress the superior by competing among colleagues. This, he emphasized, restricts one's vision and hampers the actions.
Dr Hussain Mohi-ud-Din Qadri said that in order to accomplish the mission plan of the organization, there is a need to restrict competition and promote the concept of team building in the working of an organization. Aspiration, understanding of the complexity, and reflective conversation along with the input from the team lead to the fulfillment of the organizational objectives, he concluded.