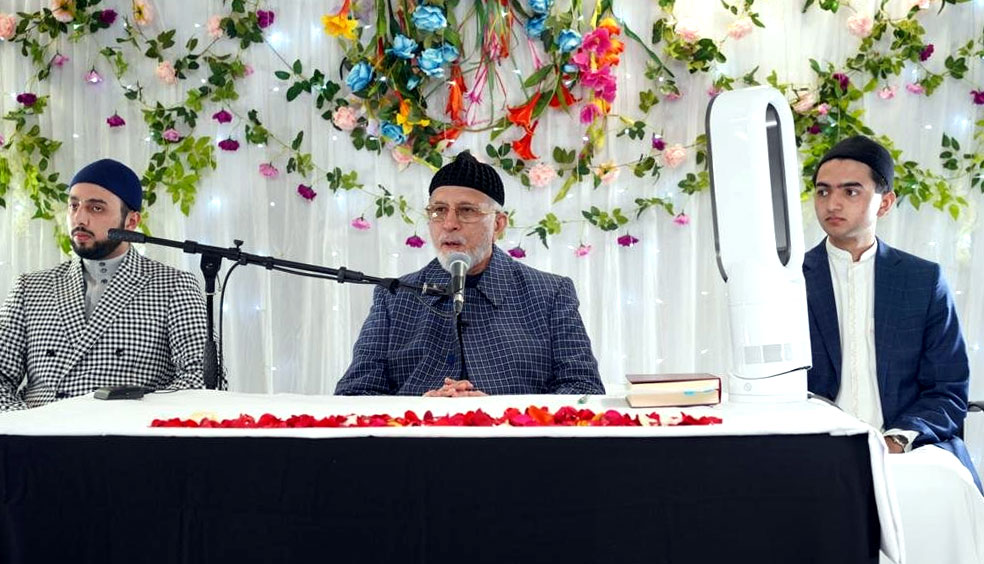 Shaykh-ul-Islam Dr Muhammad Tahir-ul-Qadri addressed a session with members of MQI UK South Zone and youth from across the UK on 'Faithfulness & Faithlessness', educating all to realize the importance of being Faithful. Making sure to be grateful of the faith and to remain in a state of submissiveness to our Creator, Almighty Allah - demonstrated through our intentions and our actions.
He said that "when your commander, Almighty Allah has given a command, you have no choice but to follow that. If you are still trying to exercise your own choice, you are committing sin as it will be considered complete misguidance." This is because a true servant submits his will, wishes and priorities to his Lord to avoid the possibility of faithlessness and is important to achieve the state of perfection and excellence in the state of servanthood.
He went on to explain the necessary conditions and prerequisites in order to remain faithful and said that, "To protect your state, you need a good company that can keep reminding you of the commandments of Almighty Allah. If you have isolated yourselves, you have disconnected and disassociated with that company." He then emphasized upon the need to remain engaged and involved in working to maintain that connection and association or "Satan will take over you and become your associate", he added further.
Towards the end he pinpointed a very unfortunate reality that "on one hand we have announced ourselves to be the true servants of Almighty Allah, but on the contrary, we want to live our lives as per our own choices and wills." This duplicity needs our focus in order to achieve the proximity of Almighty Allah. He then mentioned the honourable status of the true servants of Almighty Allah and said that "Almighty Allah will hear their words and will accept their intercession on the day of judgement". So, he advised all to follow the path of blessed people by maintaining connection with the dawah work to protect faithfulness in this world and to achieve esteemed status in the hereafter.
Shaykh ul Islam was also accompanied by Shaykh Hammad Mustafa Al-Madani Al-Qadri, Shaykh Ahmad Mustafa Al-Arabi Al-Qadri, Dr Ghazala Qadri and respected Sister Basima Hassan Qadri.
Senior members and designates including Syed Ali Abbas Bukhari,Nad e Ali, G M Malik and Zahoor Ahmed Niazi, Tahseen Khalid, Adnan Sohail, Allama Sadiq Qureshi, Dawood Hussain Mash'hadi, Khalid Mahmood, Moazzam Raza, Shahid Iqbal, Sr. Rukhshanda Kanwal, Muhbeen Hussain, Sr. Ansa Hussain were also present during the session.