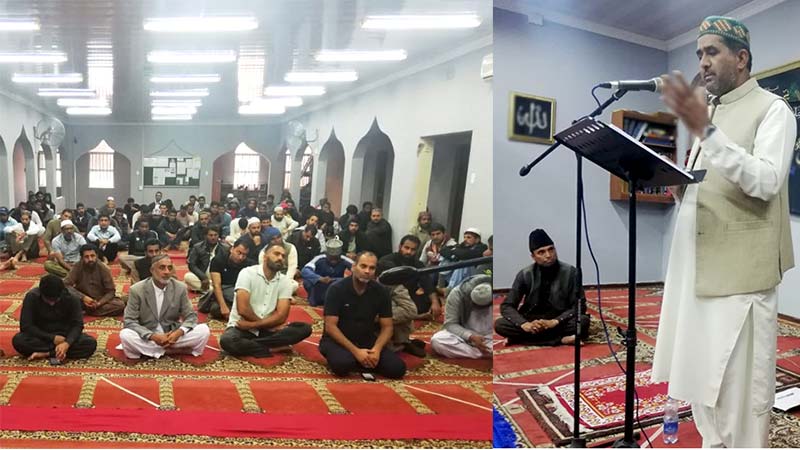 A Mawlid-un-Nabi (pbuh) ceremony was held under the banner of MQI Eastern Cape, South Africa on November 15, 2020. Delivering his speech, Allama Muhammad Latif Chishti said that sending the greetings and salutations on the Holy Prophet (pbuh) is the kind of deed that is automatically accepted by Allah Almighty. He said that the recitation of Durood is not just a form of worship but also the source of being blessed with the mercy and blessings of Allah.
On this occasion, some of the participants made requests for the setting up of Gosha-e-Durood in their homes and neighborhood. Allama Latif Chishti announced to hold a Durood ceremony on monthly basis in Matata. He said the holy month of Rabi-ul-Awwal was celebrated most beautifully and the same practice will be continued for the coming years as well.
The proceedings of the event got underway with the recitation of the verses from the Holy Quran followed by Naat Sharif. The ceremony touched its spiritual zenith during the Naat recitation. Fayyaz Akbar Jawinda presided over the ceremony which was attended by officeholders of MQI, religious scholars, Mashyakh, and the members of Pakistan Association South Africa.
Muhammad Asghar Warraich, a senior officeholder of MQI Eastern Cape, gave an introduction of MQI to the audience. He said that the organization has spread to over 100 countries in a span of 40 years, set up educational institutions and Islamic cultural centres to serve communities, and promote the Islamic message of love, peace, and interfaith harmony. He asked the audience to study the thought and ideology of Dr Tahir-ul-Qadri and join him to further these noble objectives.
The ceremony came to an end with the recitation of Durood-o-Salam followed by tearful Dua. The guests were entertained with the Milad feast. Muhammad Asghar Warraich conducted the proceedings of the event.