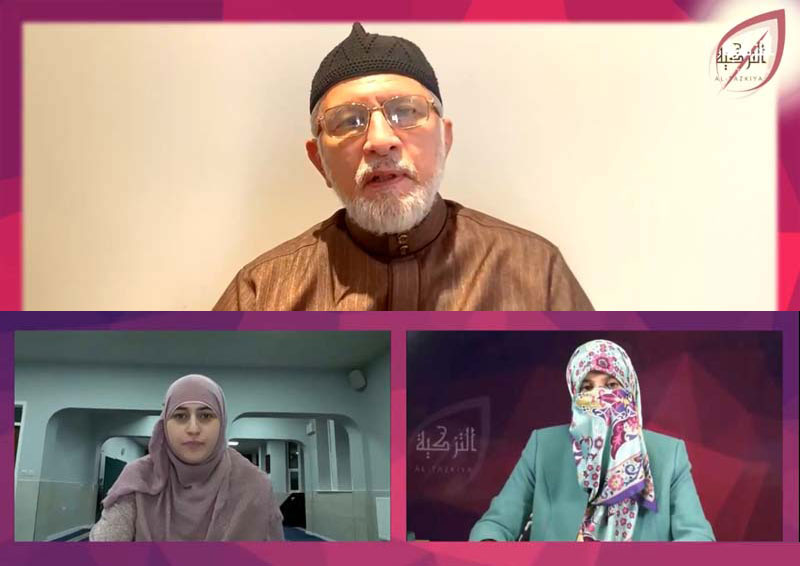 Al-Tazkiya 2020: Dr Ghazala Hassan Qadri Lecture 2
The final session of Al-Tazkiya 2020 began with the host Sister Sweba Majid Khan (Finance Secretary of Minhaj Sisters UK), introducing Sister Atiya Parveen for a beautiful recitation of the Holy Quran and a Nasheed. Dr Ghazala Hassan Qadri then began her final lecture for Al-Tazkiya. She highlighted our state of mental health being affected due to the reliance on social media. Our validation comes from the number of views or likes on our posts. When we start to derive our sense of worth our confidence, even our identity based on how we are doing relative to others, with that "other" being a totally unrealistic representation who they actually are or how they actually look, that creates an unrealistic expectation about ourselves. She went on to use examples of celebrities who endorse products that we are tempted to purchase, in an attempt to get closer to that particular person when in reality we are conforming to societal pressures to try to look like that person and become liked. Bringing back the analogy from the first lecture, we are like individuals sailing on a boat which is bobbing up and down in a vast ocean, which represents the society which we live in, and that society will indeed influence how our lives are lived and affect our decision making. When we are on that boat sailing on the sea of society, we should not let society decide where our destination will be. You need someone to point you in the right direction and we all have people that we follow or look up to but are these people going to lead us to Allah (swt). Instead, if we desire to meet Almighty Allah, then we must follow the Holy Prophet (pbuh) and the Holy Quran. The lecture was followed by a Q&A session by Dr Ghazala Hassan Qadri with many key questions being asked on topics such as motherhood, university life, how to gain inspiration and many more!
Al-Tazkiya 2020 was concluded with an Exclusive Session and supplication by His Eminence Shaykh-ul-Islam Dr Muhammad Tahir-ul-Qadri, congratulating Minhaj Sisters on organising a successful al-Tazkiya and he went on to emphasise that al-Tazkiya is not just a mere annual event but in fact it's a spiritual struggle against the evils that exist around us in the form of Satan, our lower self (ego) and the materialistic desires that try to detract us from the right path.
Al-Tazkiya is in actual fact a Prophetic Sunnah, because it provides purification of outer self as well as inner self i.e.; purification of thoughts, heart, mind and deeds. Shaykh-ul-Islam advised that the following three things combined together can protect one's Iman till his last breath; faith in message of Allah Almighty and Holy Prophet (saw), practising the faith by performing good deeds and having pious & pure conduct and most importantly achieving steadfastness. And al-Tazkiya is the way to attain steadfastness and as a result of attaining purity Allah Almighty will help in this life and the hereafter!