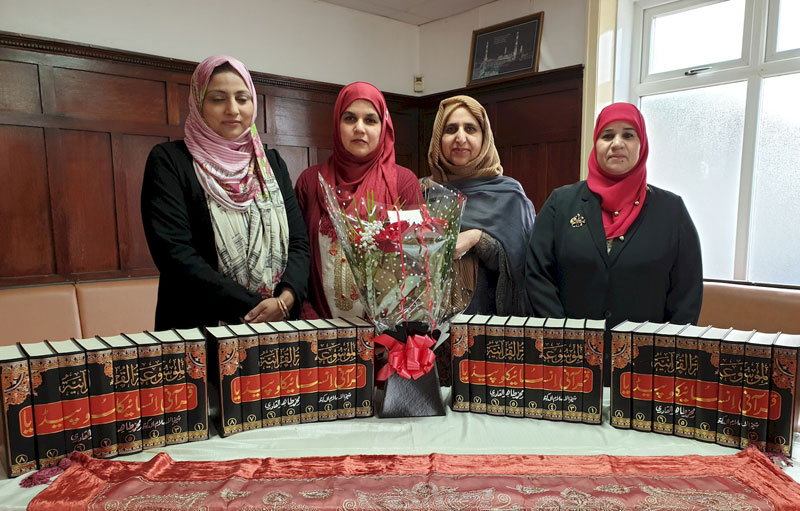 MWL Tinsley organised a special book launch ceremony of Shaykh ul Islam's Quranic Encyclopedia which was officially launched in late 2018.
Sister Khalida Khan (President MWL Tinsley) began the ceremony with a short message about MWL Tinsley successfully completing 5 years of commitment to Minhaj ul Quran and foremost the community. Sister Nasreen Akhtar (Dawah Secretary) went on to recite Tilawat taken from Surah Kauser.
Sister Khalda Khan (President) introduced the team to the community along with their roles and duties that they have had over the past 5 years. She also made a special mention to all other Minhaj members of what they have achieved during these years.
Sister Aeysha (General secretary) was asked to recite the Qasida Burdah Sharif followed by a short hadith read by Sister Abida (Welfare secretary). Sister Abida from Sheffield and Sister Khalda from Rotherham sang beautiful Naats.
Sister Khalda Khan went on to give a short talk on the Quranic Encyclopedia followed by a short clip by Shaykh ul Islam explaining in his own words the benefits of the Quranic encyclopedia and all the various topics that have been covered in this eight-book collection. She then distributed handpicked bouquets to all the workers and gifted the Quranic Encyclopedia to a select few. As it was also Ghiyarveen Sharif we offered splendid food to all that attended and the ceremony was a thorough success.