The final day of Al-Tazkiya 2019 came with mixed feelings in the air, on the one hand there was excitement in anticipation of Dr Ghazala Hassan Qadri's final lecture and, on the other hand, there was a sense of sadness that it will all be over in a few hours.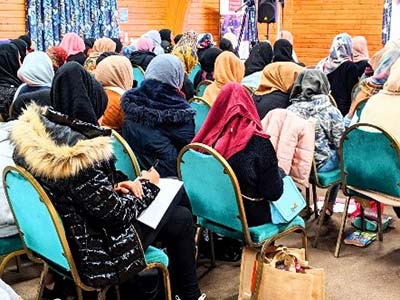 The session began with Sister Fatima Khan (Bradford) doing a presentation on Madina-tul-Zahra. She informed participants that they have over 250 students and have only been open for 2-3 years, with a steady increase in students and community members. She explained that Madina-tul-Zahra has various facilities which everyone can help in supporting. One way of doing this is the 'Brick Project' which is donating £10 per brick for Madina-tul-Zahra. She encouraged participants to support the project regardless of their location as this project is one of the biggest projects in the UK, for Minhaj-ul-Quran which will serve as a beacon of guidance for future generations.

Following the presentation, Sister Reeda Shaikh recited the Holy Quran in a melodious voice. Dr Ghazala's respected mother, Mrs Jamila Ghafoor, recited poetry regarding faith in Allah (SWT), the Holy Prophet SAW and working for Minhaj-ul-Quran. This was followed by her soulful recitation of a Nasheed.

Finally, Dr Ghazala Hassan Qadri took to the stage to present her final lecture titled Great Women in Islam – A Contemporary Analysis. These women have been singled out to be the best women in paradise and serve as role models we, as Muslim women, should be following.

Sayyida Khadija (RA), the wife of the Holy Prophet (SAW), experienced and encountered many life changing experiences. She had confidence and integrity. She was a highly intelligent woman who knew how to work a business in a male dominated society. The Holy Prophet (SAW) appreciated her talent and her intellect, He (SAW) took advice from her. She was granted the perfect husband, wealth and status but she never abused her position. She really was a woman of great character with strength and power.

She then spoke about Hazrat Asia (RA) the wife of Pharaoh. She was the wife of the a formidable tyrant and despite being exposed to the most terrible of environments, she not only retained her Iman but she also perfected it. She was the Queen of Egypt with everything at her disposal – she had wealth, power, and a very decadent lifestyle. She was well aware that when she accepted Iman, she would lose everything yet she valued her faith over her lifestyle.

Dr. Ghazala Hasan Qadri noted that there were many more great Muslim women that we can learn from but concluded her talk by explaining that Allah SWT has given us this honour to attend this retreat as it is only by His tawfeeq. She advised that when we leave this retreat and go back to our lives, we should never forget our objective in life, and never forget what Allah SWT has given us. She reminded us that we have gained a lot spiritually and we should safeguard that with good deeds.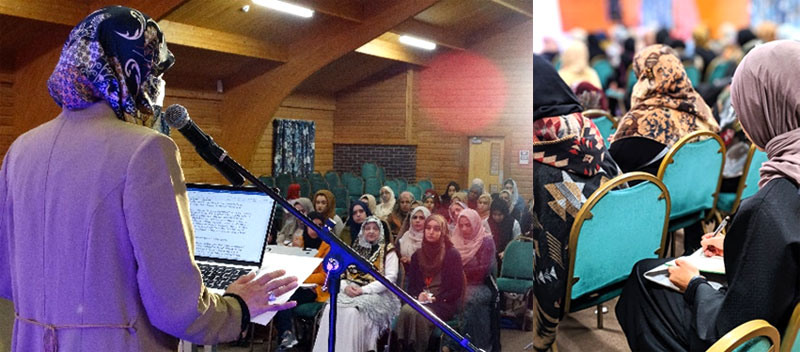 The day ended with announcing the winner for the 'Guess the Sweets in the Jar' competition that was held at the Minhaj Sisters stall. Ifrah Khalid (Glasgow) had predicated the closest number (67) to the actual amount (70).
This was followed by Dr. Ghazala Hasan Qadri picking a winner for the Quranic Encyclopedia (written by Hazoor Shakyh-ul-Islam and gifted by Minhaj Publications). The raffle winner was Asifa Ahmed (Glagows). Lastly, a winner was picked for the Umrah ticket draw (anonymously donated) and the lucky winner was Rehana Ilyas (Bradford), who will be making this journey in March 2020 with Minhaj College Manchester.

This then led to the final segment of the day which involved the presentation of medals to the winning teams (and runners up!) for basketball and rounders. The volunteers for al-Tazkiya 2019 were then presented with awards for their hard works and efforts during the retreat.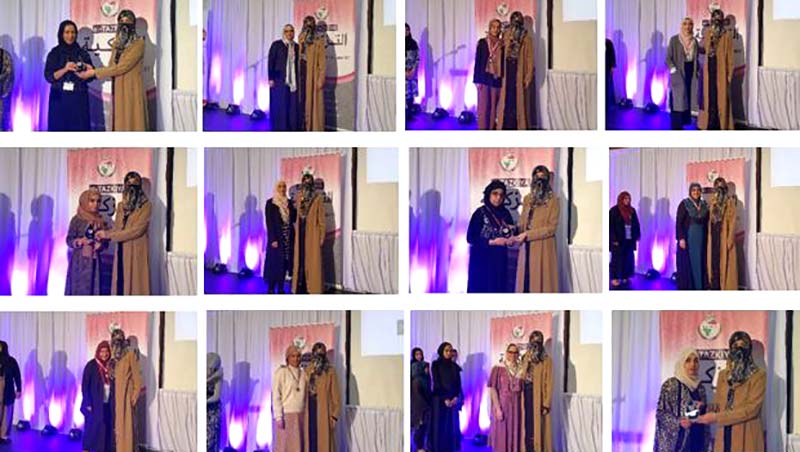 The President of Minhaj Sisters, Ansa Hussain, was then invited for closing remarks and this was followed by a heartfelt Dua by our esteemed guest of honour, Dr Ghazala Hassan Qadri.

Minhaj Sisters would like to thank all the participants who attended and made the retreat a great success. We would also like to thank our sponsors for their support: Minhaj Dawah Project, Minhaj Welfare Foundation, Madina-tul-Zahra, OPULENT PERFUMES Birmingham, Dera Restaurant (Walsall), Low Insurance Brokers Ltd and Noordin Collection Birmingham.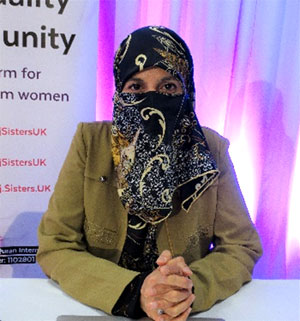 We are grateful to Dr Ghazala Hassan Qadri for gracing us with her presence despite her busy schedule. And above all, we would like thank His Eminence Shaykh-ul-Islam Dr Muhammad Tahir-ul-Qadri for giving us a portion of their precious time for a much needed nasiha session.