Day 2 of al-Tazkiya began with Tahajjud prayer followed by a faith refreshing session of Halqa-e-Durood and Fajr prayer. Sister Rosina Nawaz held her first yoga session of the retreat bright and early to get sisters ready for the busy day ahead.
Breakfast was followed by meet and greet sessions with Dr Ghazala Hassan Qadri in each lodge. Dr Ghazala met sisters from the Midlands, South, and Scotland and got to know every attendee. The sisters were very pleased and honoured that Dr Ghazala took the time out to get to meet everyone.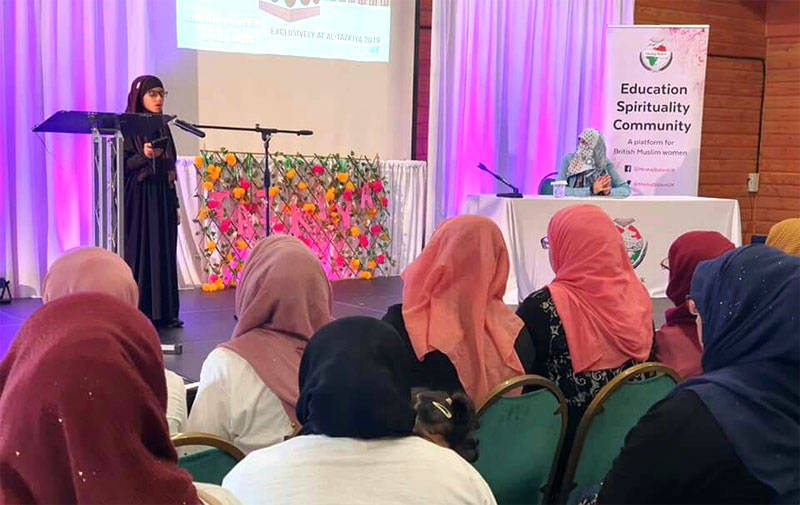 The first session of the day started off with a beautiful recitation of the Holy Quran by Sister Reeda Shaikh followed by a melodious Nasheed by Sister Rabeeah Rafiq and Sister Laiba Ahmad. Sister Rosina Nawaz then conducted the Minhaj Dawah Project presentation and spoke about its aims and objectives, and the life-changing work they have done. She also touched upon the future projects. Sisters were encouraged to donate towards the project as well as volunteer to help out in their operations.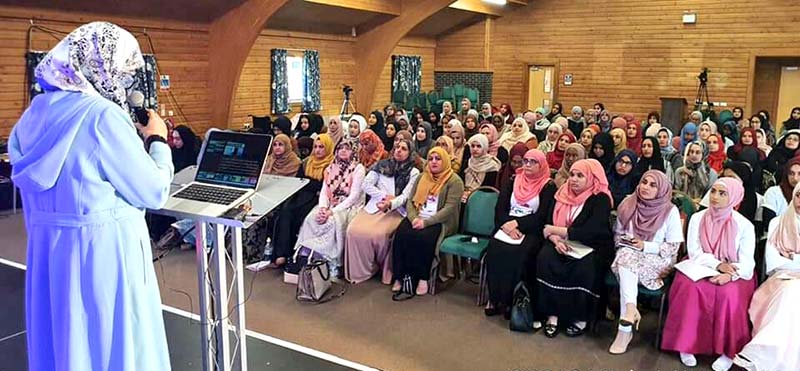 Dr Ghazala Hassan Qadri, the keynote main speaker, was invited on stage to deliver her first session on women, empowerment and Islam. She discussed female empowerment within an Islamic paradigm and asked the sisters to think about how and what empowerment is in our society today.
Dr Ghazala stated that when people say that we make a conscious decision to cover ourselves so why is that not considered freedom of choice while any woman who reveals herself is thought to be free. She explained how everyone has limits on their freedoms whether that is political, social or cultural; a country will have laws that we must abide by, a school has a dress code that we abide by and so on. Just because something goes against the norm doesn't mean there is a lack of freedom. She said we should embrace our Muslim identity and our empowerment comes from choosing and acknowledging to be guided by the Quran and Sunnah.
It was emphasised that spiritual empowerment is extremely important which involves good deeds, fulfilment of five obligatory pillars of Islam, Dhikr, and to model one's life on the Sunnah of the Holy Prophet (PBUH).
The final message that everyone took away was that empowerment should be about being allowed to be different and to never be an apologetic woman. We should be firm in our ideals and morals.
After a short break for lunch and Dhuhr, the regional meetings were held to discuss future activities. This was followed by two workshops: Minhaj Dawah project run by Sister Henna, Sister Shabnum and Sister Asma and the work skills workshop run by Asima Zahir.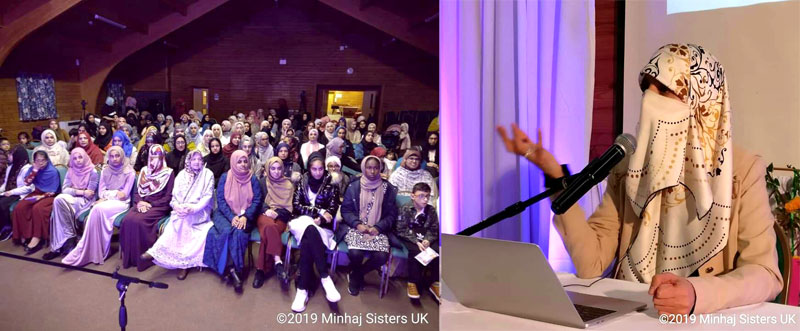 Dr Ghazala held her second session of the day which was a Q&A. Sisters sent in their questions beforehand for Dr Ghazala to answer. Various questions were answered relating to current issues; how sisters should use or represent themselves on social media, the main aim of Minhaj Sisters, the role that Muslim women play in contributing to Islam, dealing with mental health issues, the right age to wear the hijab, and how to maintain one's spiritual level after the retreat and many more.
The sisters found the Q&A session very beneficial and useful as they received comprehensive answers embedded in the Quran and Sunnah.
The highlight of the evening was the Theatre production where the audience enjoyed popcorn while being entertained with a very comedic but informative performance.
The day ended on a spiritual high with a Nasheed and Dhikr session by Al-Hanana. The group comprises of three Scottish sisters, Afifa Ahmad, Haneen Fatima and Ayesha Ahmed. Everybody thoroughly enjoyed their recitation and dua.