In the company of Shaykh-ul-Islam Dr Muhammad Tahir-ul-Qadri
Friday 02 – Saturday 03 August 2019, Exchange Auditorium, Manchester, UK.

This year's Al-Hidayah event was titled 'Al Rihla wal Sohba' and focussed on the modern applications of the Mathnawi of Mawlana Jalal-ud-Din Rumi RA.
In a time of immense materialist distractions and consistent societal waywardness, the youth require a toolkit which allows them to work on their spiritual development, whilst maintaining morals, values and beliefs bestowed by Islam.
The Mathnawi is one such guide, and Shaykh-ul-Islam Dr Muhammad Tahir-ul-Qadri decided to explicate and expound on the deeper secrets of the Mawlana's work, opening up hidden gems that can be applied to our modern day and age, and which will ultimately allow us to become closer to our Creator Allah (SWT).
Set in the heart of Manchester, Al Hidayah 2019 took place the Exchange Auditorium, which is part of the world-renowned Manchester Central Convention Complex. The stature and iconic status of the venue was be-fitting an event of such standing, and the presence Shaykh-ul-Islam along with Dr Hassan Mohiuddin Qadri (Chairman MQI Supreme Council), Dr Ghazala Hassan Qadri (Member Board of Governors, Minhaj University Lahore), Shaykh Hammad Mustafa al-Qadri and Shaykh Ahmed Mustafa al-Qadri.
In the three months prior to the event the al-Hidayah team in the UK had worked continuously to ensure the event was presented to the best of their abilities. Within four weeks of tickets being made available, all places had been sold out. In the week preceding the event, there was a visible excitement in the local and national atmosphere, as those fortunate enough to have places at the event took to social media to promote and spread their anticipation and joy for al-Hidayah 2019.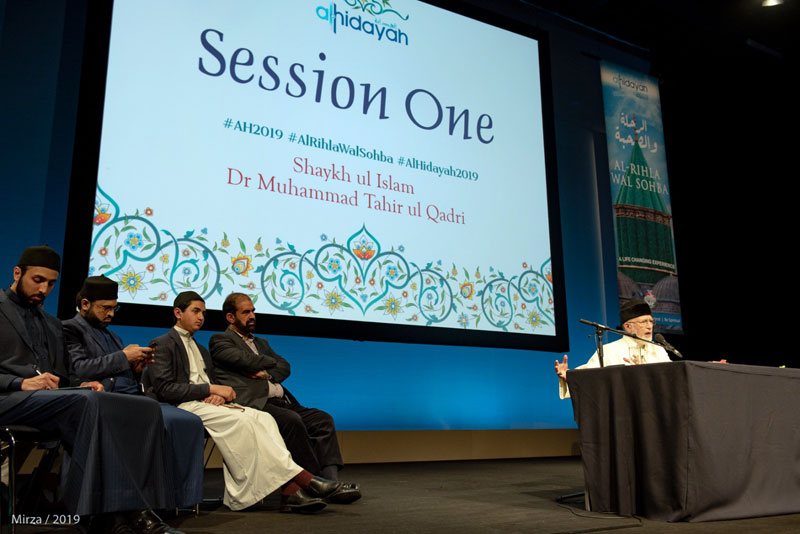 Friday 02 August 2019 – Day 1 Al-Hidayah 2019
Al-Hidayah 2019 commenced with Salat ul Jumu'ah in the presence of his eminence Shaykh ul Islam Dr Muhammad Tahir ul Qadri, Shaykh Dr Hassan Mohiuddin Qadri, Shaykh Hammad Mustafa Qadri, and Shaykh Ahmad Mustafa Qadri, amongst other senior scholars and attendees. Jumu'ah prayers were arranged in the Exchange hall of the complex, with designated areas for brothers and sisters. The Jumu'ah Khutbah was delivered by Mufti Sohail Ahmad Siddiqui, followed by Jumu'ah Salat led by Shaykh Hammad Mustafa Qadri and a heart-rendering concluding Du'a by Shaykh-ul-Islam.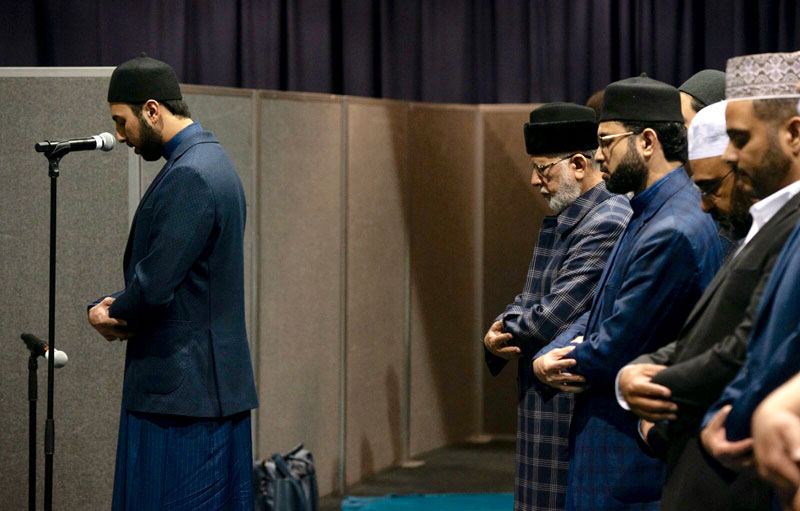 Following Jumu'ah Salat the process of registrations continued to hasten, with the anticipation mirrored by the eagerness of delegates who began taking up seats within the auditorium. More than 40 Al-Hidayah team members and team leaders managed teams for registrations, external venue assistance, internal venue assistance, auditorium entry checks, seating, stage management, sound/technical management and other areas. Teams were led by Sisters Subah Iqbal, Naheed Syed, Rosina Nawaz, Khadija Atkinson, Tahira Afzal, Asifa Malik and brothers Hassan Ali, Babar Khan, Osman Riaz, Adam Malik, Qasim Rauf and Hussain Ali. Minhaj Productions team had planned for al-Hidayah 2019 in coordination with the Al-Hidayah team and their crew of 7 dedicated members arrived a day early to ensure all technical matters of filming and production were ready and tested.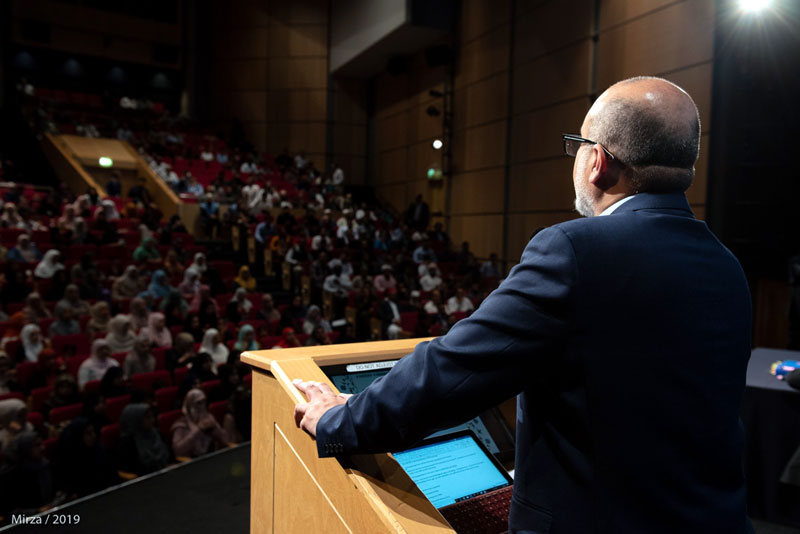 Dr Zahid Iqbal (President al-Hidayah) welcomed the audience and guests to al-Hidayah 2019 and then Shaykh-ul-Islam arrived back at the venue just prior to Salat ul-Asar. Salat ul-Asar was offered collectively in the Exchange Hall by Shaykh-ul-Islam and all attendees. Following which, the first session commenced. A wonderful and very spiritual recitation of the holy Qur'an was presented by our guest Shaykh Qari Muhammad Shafique Naeemi al-Azhari from Canada. Following which a Na-at was presented by brother Abdullah Shaikh also from Canada. Then Dr Mustafa Raza Baig Qadri (University of Exeter) gave a heart rendering view on the significance of al-Hidayah 2019 and the relevance of the topic chosen by Shaykh-ul-Islam in particular the aspect of Rihla and migrating for the purpose of attaining knowledge. He thanked Shaykh-ul-Islam for blessing Manchester with this most fortunate time and recalled how his late father Mufakkir-e-Islam Allama Ahmed Nisar Baig Qadri would have been the first to welcome Shaykh-ul-Islam in Manchester, had they been present today. Shaykh-ul-Islam then offered collective Fateha and Du'a for Allama Ahmed Nisar Baig Qadri.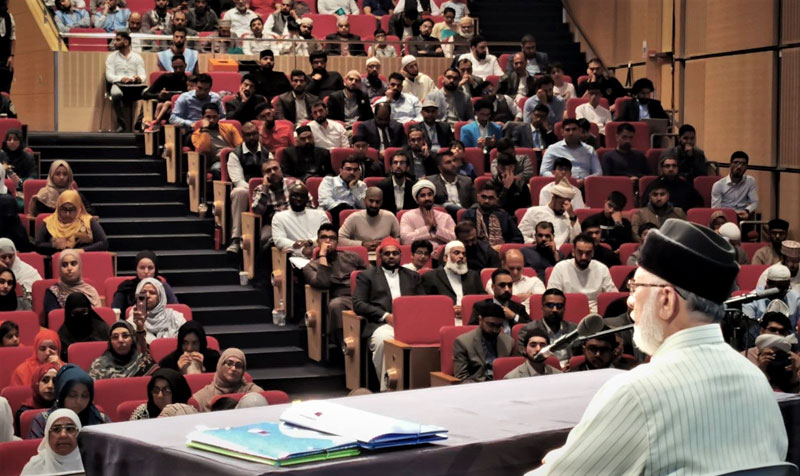 Shaykh-ul-Islam began their first talk in which they detailed the meaning of 'Al Rihla wal Sohba' – the theme for the event. Shaykh-ul-Islam, employed the analogy of migration as a tool to explain 'tazkiyah' (purification) of the 'nafs' (soul) and the journey of spiritual development. As the talk further developed, Shaykh-ul-Islam focused on breaking down each verse of Surah al-Fatiha, demonstrating specific meanings of each verse and then linking these with stages of spiritual status and development. Shaykh-ul-Islam concluded their talk by highlighting the importance of good company and correct companionship in the modern era. This had been an enlightening and unique discourse on the 'Rihla' or migratrion needed on the path of Spiritual development and betterment.
Collective Salat-ul-Maghrib was offered by all attendees with Shaykh-ul-Islam in the Exchange Hall, after which everybody returned to the Exchange Auditorium for the first spiritual session. This commenced with recitation of the Glorious Quran, followed by Na'at recitals by Hussain Raza Malik and Shahbaz Hassan Qadri of Ashton. Then there was a collective ensemble of Nasheeds by Qari Mubashir Anwar (Manchester) and the Minhaj Naat Group (MNG) from Paris. This session concluded with collective dhikr, contemplation and du'a by Shaykh-ul-Islam. The session ended around 11pm and all attendees returned to their accommodation.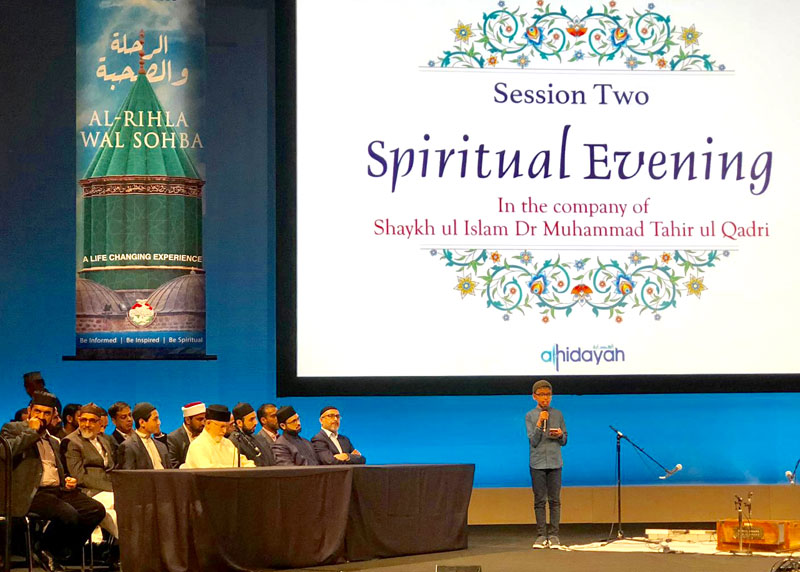 Saturday 03 August 2019 - Day 2 Al-Hidayah 2019
The second day of al-Hidayah 2019 commenced with a unique and engaging session, arranged by br Umar Mirza (Holland).
Participants listened to talks by al-Hidayah 2019 attendees that had been inspired by the introductory lecture on Rihla/Hijrah/Migration. Journeying through life they shared their personal experiences of times of real change that they had gone through. The session entitled 'Inspirational experiences' included those who had converted to Islam, and how then after conversion had joined Minhaj-ul-Quran, to those who had experienced a diverse level of Sohba in their youth and how that had effected their decisions and belief in life, as well as what made them then leave the negative sohba, and how in their pursuit, they found Minhaj-ul-Quran.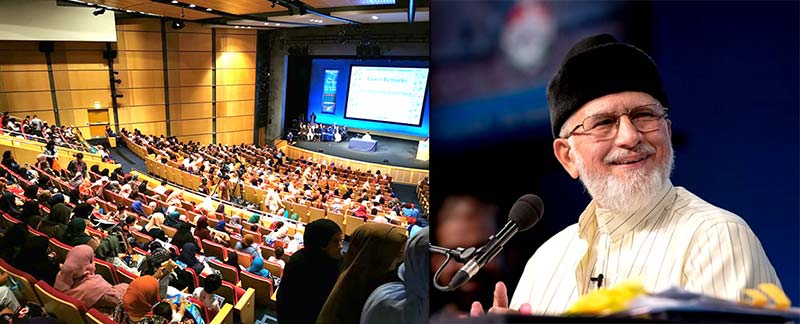 Shaykh-ul-Islam then arrived in the Exchange Auditorium to an excited reception from the audience. The session commenced with a very spiritual recitation of Surah Kahf from the Glorious Qur'an by Qari Muhammad Shafique Naeemi al-Azhari from Canada. This was followed by a Na'at recital by Shaykh Hammad Mustafa al-Qadri.
Shaykh-ul-Islam then continued their lecture on 'journeying' by starting with a melodious couplet from the Mathnavi. Shaykh-ul-Islam spoke about the many varying journeys humanity has faced already in the spiritual realm before entering this material world. They deliberated on how man comes from knowing the ultimate divine Truth but after becoming 'identified' in this world, loses his way having entered many different sohba's. They extended the lecture to clarify that one cannot get attached to something new without detaching from the previous. Stating that sohba was not limited to the physical presence of people only, but, also included social media, Instagram, Facebook and the like. As well as any devices or mechanisms we spend our time watching online, which also become our sohba. They advocated for the young participants to practise this in their own lives, and to take what they had received over the two days and try and implement it in their lives. Detaching yourselves from the sohba's that are occupying your lives solely in worldly thoughts and matters, and instead seeking spiritual sohba's which will assist in your migration and detachment from this world and your connection to the ultimate spiritual heights. Whilst this talk took lessons from the Mathnawi, Shaykh-ul-Islam explained that this spiritual Rihla (journey) and Sohba (company) needed time, concentration and most importantly correct and authentic guidance. They invited the participants of al-Hidayah 2019 to go away and contemplate on changes needed in their life patterns. Giving the analogy that if you take a drop from the ocean of this subject and maintain that drop, you will see a real change in your lives and you will experience the realities of spiritual bliss.
Shaykh-ul-Islam ended their final main talk for the event by congratulating the organisers of al-Hidayah 2019, Dr Zahid Iqbal (President), Asif Habib Malik (Project Manager) and the al-Hidayah Core Committee and associated al-Hidayah Teams. Shaykh-ul-Islam advised that they would like to give the al-Hidayah team a three day event and a one day event in the next year, with the three day event being a full residential experience. This advise and announcement was met with great pleasure from all participants of the event.
Following Salat ul-Asar, the day ended with a final spiritually revitalising session of Recitals, Qasa'id, Dhikr and Nasheeds by Allama Muhammad Zeeshan Qadri (BCIG), Milad Raza Qadri (Glasgow), Qari Mubashir Anwar (Manchester, and Shaykh Hammad Mustafa al-Qadri, who also commenced the Dhikr & Hadhra session, with fervent and spiritual participation from the audience as well as those on stage. Participants were left uplifted having finalised the day with a congregational and heart-rendering du'a by Shaykh-ul-Islam, and an intention to create al-Rihla in their own lives, to allow them to bare the fruits of the most spiritual Sohba.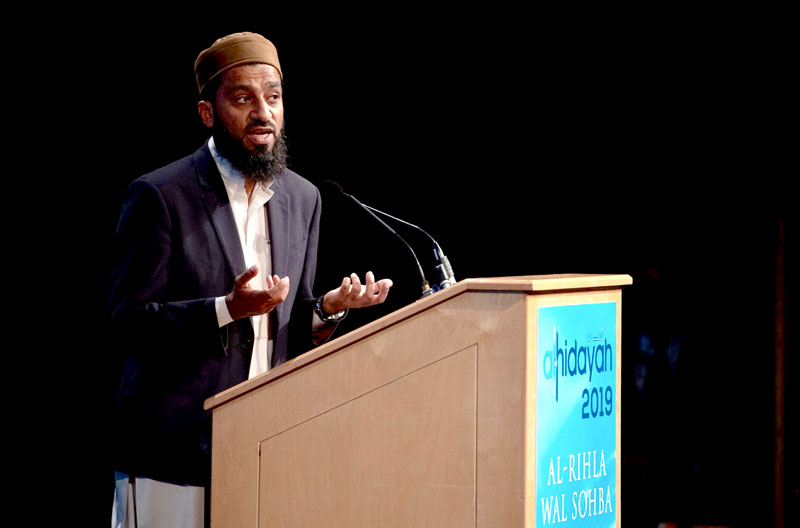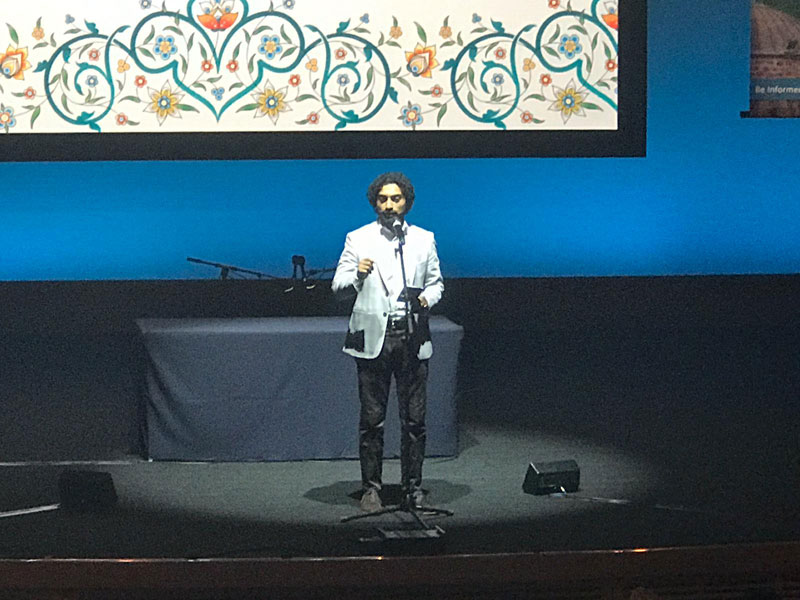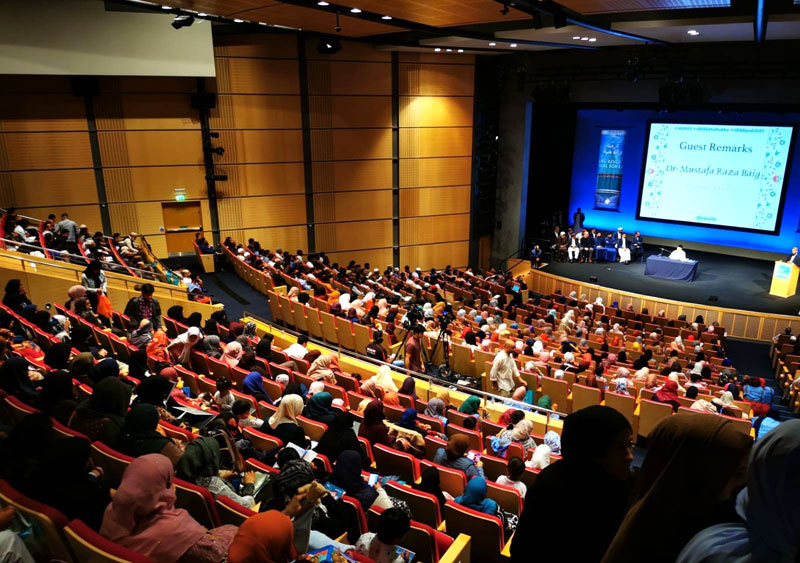 Conclusion
In summary, the two-day Al-Hidayah 2019 event was a huge success, with plenty of positive feedback about the professionalism of the venue, the content and delivery as well as the overall operation, appearance and plan of the event. It seemed that participants were gearing up already for al-Hidayah 2020. Dr Zahid Iqbal and Asif Habib Malik thanked Shaykh-ul-Islam for their time given to al-Hidayah 2019, and also thanked Minhaj-ul-Quran UK's President Syed Ali Abbas Bukhari and Secretary General Moazzam Raza for their ongoing assistance, facilitation and role in the event. They also congratulated brother Hussain Ali Qadri (Oldham) for his energetic and dedicated role on the stage, as well as all participants from the UK and overseas. Including Dr Julian Hargreaves (Woolf Institute, Cambridge University), G. M. Malik (Director DFA MQI), Dr Raheeq Ahmad Abbasi, Professor Muhammad Saleem Ahmed (Naib Nazim-e-Ala Tarbiyat MQI), Zill-e-Hassan Qadri (President MQI Europe), Dr Rafiq Habib Qadri (President BCIG), Shaykh Tariq Mahmood Kiyani (Minhaj College Manchester), Mufti Sohail Ahmed Siddiqui, Allama Muhammad Afzal Saidee (Madinat al-Zahra Bradford), Allama Muhammad Shahid Babar (Scotland), Allama Abdul Sattar Siraj (Manchester) and Syed Mahmood Hussain Shah (Denmark). The event was supported by all forums and projects of MQI UK including the British Council of Islamic Guidance (BCIG), Minhaj Women League (MWL), Minhaj Sisters, Minhaj Brothers, Minhaj Welfare Foundation, Minhaj College Manchester, Minhaj Dawah Project, Madinat al-Zahra and Minhaj Publications.
Report by Asif Habib Malik & Hussain Ali Qadri (Al-Hidayah team) – 06 August 2019