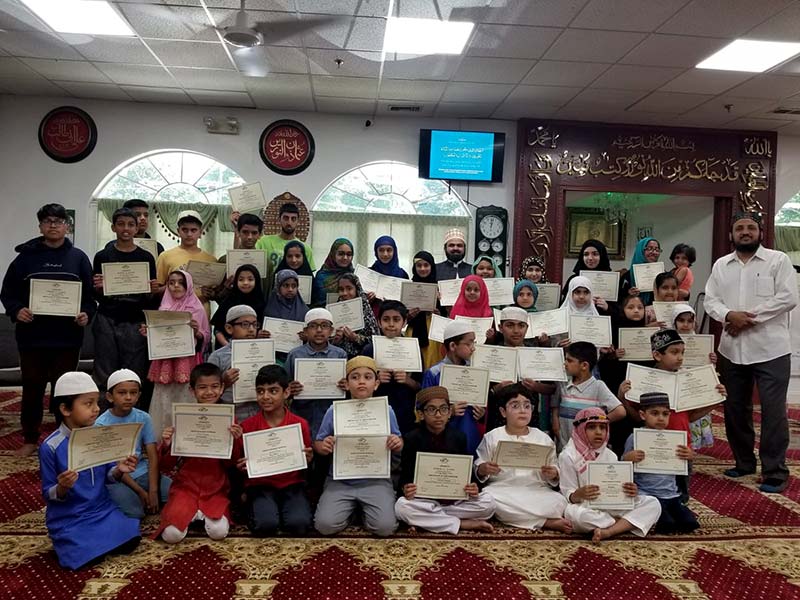 Certificate and prize distributing ceremony was organized by Minhaj-ul-Quran International in "Al-Noor Islamic center" in Connecticut USA on June 23, 2019. The ceremony started with the recitation of the holy Quran by Fatimah Meraj and Adila Sharif. Hussain Raza recited Naat in the honour of Prophet Muhammad (blessings and peace be upon him). A large number of people attended this program including the parents of students.
Later on, the salutations and greetings were sent on the Holy Prophet (peace and blessings be upon him) by students of the Sunday school. The ceremony was hosted by Director of Minhaj-ul-Quran Al-Noor Islamic center Connecticut, Muhammad Sharif Kamalvi, Muhammad Arif Zeri and Muhammad Adan Ikhlaq.
Speaking on the occasion, Muhammad Sharif Kamalvi said that we taught kids in this course different subjects like Quran, Hadith, Islamic beliefs, Islamic law, Tajweed, Seerah of Prophets, Urdu reading and writing. He announced that we are going to start summer school in the summer vacations. He further informed that Hifz-ul-Quran and Nazirah classes are organized for the kids in the center. He said now after Sunday school we are going to start Islamic quiz competition in the Islamic center.
Later on, certificates and prizes delivered among the students and the ceremony ended with prayers.