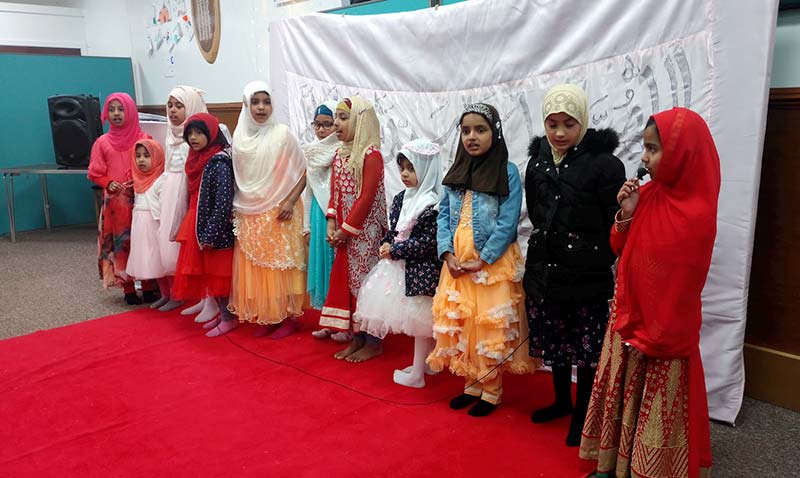 On Friary, 3rd May 2019, Minhaj Sisters Dundee hosted an 'Amad-e-Ramadan' mehfil. Sister Aliyah Afzal Jannat (student of Bilal Masjid Dundee) commenced the mehfil and warmly welcomed all attendees. Sister Hajrah Arshad (Minhaj Sister Dundee) prayed Surah A'laq in her beautiful voice to open the proceedings of the gathering.
Praises were sent on our beloved Prophet Muhammad (SAW) collectively by numerous sisters including Sister Hina Ahmed (Coordinator MS Dundee), Sister Ayesha Shafi (MS Dundee Dawah Secretary) and Sister Baiza Zahid (MS Dundee, communication Secretary) who recited Qamarun in front of an emotional and overwhelmed audience.
The mehfil moved on as Brother Muntaqim Islam (Minhaj Brothers, Dundee) took to stage and delivered his speech in English on the blessings of giving charity in the month of Ramadan. Including references from Quran and Hadith, Muntaqim Islam spoke about Ramadan being a unique month for everybody as each individual gets a chance to focus on bettering different aspects of themselves, and one of the ways of doing so is through giving charity. He encouraged the audience to give in this blessed month in various ways, even if it be as simple as smiling at one another. Brother Mutaqim emphasised how regularly giving charity helps foster good character and generosity in this temporary world.
After the recitation of Durood e Minhaj by Minhaj Naat Council Dundee, Brother Siame Afzal was invited to deliver his speech. Using references of a collection of verses from Surah Baqarah regarding the blessings of Ramadan, he spoke firstly about the changing in the method of fasting, from time for Iftar only to time for Suhoor and Iftar. He further spoke of how the Prophet (SAW) would gather his family and Sahabah on separate occasions and ask how preparations for Ibaadat (worship) in Ramadan would be done.
Mehfil was presided by sister Sabina Islam President women league Dundee and Ustadha Faiza Qasmi. Allama Adeel Qasmi made the final dua and food was served at the end of the event.