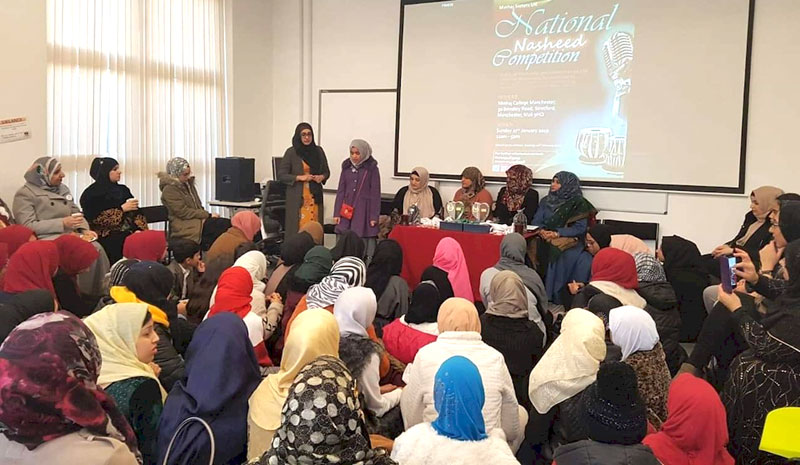 Minhaj Sisters UK organised its very first National Nasheed Competition at the Minhaj College Manchester on 27th January 2019.
Competitors came from all over the UK including London, the Midlands, Bradford, Sheffield, Manchester, and some all the way from the icy hills of Scotland.
The programme opened with a beautiful recitation of the Holy Quran by Sister Rabiyah Rafeeq from Glasgow, followed by the participants performing nasheeds in various languages.
The audience were kept entertained with different workshops, which allowed them to get creative through Islamic arts and crafts, henna, knitting, daff practice and hijab tutorials. While the judges had a tough time choosing the winners, there could only be 2 winners. One from the group category and one from the solo category.
All participants brought their A game but the first trophy went home with Minhaj-Al-Baraqah (Midlands) and the second with Khadija from (London).
After the event, the social media team gathered feedback and conducted mini interviews with the participants and audience. One of the competitors said:
"I really enjoyed today because I was able to take part amongst so many talented young girls and show my talent as well, the workshops were really fun. I knitted my own scarf and learnt some knitting techniques which was fun. I would love to compete in a similar event again"
A massive well done, congratulations and thank you to everyone who participated as competitors, volunteers and the audience!
We pray in the court of Almighty Allah that Minhaj-ul-Quran International continues to spread the love of the Holy Prophet (PBUH) around the globe under the guidance of His Eminence Shaykh-ul-Islam Dr. Muhammad Tahir-ul-Qadri. Ameen.