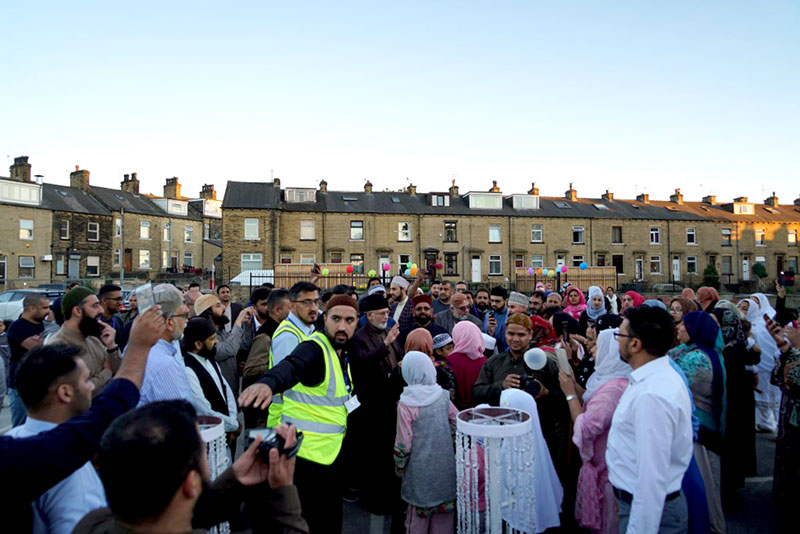 By the grace of Almighty Allah, Madinat al Zahra was blessed to host his eminence Shaykh-ul-Islam Dr. Muhammad Tahir ul Qadri on Saturday 30th June 2018. This was Shaykh-ul-Islam's second visit of Madinat al Zahra since its purchase in 2013, and his first since the temporary building had been constructed. Along with his eminence, we were grateful to welcome Dr. Hassan Mohi ud din Qadri (Chairman Minhaj ul Quran International Supreme Council), Shaykh Hammad Mustafa al-Qadri, Mufti Qazi Hassan Raza (Al-Markaz ul Islami), Shaykh Atabek Shukurov, Syed Ali Abbas Bukhari (Managing Director Minhaj ul Qaurn International).
Allama Muhammad Afzal Saeedi (Director Madinat al Zahra) welcomed his eminence and thanked him for his duas and support that within a year since the demolition began, the Centre has established itself successfully within the heart of the community. Among the audience, many people from the local community were present and had the privilege to sit within the suhbah of Shaykh ul Islam Dr. Muhammad Tahir ul Qadri.
After the welcome, Shaykh ul Islam was given a guided tour of the temporary premises in which included; classrooms, office, kitchen, Masjid including arrangements for sisters and the guest room. His eminence was then given a brief on the current situation of Madinat al Zahra by Allama Afzal Saeedi which included; different classes and the education given, average attendance in regular programmes, Jumu'ah and traveeh.
From the initial start, his eminence expressed his happiness by congratulating the team of Madinat al Zahra, Minhaj ul Quran Members and the local community for all their efforts and support in building a foundation for the bigger project. He concluded with a heart touching dua and prayed that May Almighty Allah bless us with the day that the project is complete, and that the Centre of excellence can be a platform and a hub to elighten those who come through the doors with education and the love of Allah (Subhabahu wa ta Ala) and His Prophet Muhammad (Sallal lahu aly hi Wa Sallam).