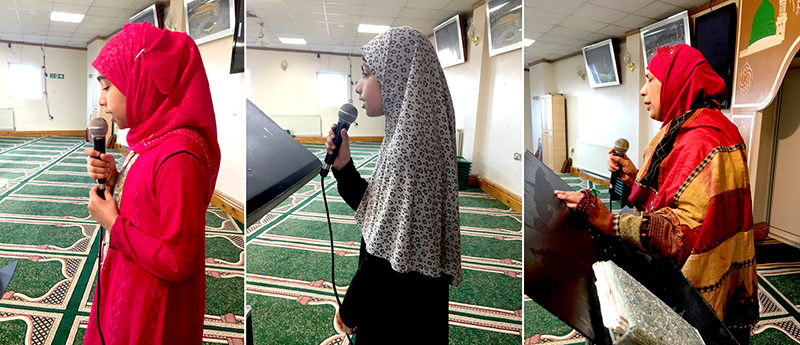 On the 7th of January 2018 a monthly program combined with 'Gyarween Sharif' was held at the Minhaj-ul-Quran Center by Alum Rock Birmingham Women League, with the Will of Allah Subhan WaTaala and the blessings of the Holy Prophet (PBUH).
This program was hosted by Sister Rabia Khanam MWL (President of Alum Rock Birmingham) who invited young Eysha for Tilawat from the Glorious Quran followed by numerous numbers of Naats including Sr Shaheen, Abida, Saima and young Saffia from Italy.
English speech was delivered by Ms. Shaheen Akhter MWL (Media Secretary of Alum rock Birmingham) about the life of Shaykh Abdul Qadir Jilani (RA). She spoke about Shaykh Abdul Qadir Jilani's (RA) parents and how he had fasted from the day he was born. At a very young age, he promised with his mother that he would never speak a lie in any circumstances.
She narrated how Shaykh Abdul Qadir Jilani (RA) went days without food and would stay in the jungle to please Allah Subhan WaTaala and stayed in ablution from the Ishaa prayer to the morning Fajr prayer and used to recite the entire Quran standing only on one leg throughout the night. Shaykh Abdul Qadir Jillani (RA) would give lectures thrice a week and everyone could hear the same volume of sound as the first row to the last row of people and there would be thousands that would attend these lectures.
Sister Rukhsana Parveen (MWL Dawah and Tarbiyyah secretary of Alum Rock Birmingham) spoke in Urdu about the meaning of Gyarween Shareef. She said that Gyarween Shareef is a 'saliha swab' which was taught to us by our Holy Prophet (PBUH) that we should give Sadqa in the name of charity for our brothers and sister who have passed away. Shaykh Abdul Qadir Jilani (RA) would celebrate Milaad shareef, so Allah Subhan WaTaala made sure that Gyarween shreef was celebrated for his saliha swaab too.
Allah SWT mentioned Awliyahs at least 90 times in the glorious Quran and Sr Rukhsana mentioned that Shaykh Abdul Qadir Jilani also known as 'Ghouspaak' is the decedent of the Holy Prophet (PBUH). The biggest miracle was given to Prophet Muhammad (PBUH) when the Holy Quran was revealed to him, just like many miracles surrounded Hazrat Essa (AS) and Hazrat Musa (AS).
Ms. Rukhsana went back to Shaykh Abdul Qadir Jilani and said he was the most knowledgeable scholar in his time; he taught 13 different subjects 3 times a week and distributed food every day to the poor. Hundreds of scholars came to ask questions and when they heard the answers they were so shocked that they ripped their clothes off, seventy thousand people would attend each lecture and everyone would hear with the same volume as the ones in the front row without the technology microphone.
Once Shaykh Abdul Qadir Jilani was asked by seventy different people to attend their homes to break their fast with them, surprisingly they thought that it's not possible but found out the next day that Shaykh Abdul Qadir Jilani had attended all seventy homes that night to break their fast with their families.
This gathering was concluded with dua.