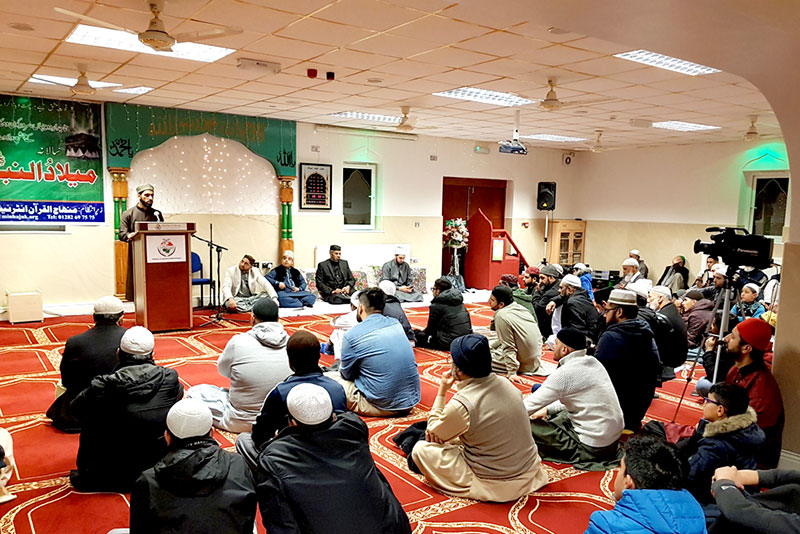 On the 12th night of Rabi-ul-Awwal, Minhaj-ul-Quran International held a special Mawlid-un-Nabi programme at Jamia Masjid Minhaj-ul-Quran, Nelson. The event was organised to celebrate the birthday of our most beloved and dearest Prophet Muhammad (PBUH). Several internationally renowned Naat Khawans attended the event including Khalid Hasnain Khalid and Syed Zabeeb Masood. The main guest of honour was Shaykh Bilal Hussain who delivered the night's main speech.
Shaykh Bilal Hussain began his speech by discussing the season in which the Prophet (PBUH) was born. He said Allah (SWT) chose the season of spring because this is a time of revival and as such the month of Rabi-ul-Awwal should be seen as a time of revival of Iman for every believer. It is a time when Allah (SWT) blessed the world with his greatest blessing the Prophet (PBUH) himself.
Shaykh Bilal said that the biggest test for a believer after death will be when he is asked about the Prophet (PBUH), so everyone should think and contemplate about this question and ask himself how well he knows the Prophet (PBUH). He said salvation is at the feet of the Prophet (PBUH). So one should seek out and connect with the Messenger of Allah because that is the very essence of Iman. He quoted a famous speech of Shaykh-ul-Islam Dr Muhammad Tahir-ul-Qadri in which he described Iman as a 'seed', if you don't plant that seed in the love of the Prophet (PBUH) then it will not bear fruit. The love has to be cultivated and deeply anchored in the heart of every believer.
Langar was served to all attendees.