Mayor of London visits Minhaj-ul-Quran Mosque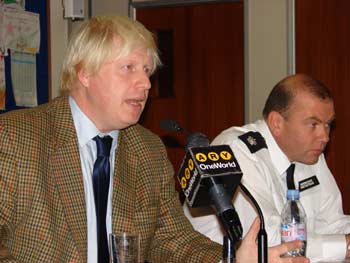 MAYOR OF LONDON Boris Johnson visited the Minhaj-ul-Quran International centre on Romford Road in London on Sunday 19th October 2008. This is the first visit the Mayor of London has made to a Muslim place of worship since his appointment to office.
Boris Johnson arrived late to schedule due to traffic congestion. Amid tight security Mr Johnson was swiftly escorted into the centre. Mr Johnson said: "I am delighted to visit a mosque, a Muslim institution and place of worship" He told a mixed audience: "My great grandfather knew the Quran by heart" He also told listeners the word "Trafalgar" originated from the Arabic language. Boris Johnson said: Muslims and Arabs share a lot with us in London and that: "Our cultures are intertwined, I feel there are too many misunderstandings regarding our cultures."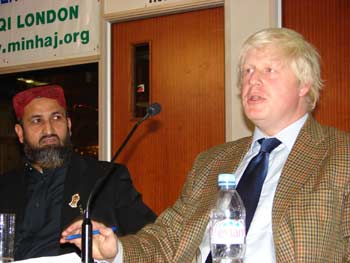 Boris Johnson is the successor to his predecessor, ex-Mayor of London Ken Livingstone. Mr Johnson joined the local community in Newham for Question Time where the Mayor spent almost two hours answering Londoners questions. In the opening of his message to an audience of one hundred people Mayor of London Boris Johnson said: "I intend to work for all our communities in London. It is vital that the police resemble the community and there needs to be practical steps to speed this up".
Mr Johnson said Newham is a borough that is celebrated for its diversity and that around "9.3 billion pounds had been spent for the Olympics in this borough." He added: "This will put London in a better place when we come out of the recession, if there is a recession." He told Waqas Amin - a resident of Stratford that ten railway lines will go into Stratford as part of the pathway to redevelopment of Stratford for the Olympic Games. Boris Johnson said: "Stratford will become a wonderful site" once it has undergone development. He also said: "We are pushing the London Development Agency (LDA) to invest in sports and activities, launching bike hire schemes towards preventing obesity" said the Mayor.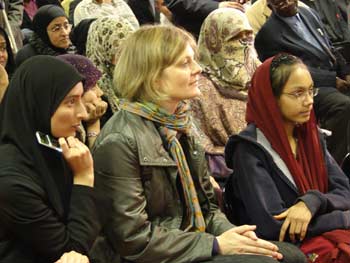 In response to a Muslim female's concern that Muslims feel  vulnerable to hatred incited by Islamaphobia and that Muslims found it increasingly difficult to gain employment or promotion at work, Mr Johnson replied: "You have to work at it, if a grandson of a Muslim can be a Mayor why can't you." said Mr Johnson.
Speaking of the growing number of youth crime Mr Johnson said: "Gangs commit crime, for whether it is money, messing around or girls or whatever the reason may be. Good policing is a solution – crime is going down. More police have been put in busses, alcohol is banned on public transport, stop and search is being used to tackle and move crime off our streets."
Also speaking at the event Deputy Borough Commander for the Metropolitan Police in Newham Superintendent Gary Buttercase said: we endorse some of what the Mayor has said. We made a pledge with local schools and community groups to carry out stop and search checks to prevent crime. Stop and search checks need to be more robust and have sensitivity with them.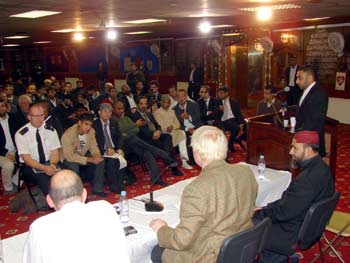 Mayor of London Boris Johnson later received gifts from the mosque's priest Imam Muhammad Sadiq Qurayshi of Minhaj-ul-Quran International organisation – declared by the United Nation as the world's largest non-governmental educational set up. The organisation is headed by the supreme Muslim scholar Shaykh-ul-Islam – Elder of Islam Dr Muhammad Tahir-ul-Qadri. "Shaykh-ul-Islam" is inferred from its use as a term among the highest Islamic authorities in classical Islamic scholarship. Boris Johnson also conversed with the organisation's London branch chairman Ishtiaq Ahmad, general secretary Abass Aziz and senior member Dr Zahid Iqbal .
Chairman of the organisation's London branch Ishtiaq Ahmad said: "The event was very successful and gave our audience from the community a chance to put their questions across to the Mayor of London. Spokesperson of the organisation, Asif Shakoor said: "We have certainly had a positive outcome from the Mayor's visit and we thank him for making time from his busy schedule to be here with us today."
The event was also attended by: members of Newham's faith coalition Faithful Friends headed by Father Matlub Barnabas of St Emmanuel's in Forest Gate, Newham Councillor Alan Craig of Christian People's Alliance, David Taylor and Gowri Pillai of Newham based youth charity Bridge Builders in Unity.