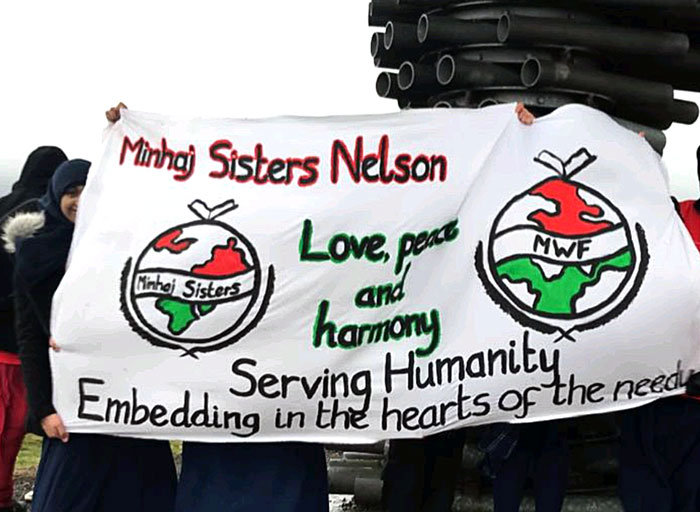 A group of 13 young women conducted a sponsored walk from Jamia Masjid Minhaj ul Quran Brunswick Street Nelson to the Singing Ringing Tree in the landscape of the Pennine Hills overlooking Burnley in aid of Syria and Palestine on Sunday 26th February 2017.
The sponsored walk was organised by Minhaj Sisters UK (Nelson) in cooperation with Minhaj Welfare Foundation under the Raising Smiles 2017 project. MWF is one of the largest non-government international charity organisations in the world with a network of branches and projects in over 100 countries worldwide.
Minhaj Welfare Foundation has previously organised various challenges from Skydiving to Trekking Mount Snowdon, Kilimanjaro and the Great Wall of China.
The participants walked over 25KM despite the harsh weather conditions, braving storm Doris, raising over £2000. The sponsored walk was completed within 6 hours and 45 minutes including the return journey. Syrian and Palestinian civilians continue to suffer on a daily basis. With the money raised through this sponsored walk, these individuals will be provided with food, shelter and education.
The participants received donations and encouragement from the general public as they walked towards the Singing Ringing Tree. Those that they passed on their walk praised the ladies for their efforts and offered donations for this noble cause.
Tooba Bilal (14) who raised over £300 alone said, "It was a fantastic challenge and I would definitely be up for another. I believe this was a small effort to support those in need."
The spokeswoman for Minhaj Sisters UK (Nelson) announced that there would be similar activities and challenges in the near future.
Minhaj Sisters UK (Nelson) and Minhaj Welfare Foundation would like to thank all the participants, donors and sponsors for their contribution in making the charity walk a great success.
For more information regarding future activities please email mylsistersnelson@gmail.com, donations can still be made by calling on 01282 723455.