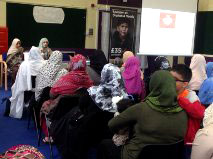 On Saturday 18 June, Minhaj-ul-Quran Women League Halifax organised a fundraising workshop at Queens Road Neighbourhood Centre, Halifax.
Present were Adnan Sohail (project manager), Tahseen Khalid and Ahsan Khan from Minhaj Welfare Foundation (MWF). Ms. Nasreen, president of MWL North, was also in attendance.
Sister Shaila introduced the event, which was followed by recitation of the Holy Quran by Sister Jamila Akhtar (MWL Halifax president) and then the presentation from the MWF team commenced.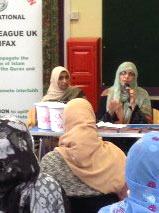 The session began by brother Adnan introducing himself and briefly mentioning his role and responsibilities, he discussed the different projects MFW carry out in various countries. He moved on to say that there are a vast number of orphan children, especially in Pakistan, and how MFW takes care of these children through the Aghosh Orphanage, which was compared with how other organisations provide for this need.
Brother Adnan clearly defined how the money is used to care for each child, for their meals, education, clothing, health care and full accommodation. He went on to say that, once a donation to sponsor a child is made, the MWF team send the sponsor a report with details of the child and their education. a very interesting documentary was shown about some of the orphan children currently living in Aghosh.
Brother Adnan finished his presentation by mentioning the need for hand pumps, which are greatly needed to provide fresh and clean drinking water and how to donate towards this cause.
Finally Baji Nasreen did a magnificent speech, in which it was highlighted that the act of spending in the way of Allah SWT was more rewarding than praying all night. She emphasised the importance of giving in charity. This was followed by a session giving the audience the opportunity to put any questions to the MWF team.