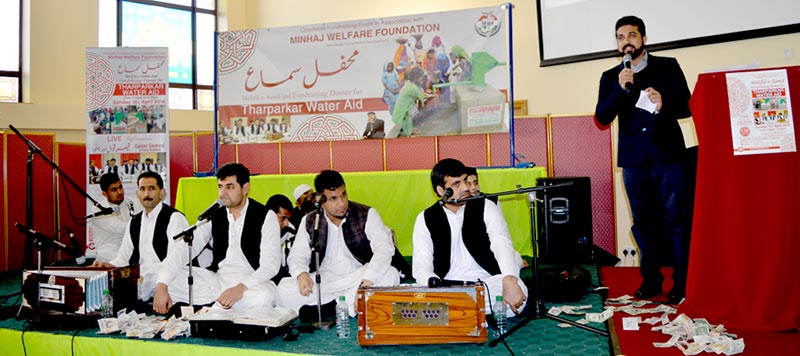 Minhaj-ul-Quran (Ashton-Under-Lyne), along with the community of Ashton-Under-Lyne and in association with Minhaj Welfare Foundation (MWF), organised a charity fundraising program to raise awareness and provide clean water for the deprived and neglected community of Tharparkar (Sindh, Pakistan).
The event was organised at the ACM Community Centre, with the support of Ashton Central Mosque on Sunday 10th April 2016. Participants included individuals and families from Ashton and surrounding towns, as well as guest participants including Dr Zahid Iqbal (President Al-Hidayah), Sister Khadija Atkinson, Dr Qaiser Chishti and Qaiser Mahmood Qawwal & Party.
In May 2015, a similar event at the same venue raised £18,600 water aid for the people of Tharparkar and approximately 17,500 people now have long term access to clean and safe drinking water from 42 large water pumps installed by MWF.
This year's charity fundraiser exceeded targets and raised over £22,500, which will provide further access to clean water for the deprived community of Tharparkar.
The cost of one hand pump within Tharparkar is £450 and can benefit approximately 300-500 people with sufficient clean drinking water for at least 10-years and the maintenance requirements are relatively low, in comparison with the tangible benefits of these pumps. This 2016 MWF event for Tharparkar will allow a further 50 or more water pumps to be built in the next few months.
Stage proceedings were conducted by Allama Muhammad Zeeshan Qadri (MQI London) in a lively, entertaining and inspiring manner. The program began with some words of wisdom and the recitation of the Holy Qur'an by Allama Qari Zahid Sharif Rizvi (Imam & Teacher at Ashton Central Mosque). After which a Naat was recited by Haji Muhammad Ashfaq Warsi (Minhaj-ul-Quran Ashton President).
Thereafter, Allama Muhammad Zeeshan Qadri gave some more information and encouragement to help raise funds for the cause. This was followed by the first session of a Live Performance of traditional Sufi music (Qawwali) by Qaiser Qawwal & Party (Bradford) who donated all funds received on the stage during the performance to the Tharparkar cause, without any deduction.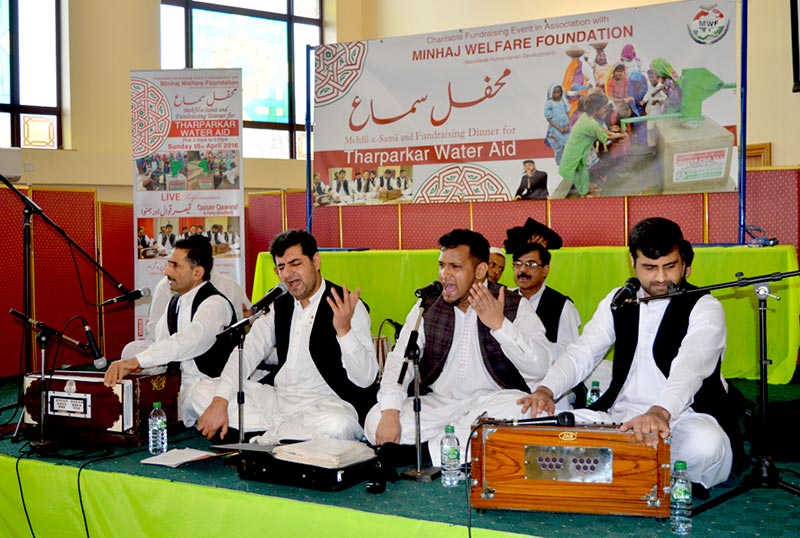 Allama Zeeshan delivered another brief talk to further encourage attendees to donate as much as possible towards this great cause. Subsequently, there was an inspirational rendition of Durood Shareef and a Manqabat by Br. Shahbaz Hassan Qadri, a local and upcoming Nasheed artist and Dawah Secretary of MQI (Ashton).
A documentary was shown highlighting the work of MWF in Tharparkar, as well as how last year's fundraising program has impacted the lives of the people of Tharparkar. Then a short, but informative talk was given by Br. Adnan Sohail Al-Azhari (MWF Project Manager) thanking the community of Ashton and its surrounding towns for their assistance, as well as the management and Trust of the Ashton Central Mosque for their generous support and facilitation of this annual event.
Leading onto the second half of the motivational live performance by Qaiser Qawwal & Party. During their performance, the audience were continually donating further funds towards the Water For All Project.
A raffle was also organised, to raise further funds for Tharparkar, where the attendees could buy raffle tickets separately with the chance of winning one-free Umrah ticket. This Umrah Ticket was generously donated by one of the sponsors for the charity program. A local sister won the Umrah raffle and her whole family were present at the event.
The program concluded with a short message by Br. Ghazanfar Iqbal (MQI-North Zone General Secretary) thanking the attendees for their support of this charity program in aid of the people of Tharparkar.
Salaat-al-Asar was prayed in congregation at the adjacent Ashton Central Mosque, followed by dinner served to all guests within the ACM Community Centre.
Haji Muhammad Ashfaq Warsi (President MQI-Ashton) thanked all members, affiliates and community members for their kind assistance in organising such a successful event, as well as the team of MWF for their continued support and guidance throughout the event's preparations and on the day. He also appreciated the local ladies and sisters for their support and attendance, as they managed to outnumber male attendance at the event.
(Reported by: Adam K. Malik – MQI Ashton Gen. Sec)