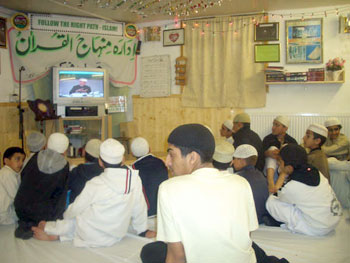 On Thursday 12th of June 2008 our monthly Halaqa-e-Darood Shareef was held especially for the students of the Minhaj-ul-Quran Home educational project. Students recited naats and a young naat khawn, Muteen was also invited to encourage others to recite naats aswell, and Darood Shareef was read collectively. The students were shown video clips of Shaykh-ul-Islam Dr. Muhammad Tahir-ul-Qadri as on the weekly study circles where they also listen attentively to Shaykh-ul-islam and gain knowledge, these regualar video clips have developed a close link in them with Shaykh-ul-Islam which is the main objective; to have successful minhaj-ul-Quran activities for everyone and to develop the new generation to have a close link with shaykh-ul-Islam helping them to stay away from the haram activities and to make it easier for them to stay away from bad influences.
The Minhaj Award 2008 was awarded to a Minhaj-ul-Quran member, Sajjad Majid by Muhammad Javid Akhtar on behalf of Minhaj-ul-Quran Home Educational Project; Sajjad was given this award in recognising the immense courage and caring nature of his character. He was featured in the local newspaper several times after having saved another mans life. He was a non-muslim, english, middle-aged man. If Sajjad did not help this man at that time he would not have survived. Sajjad was driving along a deserted road in the middle of the night when he came across a man who was hanging from a bus shelter half dead, Sajjad initial reaction was to find out if the man was alive and to help him. Sajjad got out of his vehicle and ran over to this man, after realising he was still alive Sajjad picked him up on his shoulders and shouted for help, when nobody came Sajjad managed to cut the rope from around the mans neck and set him free. Sajjad then laid him down on the footpath and rang for an ambulance and the police. Upon arrival, the police officers and ambulance workers congratulated Sajjad for saving this mans life. This incident helped to bring about community cohesion between muslims and non-muslims in Halifax and showed the real and true message of Islam; to be kind, peaceful and caring to everyone.
The Minhaj Youth Club have began their regular sports activities every week, this will, Inshallah, and already is encouraging many youths in Halifax to become involved in Minhaj-ul-Quran. For the outdoor sports activities we made our way to Savile Park Halifax where the students participated in various activities. When Zuhr namaz time had begun, the students read their prayer behind Ahmed Hassan (the Minhaj Youth Club Co-ordinator) in the park near the flag of the Minhaj Youth Club Halifax, this was a form of dawah for the people who were present in the park.