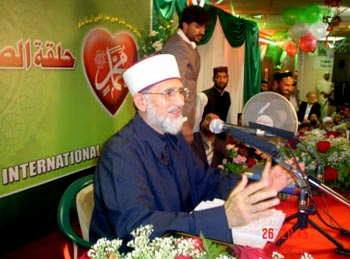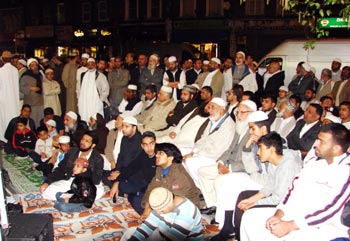 CROWDS descended on the Minhaj al-Quran International centre in London, UK to hear a profound scholar speak. His Excellency Dr Muhammad Tahir al-Qadri made a formal appearance at the Minhaj al-Quran centre on Romford Road in Newham on the late evening of Saturday 26th April 2008 as part of a world tour. Dr Qadri arrived after completing a successful tour of the Middle East. He lectured at the sacred city of Madina al-Munawwara - home to Islam's holiest sanctuary and shrine of Prophet Muhammad. 
As crowds continued to pour into the centre the doors were barricaded to prevent overcrowding. Thousands of people continued to congregate on the footway bringing chaos and mayhem on the street. Police cordons were set up to prevent footpath overcrowding and to maintain traffic flow on the highway as internationally acclaimed scholar Dr Qadri arrived at the centre. Makeshift screens were also set up outside the centre to accommodate the vast crowds. Coaches carrying devotees arrived from Manchester, Bradford, Birmingham and Scotland.
In a message of peace Dr Qadri said: "Islam is a faith of peace, wherever terrorism or extremism attempts to manifest itself in society, we must work and endeavor to eliminate it from its very roots". Dr Qadri told listeners Islam never promoted violence, aggression or hatred. Islam is about supporting one another and helping your neighbors whether they are Christian, Jewish, Muslim, Hindu, Sikh, Buddhist, agnostic or atheist. "We must show love and compassion to build a cohesive society", said Dr Qadri.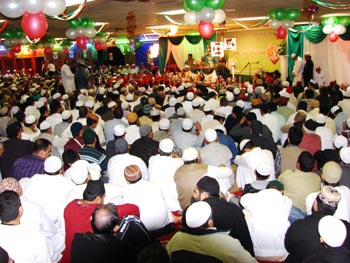 Muslims coexisted with the Jewish and Christian communities in various parts of the world. Jewish and Christian places of worship, institutions of learning were carefully protected by Muslim administrators. Permission to restore damaged places of worship or to build new places was never withheld. The continued existence of churches and synagogues in Palestine, Syria, Jordan and Egypt is an indication of the respect for other divinely revealed religions. The Sinai Monastery with a mosque beside it on Mount Sinai is an important symbol of Muslim acceptance. Throughout the Muslim world, Muslims, Christians and Jewish communities lived together in peace and harmony for centuries. They enjoyed freedom of ideas and expression at the highest degree.
 
Dr Qadri also paid a rich tribute to Prophet Muhammad and his legacy. Addressing an audience of above 5,000 people Dr Qadri said: "Muhammad Allah nai ban sakhta lehkan Muhammad Allah sey judda nai ho sakhta – Muhammad cannot become the Creator however at the same time Muhammad cannot also be separated from our Creator". Dr Qadri also talked on the issue of sending peace and salutations on Prophet Muhammad in light of classical Islamic literature. He told the audience "It is a command in divine revelation to all believers including the angels to send abundant salutations upon the prophet because our Creator also sends peace and salutations upon the prophet." He also told listeners in light of prophetic teaching Friday is the meritorious day to send peace and blessings upon the prophet. Founder and patron in chief of Minhaj al-Quran International organization Dr Qadri expressed his heartfelt thanks and appreciation of the local government agencies for making the event successful.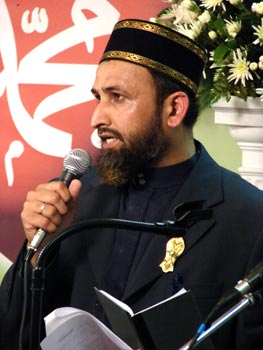 Among participants included Justice of the Peace Cllr Dr Zulfiqar Ali, said: "Minhaj al-Quran organization has taken a very positive step to gather communities to listen to Professor Muhammad Tahir al-Qadri – a great scholar of Islam". Newham Councilor Dr Ali also said: "Prof Qadri's tribute to Prophet Muhammad and his messages of peace, justice and humanity were of crucial importance to clarify the present confusion in the west about Islam."
 
Cllr Dr Ali told the center's chairman Ishtiaq Ahmad of his delight to see so many youngsters playing an active and key role in helping out rather than loitering the streets of Newham, causing nuisance and havoc. Cllr Dr Ali added: "The presence of the younger generation in large numbers is a good signal that we are succeeding in getting the true messages of Islam and tackling issues around fundamentalism and extremism which have absolutely no room in Islam."
 
Chairman of Minhaj al-Quran International centre, Ishtiaq Ahmad said: "Dr Qadri has an eminent standing in the Islamic world and holds a high standing in classical Islamic scholarship, 'Shaykh al-Islam' – the Shaykh of Islam or the authority on Islam, which is the highest of all degrees". He also said: "Dr Qadri's message was well received by everyone". Dr Qadri spoke for five hours the longest of duration on record. Vast crowds remained outside the Minhaj al-Quran centre listening to Dr Qadri speak until dawn. Dr Qadri's visit to the UK came to an end on Monday 28th March 2008. He departed for Canada on the next leg of his world tour.
 
Among other participants at the event also included Barrister Ahmad Thompson of London, ex-Newham Respect Councilor Rastam Talati, Dr Nisar Sulemani lecturer at the African School of Oriental Studies in London, Shaykh Abu Adam al-Shirraz al-Elahi al-Hafiz of Leicester, Imam Sher Barakati of Al-Madina mosque in Barking and Canning Town Imam Sanaullah Sethi of Al-Habib mosque.