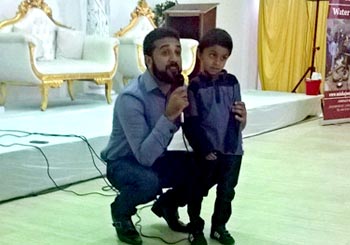 On the 7th of July 2015, MWL Bradford hosted the MWF charity appeal 'Iftar with the orphans' at the Royal Taj, Bradford, with a turnout of over 50 people. Each member of MWL Bradford played an active role on the night to ensure a meaningful event.
The event commenced with a brief introduction by Brother Adnan Sohail Project's Manager MWF. He explained the programme for the night.
The stage secretary for the evening was Hafiz Tariq Mehmood who invited Hafiz Mudassar to recite the Quran Al Furqan to bless the gathering with the Divine Verses. Sister Azra and Sister Uzma blessed the gathering further with a continuation in the Praise of Almighty Allah. To follow on from this Sister Rehana and Sister Safiyyah were invited to the stage to recite melodious praise in honour of the Prophet Muhammad (SAW). The audience joined in.
Allama Zahid Rehman talked about the significance of the gathering in this blessed month and the significance of Ramadan. He explained the immense benefits of giving charity in this month and encouraged the audience to actively participate in the fundraising.
The Nasheed artist Ismail Hussain performed a Nasheed from his newly released album. This raised the spirits of the audience.
Brother Adnan Sohail displayed through various videos, the highly laudable work that MWF has been carrying out all over the world. The appeal for the evening focused on 'Water for All', providing hand pumps for those in the drought stricken areas of Pakistan. The second project of the night was 'Aghosh Orphan Care Home' to provide education and basic living necessities. The fundraising was highly successful campaign. Over 20 water pumps were donated and many orphans were sponsored. Donations were made by all age groups to support other projects of MWF such as Bait-ul-Zahra.
The audience was blessed with the company of Allama Afzal Saeedi who also encouraged the audience to donate towards the worthy projects of MWF. The event was concluded with a sincere Dua for everyone prior to Iftaar. Iftaar was served to all guests and everyone was thanked for his generous contributions to MWF.
Safiyyah Ahmad (Media Secretary MWL Bradford)