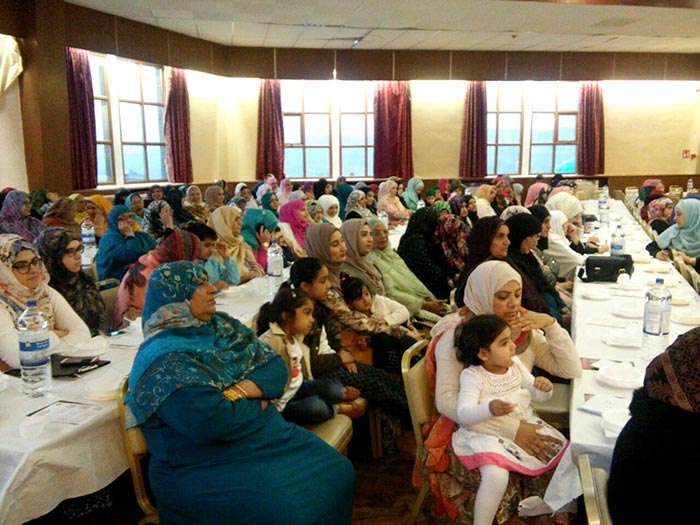 By the guidance of Allah SubhanaTallah, an Iftar Charity Event was organised by MWL Nelson at Silverman Hall Nelson on Monday 6th July. The event was conducted by guest speaker Adnan Sohail (Projects Manager Minhaj Welfare Foundation) whose aims for the night were to raise donations for orphans and to provide clean safe drinking water. Adnan Sohail provided the audience with a brief but insightful introduction about Minhaj Welfare Foundation as being one of the largest non -government international charity organisations in the world, which has branches in over a hundred countries. MWF has undertaken welfare projects throughout the world.
Adnan Sohail then proceeded with the event by introducing Qari Rameez who did a beautiful recitation of part of Surah Rehman. This was followed by the first Naat of the night, which was recited by guest Radio Awaaz presenter Zain Shabeer. Sister Nasreen Akhtar (MWL President North Zone) brought the stage to life by giving a warm welcome to the audience and informed them as to how blessed we all were to have the blessed month of Ramadan in our lives for another year. She encouraged and motivated the members of the audience to donate to orphans and help provide hand pumps in poor countries. She quoted a Hadith whereby Abu Hurairah (RA) reported that our Holy Prophet Muhammad (SAW) said "Those who benefit others and that those who treat an orphan with kindness, he and I will be close to each other in Jannah as these two fingers."
Adnan Sohail then explained that since its foundation by Shaykh-ul- Islam Dr Muhammad Tahir-ul-Qadri, Minhaj Welfare Foundation has built more than 600 schools, 12 IT Colleges and one University. Some of the projects undertaken by MWF including 'Education for All', such as Aghosh in Lahore, an orphan care home with integral school that provides education, clothing and food to an extremely high standard; 'Water for All project', a project which provides clean and safe drinking water for those in developing countries.' Bait-ul-Zahra' is located in Lahore, Pakistan and can accommodate up to 500, orphaned, poor or needy girls. As well as many emergency relief projects funded in places of crisis.
Naat Khwaans, Haji Afzaal and Haji Nazeer were invited on stage to recite a Naat in their melodious voices, 'Uchiyan Nai Shaana Arbi Dholan Diyan.' This Naat was then followed by some thought provoking verses from Saif Al Malook, about the status of mothers in Islam.
Guest Speaker Shams Hashmi was invited on stage to provide a motivational speech about donating to charity. Leading on from this radio show presenters Zain and Fareed came on stage to announce a large number of Aghosh Orphan donors and hand pump donors so far for the night. They encouraged members of the audience who intended to donate to do so before Iftari. The donors were congratulated on their charity as it is multiplied many times during the month of blessings. The programme reached its conclusion with a heart touching Dua made by Shams-ur-Rehman Aasi. The event was a huge success with a turnout of around 250 men, women and children who were all served food at Iftari time.
Reported By Nahid Akhtar (MWL Nelson)